by Dr. David C. Pate | At my one month follow-up, I had lost 26.8 lbs., nearly seven more than my goal. I didn't have to measure out food, count calories or carbs, or feel like I was depriving myself.
If you would have told me a year ago that I would be giving up barbecue and Blue Bell ice cream (If you're not familiar with Blue Bell, you definitely are not from Texas.), I would have told you that nobody stands between this Texan and his steak.
Well, I have. It's all because of my knee arthritis.
I have struggled with my left knee for some time. The meniscus tore six years ago and the arthritis progressed over the years to the point of bone rubbing on bone, causing me to limp most days. I checked out the publicly available quality scores on orthopedic surgeons and made an appointment to see the surgeon with the lowest post-operative complication rate.
When I saw the surgeon, he noted that I had developed atrophy in my quadriceps muscle due to long-standing avoidance of full weight bearing on my painful knee, and we reviewed my X-rays that showed the deterioration of my knee joint.
After that visit, we tried a couple of non-invasive measures (a brace and anti-inflammatory medicine) to see if I could get relief from my knee pain. I couldn't tolerate the anti-inflammatory medicine; the brace helped, but less and less over time. I went back to the surgeon, and we agreed that it was time for a knee replacement.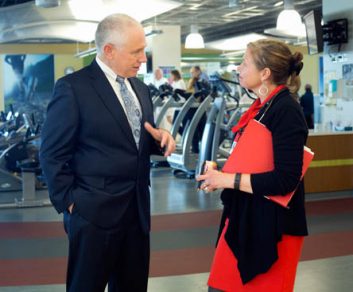 A couple of months ago, I mentioned my upcoming knee replacement to our medical director of rehabilitation services. He suggested that I look into a new "pre-hab" program under development by our lifestyle medicine expert, Dr. Jennifer Shalz, whom I have written about on my blog before. Knowing that I would do better with the surgery if I lost weight and got into better shape, I jumped at the chance.
I met with Dr. Shalz, who conducted a very detailed lifestyle history. I learned about the health benefits of a whole-food, plant-based diet without processed elements: weight loss, a decrease in inflammatory mediators, a decrease in risk for complications, prevention of diabetes, regression of atherosclerosis and a long-term mortality advantage.
It's worth noting that after I saw Dr. Shalz, a study was published in the New England Journal of Medicine that studied 74,000 adults over a 12-year period and found that surprisingly small changes in diet (a 20 percent improvement in diet quality, e.g., just swapping out one serving of red or processed meat for a serving of legumes or nuts) could cut the risk of death by up to 17 percent. The food groups that most improved overall diet quality? Whole grains, fruits and vegetables. Study participants who reported that their diet quality worsened by 20 percent had a 6 percent to 12 percent increase in mortality risk over the same period of time.
Dr. Shalz arranged for me to meet with a dietitian, Charmin Aschenbrener. I learned all about eating a section of vegetables, fruits, beans, lentils, whole grains and nuts.
But. Could I really do that? Give up meat? Dairy?
As if a total transformation of my diet was not enough, I met with Jeff Wagner, an exercise physiologist. He taught me exercises that I could do, despite my knee pain and limitations, that would prepare me to go into surgery stronger and recover faster.
The team and I set a stretch goal. I would try to lose 20 lbs. over six weeks in time for my mid-August surgery. I was highly motivated. I wanted to ensure that I did not have a complication post-operatively, and I had every intention to return to work as soon as possible.
I loaded up on whole-food, plant-based cookbooks and shopped for the foods I would need. I enlisted the help of my daughter to help me cook new foods.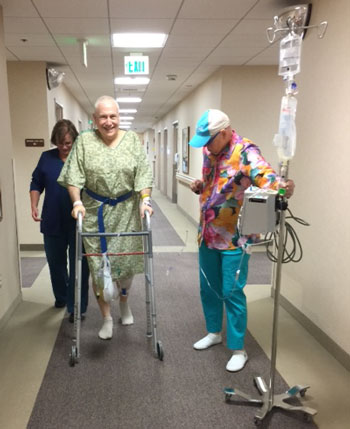 The response to my plan among friends and colleagues has been interesting. Most people have reacted by assuming that my diet must be boring and that I must be craving meat and dairy.
Neither is true. I have had great fun finding new places with vegan menu options and trying new foods, prepared new ways.
The test came on the Fourth of July. We were invited over to friends for steaks and fireworks-viewing. I took along my veggie burger to be grilled alongside the others' steaks. My wife offered to make a large fruit salad and to bring vegetables for grilling. I was fine. It turns out that steaks, which I have believed are a staple food for a Texan, are not critical to sustain life.
As for the exercise, I have to admit it has not been as fun. There are those exercise enthusiasts who have told me they get a "high" from exercising, but I will tell you that I have never gotten high from exercise. I don't enjoy it; I do it because I know it is good for me. It also assists my weight loss, and I know that by exercising, I will recover and get back to work faster.
So, how did I do?
At my one month follow-up, I had lost 26.8 lbs., nearly seven more than my goal. I didn't have to measure out food, count calories or carbs, or feel like I was depriving myself. I have had fun trying new things – I even found a vegan taco truck and had a taco salad with jackfruit. I would have sworn it was pulled pork! My wife has not gone vegan, but she supports me and often looks for new things for me when she is shopping or at a restaurant.
And when I saw my surgeon, he noted that I had restored the strength to my quadriceps muscle that previously had been atrophied.
By the time you read this, I will have had my knee replacement. I'll report back on whether I avoid complications and return to work sooner than I might have without my pre-hab preparations. I can't thank my support team – Dr. Shalz, Charmin and Jeff – enough for giving me the tools and the encouragement to make changes in my lifestyle that are sure to have short-term and long-term benefits.
And all you Texans out there should know that life not only goes on without steak and Blue Bell, but it can actually improve!
About The Author

Dr. David C. Pate
David C. Pate, M.D., J.D., is president and CEO of St. Luke's Health System, based in Boise, Idaho. Dr. Pate joined the System in 2009. He received his medical degree from Baylor College of Medicine in Houston and his law degree from the University of Houston Law Center.