You may check out Italy Travel Guide on the Summer in Italy website (images: Pixabay).
The Sorrento Peninsula or Sorrentine Peninsula is a peninsula located in southern Italy that separates the Gulf of Naples to the north from the Gulf of Salerno to the south. Known as the land of the sirens, in honour of the mythical maiden-monsters who were said to live on Li Galli (a tiny archipelago off the peninsula's southern coast), the area to the west of Sorrento is among the least developed and most beautiful in the country.
Highlights
Fantastics walks exploring the Amalfi Coast, Capri, Positano and Sorrento.
Incredible views over the turquoise sea, villages, lighthouses and Mt. Vesuvius.
Guilt-free indulging in foodie delights, knowing you'll walk it off tomorrow!
Breath-taking coastal views from the world-famous 'Footpath of the Gods'.
The glamour of Positano and Capri, contrasting with authentic Praiano.
The Sorrento Coast is a jagged promontory that shores up the southern end of the Bay of Naples. This peninsula of hilly terrain ends abruptly at a cliff that plunges sheerly down to the Mediterranean sea. The entire coastline around Sorrento was a Greek colony during the period of Magna Grecia, the legendary site of Homer's sirens, before being conquered by the Romans who enjoyed the area as a summer playground. It has maintained a reputation as an exclusive resort destination ever since. It boasts a mild climate, gorgeous panoramas and citrus-scented air. There are magnificent views at every turn as one drive around the harbor, the best from the high points overlooking Punta Campanella, the westernmost point of the Sorrento Peninsula. Offshore, Capri looks tantalisingly close.
While the Mediterranean is the big draw that made Sorrento famous, there are hamlets in the hills that should be explored, too. These time-worn villages maintain their traditions and their charm. Visit Vico Equense, which is dwarfed by the Lattari Mountains that rise up behind it, the village of Seiano, the white-washed town of Priora and Sant'Agata sui Due Golfi, high in the hills. Up here you'll find natural beauty, hiking trails, tranquility and clean, dry air.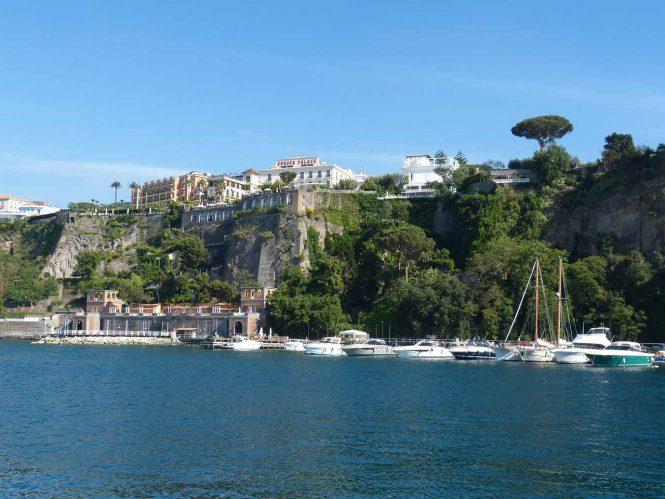 Recommended Day Trips
Arrive in Amalfi and overnight.
The Valley of the Ancient Mills Walk, 14 km.
Mt Tre Calli & Footpath of the Gods walk, 14 km.
Walk the Footpath of the Gods to Positano, 11 km.
The Isle of Capri, 8 km.
Punta Campanella & Mt San Costanzo, 7 km.
Jeranto Bay, 8 km.
Onward travel.
Sorrento itself may well be the ideal destination, as it offers seaside splendor coupled with easy access to other points of interest: you can take a train to Pompeii or Naples, a ferry to Capri, and buses or boats to the other towns strung along the Amalfi Coast.
Accommodation
Grand Hotel Excelsior Vittoria
5-star hotel
Piazza Torquato Tasso, 34, 80067 Sorrento NA, Italy •+39 081 877 711
Hilton Sorrento Palace $223
4-star hotel
Via Sant'Antonio, 13, 80067 Sorrento NA, Italy •+39 081 878 4141
Belvedere delle Sirene $71
Via Belvedere, 21, 80065 Sant'Agnello NA, Italy •+39 081 808 9672
Residence L'Incanto Sorrento $50
2-star hotel
80063, Via Cermenna, 45, 80063 Piano di Sorrento NA, Italy •+39 339 415 7714
The Secret Garden Relais $46
3-star hotel
Via Gottola, 14, 80063 Piano di Sorrento NA, Italy •+39 081 808 6960