Originally published:
2015
In the 1990s Nigeria, four brothers from a quiet middle-class family–the oldest fifteen, and the youngest nine–take advantage of their father's extended absence to skip school and go fishing at a forbidden river. There they encounter Abulu, a vision-seeing madman whose prophecy of violence will follow the boys through their lives, and shake up their family in both devastatingly tragic and yet redemptive ways.
Already deemed a "classic tale of boyhood," The Fishermen is both a coming-of-age novel, and a powerful portrait of familial and brotherly bonds, and what happens when trust–the main chord that binds a family–is broken.
Buy the Book: US/Canada                       
Amazon
Barnes & Noble
Google
iBooks
IndieBound
Powell's
International Editions
The Fisherman is being translated into 27 languages, and in 31 countries. Find below a list of international editions. Please click on the links (where available) for various publishers by countries to read about the editions. Links to reviews or purchase options are available on various publisher's pages.
ARABIC |  Hamad Bin Khalifa University Press (Forthcoming)
CATALAN | "El Pescadores" published by Quaderns Crema (2016)
CHINESE (Complex) | Locus Publishing (Forthcoming)
CHINESE (Simplified) | Booky (Forthcoming)
CROATIAN | Hena-Com (Forthcoming)
DANISH | Vi Var Fiskere by Forlaget Klim (2016)
DUTCH: Der verboden Rivier publsihed by De Geus (2015)
FINNISH | Atena Kustannus (Forthcoming)
FRENCH | Le Pescheurs published by Éditions de l'Olivier(2016)
GERMAN | Der Dunkle Fluss published by Aufbau (2015)
GREEK | Οι ψαράδες published by Metaichmio (2016)
HEBREW | Modan (Forthcoming)
HUNGARIAN| (Forthcoming)
ITALIAN | I Pescatori published by Bompiani (2016)
JAPANESE | Hayakawa (Forthcoming)
KOREAN | Cresma (Forthcoming)
MARATHI | Mehta Publishing House
NORWEGIAN | Font Forlag (Forthcoming)
PERSIAN |
POLISH | "Rybacy" published by Wydawnictwo Literackie (2016)
PORTUGUESE (Brazil) | Os Pescadores published by Globo (2016)
RUSSIAN | AST Publishing (F0rthcoming)
SERBIAN | Laguna (Forthcoming)
SPANISH |"Los Pescadores" published by Siruela (2016)
SWEDISH | Fiskamananen by Ordfront (2016)
TURKISH | Pegasus (Forthcoming)
UKRAINIAN| Hemiro Limited (Forthcoming)
Awards & Honors
FINALIST – The Man Booker Prize for Fiction*
WINNER – THE FT/OPPENHEIMER emerging voices prize for fiction*
WINNER – 2016 NAACP Image Award for Outstanding Debut Literary Work*
WINNER – The Art Seidenbaum Award for First Fiction*
WINNER – Nebraska book award 2016-fiction category
WINNER – GOG Bookclub Best New Author of the Year
FINALIST – THE GUARDIAN FIRST BOOK AWARD*
FINALIST – The Center for Fiction First Novel Prize*
FINALIST – British book industry award for best debut fiction*
FINALIST –  Hurston/Wright Legacy Awards 2016
FINALIST – Best Debut Goodreads Author Award*
Longlisted – The Dylan Thomas first book prize*
FINALIST – Prix grive gauche a' paris (France)
FINALIST – Prix du Roman (France)
FINALIST – Athens prize for literature (greece)
(Audio book version) earphone award winner*
(audio book version) audies awards finalist*
​Other Works
Events
>>
March 22:
Abuja, Nigeria: 
Roving Heights Bookstore 
>>
March 25:
Lagos, Nigeria: Page Connoisseurs Bookstore, Lagos
>>
March 29:
Port-Harcourt, Nigeria
:
Port-Harcourt Literary Society, Port-Harcourt
>>
April 2-7:
Iceland Writer's Retreat, Reykjavik, Iceland
>>
April 9:
Kulturhuset Stardstream, Stockholm, Sweden (Tickets sold out*) with Yukiko Duke
>>
April 10 :
University of Gotheburg, Sweden with Mikela L. Hero
>>
April 19:
Hearth Book Promotion in Chico, Montana
>>
April 22:
AVID Reader Festival at the Des Moines Public Library
>>
April 26-27:
Arkansas Book Festival, Arkansas
>>
May 30:
An Orchestra of Minorities at the Vermont  Studio, VT
>>
July 7:
AfricaWrites Festival, London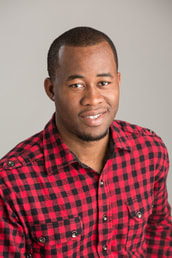 Chigozie Obioma is the author of The Fishermen, which was a finalist for the Man Booker prize 2015, and a winner of four other awards, including an NAACP Image award, the FT/Oppenheimer prize for fiction, and several nominations. The novel, which is being translated in 26 languages, is also being adapted into a stage play. Obioma was named one of Foreign Policy's 100 Influential People of 2015. He is a professor of English and Creative Writing at the University of Nebraska-Lincoln, and in Nigeria where where he runs various projects. His second novel, An Orchestra of Minorities was published on January 3, 2019.