One of the simplest ways an organization can optimize maintenance activities is by using computer maintenance management system (CMMS) software. The software helps facilities control, plan, schedule, and track asset performance and predictive maintenance tasks. Sometimes organizations encounter resistance when shifting personnel from seemingly steadfast maintenance routines to more proactive maintenance strategies. Strategies include CMMS software, integrated data, condition monitoring, and connected tools and sensors.
Securing team buy-in before implementing a system can help make the transition smoother. Here is a list of five tips from maintenance and repair leaders on what worked for them.
No. 1 – Welcome Input
Involve everyone directly or indirectly affected by the execution in the planning. Making sure each person feels their participation is valued helps create ownership and responsibility for shared goals.
Bruce Wesner, senior director of engineering services at PGT Custom Windows and Doors, made inroads by setting up roundtable discussions with his team and stakeholders at the Venice, Florida site.
"Some of our shop floor personnel were at first skeptical about our path. By inviting their feedback through roundtable discussions, they now want more– they see the value in the system," Wesner says. "We're in a great place because the organization is pulling for more and faster adoption of new best practices. Unlike some organizations, our teams support the changes."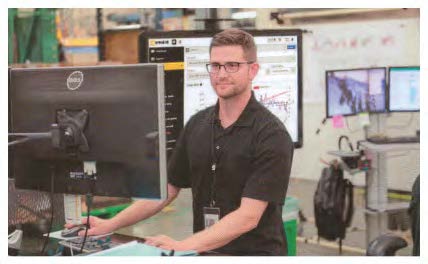 No. 2 – Provide an Example
Demonstrating how a problem is easily mitigated can change a team's point of view. Chris Kennedy, maintenance planner at Nichols Farms, presented a real life example of how the system could help technicians gain insight using work order histories to find the root cause of equipment issues.
"We showed one of the maintenance teams a reactive work order where it took another team an hour or two to figure out what the root cause was or what the fix was," Kennedy explains. "I then showed them how to go back into a work order history. They were able to see how different shifts had handled the same problem and how each technician had fixed the equipment."
No. 3 – Try Before You Buy
Carter Blood Care (CBC), a non-profit organization providing life-saving blood components and transfusion services, used a supplier's free trial to demonstrate to stakeholders how the system could be configured to meet diverse department needs. CBC leadership investigated each department's pain points and proved how the CMMS software could make a difference.
"Initially, we determined the current state of our fleet and facilities departments. What are they doing? What are their processes?" says Gus Cortez of CBC. "We went through every line item and figured out, 'Oh, this is how we'll do this and here's how we'll do that-and checked each one off. Then we sent a demo to the departments and showed them how the CMMS could help them do things better."
No. 4 – Pay Attention to the Small Stuff
When an organization plans to implement a CMMS, they also need to manage cultural change. CMMS software is highly configurable and can be tailored to fit the organization's culture. Kennedy used this sometimes-overlooked system capability.
"Some of our technicians had never heard of a CMMS program.
They had never referred to pieces of equipment as assets. Just the ability to easily change the terminology in the CMMS from asset to equipment was one less thing to learn. At the end of the day, you're trying to change a culture," Kennedy adds. Adding a field of "Asset Nickname" can help connect the asset nomenclature of the CMMS with historical equipment names.
No. 5 – Decide on a Level of Implementation
Assistance Customer service can make or break a successful CMMS implementation. Before opting out of customer support, an organization should carefully consider their options, such as online training. CBC opted for full support and got more than expected.
"We needed a modern, continuous customer service support partner, before, during and after implementation," Cortez explains. "The supplier transition team was vital to ensuring confidence in what we were doing and making sure we understood how to achieve implementation. They exceeded our expectations."
Plan for Change
CMMS implementation planning includes forecasting future needs. Many times, after adding a CMMS, an organization decides to expand its reliability-centered maintenance program. Critical questions must be answered at that time. Can the system grow as the organization grows? Can it keep pace with everchanging technology? Are our processes ready for the adoption of the program?
When Industrial Internet of Things-enabled tools and devices connect and consolidate the information via CMMS, the equipment data can be viewed remotely by maintenance and repair teams using a computer or software-enabled device, such as a mobile phone.
Based on the measurements, and real-time capabilities, the right decisions can be made, and the right actions taken at the right time to predict and prevent equipment failures.