T-Mobile has the first, largest, and only nationwide 5G network, covering more people and places than anyone else. No 5G signal goes farther or is more reliable.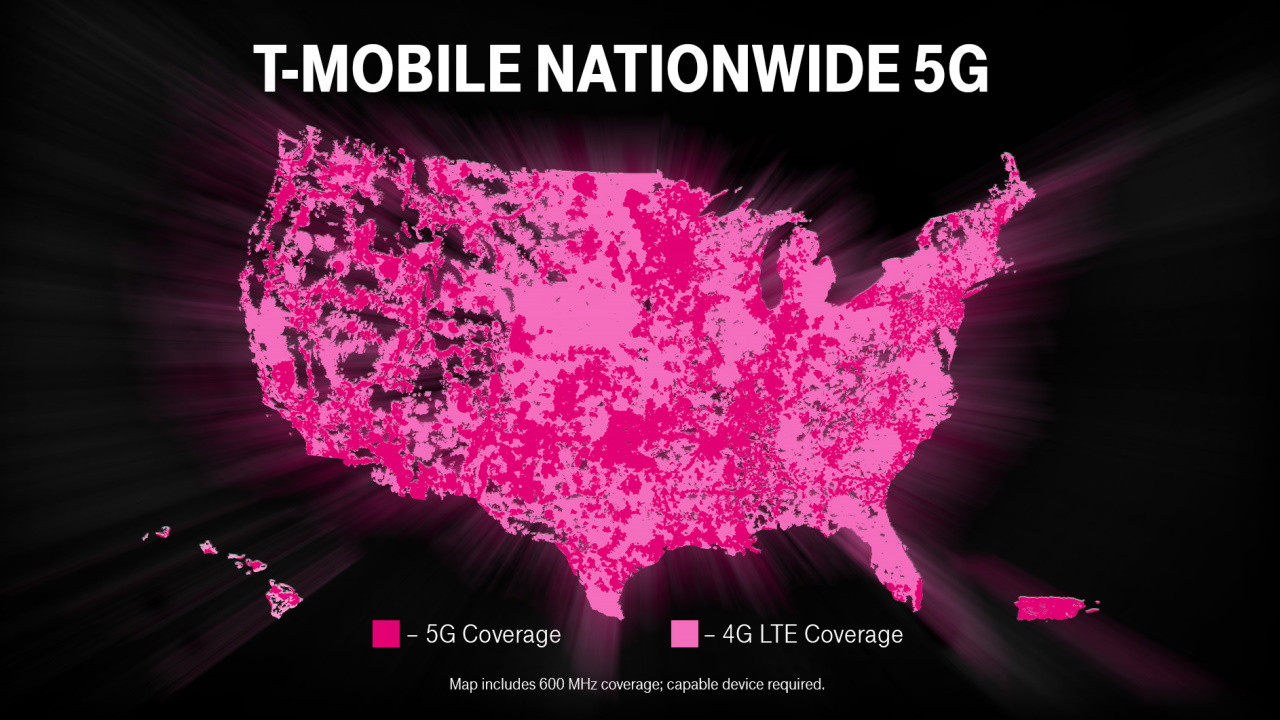 It's worth mentioning that T-Mobile's 5G mmWave, super fast, but short-range coverage went live since June in six cities across the United States — Atlanta, Cleveland, Dallas, Las Vegas, Los Angeles and New York — on Samsung's Galaxy S10 5G as the first phone that worked on T-Mobile's 5G network. The speed in Las Vegas was as high as 462 Mbps outside Frankie's Tiki Room on West Charleston Avenue according to Sascha Segan of PC Magazine on July 11.
How fast will T-Mobile's 5G be?
T-Mobile has flipped the switch on its 5G network, setting it live over areas of the US. According to T-Mobile's CEO John Legere, the company rolled out nationwide 5G network built on the company's 600 MHz band of spectrum on December 6th. The Network currently covers 200 million customers and more than 5,000 cities and towns all across the country with speeds of up to 450 Mbps, 10 times faster than its current LTE speeds. A tested download speeds of 579 Mbps was observed in downtown New York City with an average speed of 369 Mbps during the test.
T-Mobile has also started rolling out its 5G network on a smaller scale with faster (but short-range) mmWave technology in a few cities, similar to Verizon. The 600 MHz half of the network looks to help make up for the shortcomings of mmWave networks, like the short range and difficulties of getting signals into buildings.
Connecting Heroes Initiative
T-Mobile also announced a new "Connecting Heroes Initiative," which promises free unlimited talk, text, and 5G internet for US law enforcement, fire, and EMS services because of its recently approved acquisition of Sprint. It promises first responders will have access to this free 5G service for at least 10 years. T-Mobile also pledges to roll out reduced cost 5G service to 10 million low-income households (it calls this Project 10 Million) over the next five years.
Verizon has only rolled out 5G (super-high-frequency millimeter wave spectrum that delivers very fast data but very poor range) in 18 cities as well as sections of select stadiums and arenas but the coverage is middling even in areas with 5G antennas on every street corner. Meanwhile, AT&T's super-high-frequency millimeter wave spectrum network is turned on in 21 cities, though service is limited to business customers. "Claiming first was more important to AT&T and Verizon than providing a good experience," according to T-Mobile Chief Technology Officer Neville Ray in an April blog post. "Why? Because both of their long-term spectrum strategies have severe limitations, so they're focused on bragging rights instead."
What devices are available on T-Mobile 5G network?
The list of devices that can actually work with T-Mobile's 5G network is limited to just the Samsung Galaxy Note 10 Plus 5G and the OnePlus 7T Pro 5G. The Samsung Galaxy Note 10 Plus 5G costs $1,299 — a $200 premium over the regular Note 10 Plus. You can pay off the phone in 36 monthly installments of $36.12, and if you buy a second Note 10 Plus 5G and add a line, T-Mobile will give you the phone for free (in the form of monthly bill credits). OnePlus 7T Pro 5G McLaren is essentially the same phone as the OnePlus 7T Pro except for a 5G modem and design touches influenced by the McLaren racing team. It costs $899, or $37.50 a month for 24 monthly payments. You can get the phone for free if you switch to T-Mobile and trade in an eligible device.
What will T-Mobile's 5G network cost?
T-Mobile has a new entry-level $15 per month plan called T-Mobile Connect. T-Mobile Connect includes unlimited talk, text, but only 2GB of the data is available for use at the 5G spectrum. The included 5G is definitely not for average users. The T-Mobile Magenta plan on the other hand costs $70 a month, taxes and fees included, for one line. It's amazing that T-Mobile intends to keep those prices in place for three years as part of their commitments made to win approval for the Sprint merger.
T-Mobile 5G Nationwide 5G Coverage- It's On!