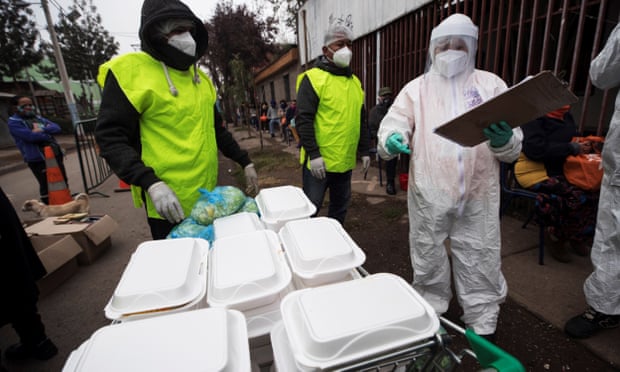 Chile raises deaths to more than 7,000; six on Trump campaign test positive ahead of rally; Spain opens up for British tourists
School closures 'will trigger UK child mental health crisis'
Spain to 'freely' welcome Britons without 14-day quarantine
Spaniards urged not to lower their guard as state of emergency ends
The Philippines reported 578 new cases of coronavirus on Saturday, a record number. This includes test results that were released to patients over the past three days, the news website Rappler reports. The country has so far reported 29,400 coronavirus cases, and 1,150 deaths.
Victoria has extended its state of emergency for another four weeks after recording 19 new Covid-19 cases in the past 24 hours, the state's health minister Jenny Mikakos has said.
Speaking on Sunday, Mikakos said the government believed 10 of the new cases were believed to be a result of community transmission. Victoria now has 121 active Covid-19 cases in the state.
Mikakos also said members of the Essendon AFL club would have to self-isolate after one player, Connor McKenna, tested positive for Covid-19.
"Essendon football club has announced they have closed for deep cleaning as well [and] of course everyone will be required to be quarantining in the normal manner for that 14 day period," she said.
The positive case comes just one week after the resumption of the AFL and could affect the club's ability to continue to play in the competition.
The Victorian government has said the new spike cases in the state have been driven in large part by outbreaks occurring among family groups. The government said on Sunday that police would enforce fines in areas considered to be "hot spots" for the latest outbreak.
"We have had particularly some concerns around family gatherings, extended family members across many households, visiting each other even when they have been exhibiting mild symptoms [and] even going to work when they had mild symptoms," Mikakos said.
"It is very important when people have symptoms, any symptoms of a cold or flu-type nature, that they take it very seriously because this is a very contagious virus and we are seeing the spread of this virus among extended family members, two grandparents, two grandchildren, children taking us to school, that certainly happened with the Keilor Downs family, with children taking the virus to school, a teacher being infected, and this is how the virus spreads to others in the community."