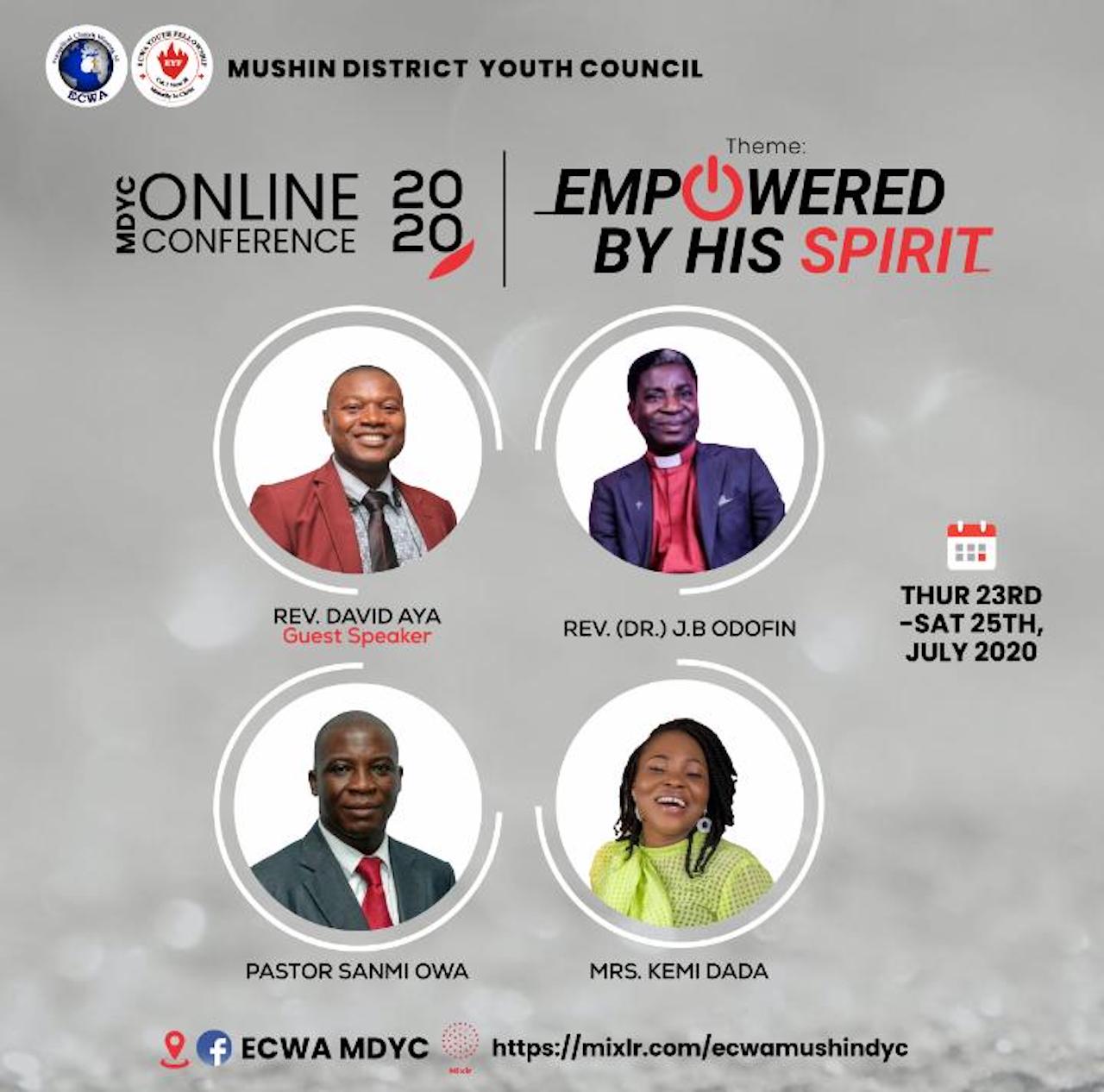 ECWA sons and daughters from all over the world took part in the live broadcasts of the first-ever totally online conference on designated social media platforms. This online conference tagged 'Empowered by the Spirit' became necessary following the outbreak of the novel Covid-19 pandemic which has made large gatherings impossible for the unforeseeable future.
The Mushin District Youth Council (MDYC)of the Evangelical Church Winning All (ECWA)
First-ever online conference.
https://www.facebook.com/ecwamushindyc/videos/268830471080770/
DAY 1 | Thursday, 23 July 2020 at 9:40AM | Sermon by Reverend David Aya as ECWA MDYC hold their first ever virtual conference.
https://www.facebook.com/ecwamushindyc/videos/1175002439515428/
DAY 2 | Friday, 24 July 2020 at 9:37AM | Join the day 2 of our virtual conference live from Lagos
https://www.facebook.com/ecwamushindyc/videos/917620878721813/
DAY 2 | Friday, 24 July 2020 at 10:22AM | Join the day 2 of our virtual conference live from Lagos
https://www.facebook.com/ecwamushindyc/videos/781166989089421/
DAY 2 | Friday, 24 July 2020 at 10:46AM | Join the day 2 of our virtual conference live from Lagos
Ministering: Pastor Sanmi Owa (Identity Crisis)
Reverend David Aya (Empowered By The Spirit)
https://www.facebook.com/ecwamushindyc/videos/1014861058971587/
DAY 2 | Friday, 24 July 2020 at 11:23AM | Join the day 2 of our virtual conference live from Lagos
Ministering: Rev. David Aya (Empowered by His Spirit II)
https://www.facebook.com/ecwamushindyc/videos/2629341380647974/
DAY 3 | Friday, 25 July 2020 at 11:23AM | Join the day 3 of our virtual conference live from Lagos
Ministering: Mrs. Kemi Gbenga-Dada (Red Flags In Relationships)
https://www.facebook.com/ecwamushindyc/videos/1014861058971587/
DAY 3 | Friday, 25 July 2020 at 11:23AM | Join the day 3 of our virtual conference live from Lagos
Ministering: Rev. (Dr.) J B Odofin (ECWA Past, Present & Future)