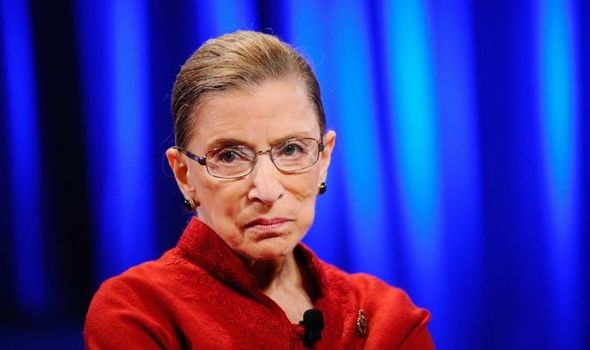 Supreme Court Justice Ruth Bader Ginsburg has died. She was 87.
Ginsburg, the second woman appointed to the bench, achieved an icon status, particularly among young lawyers — and her dissents enhanced her prominence.
Her death — less than seven weeks before Election Day — has set the stage for a political fight over the future of the court.
Ruth Bader Ginsburg, the second woman to serve on the Supreme Court and a pioneering advocate for women's rights, who in her ninth decade became a much younger generation's unlikely cultural icon, died on Friday at her home in Washington. She was 87.
The cause was complications of metastatic pancreatic cancer, the Supreme Court said.
By the time two small tumors were found in one of her lungs in December 2018, during a follow-up scan for broken ribs suffered in a recent fall, Justice Ginsburg had beaten colon cancer in 1999 and early-stage pancreatic cancer 10 years later. She received a coronary stent to clear a blocked artery in 2014.
Barely five feet tall and weighing 100 pounds, Justice Ginsburg drew comments for years on her fragile appearance. But she was tough, working out regularly with a trainer, who published a book about his famous client's challenging exercise regime.
As Justice Ginsburg passed her 80th birthday and 20th anniversary on the Supreme Court bench during President Barack Obama's second term, she shrugged off a chorus of calls for her to retire in order to give a Democratic president the chance to name her replacement. She planned to stay "as long as I can do the job full steam," she would say, sometimes adding, "There will be a president after this one, and I'm hopeful that that president will be a fine president."
When Justice Sandra Day O'Connor retired in January 2006, Justice Ginsburg was for a time the only woman on the Supreme Court — hardly a testament to the revolution in the legal status of women that she had helped bring about in her career as a litigator and strategist.
Her years as the solitary female justice were "the worst times," she recalled in a 2014 interview. "The image to the public entering the courtroom was eight men, of a certain size, and then this little woman sitting to the side. That was not a good image for the public to see." Eventually she was joined by two other women, both named by Mr. Obama: Sonia Sotomayor in 2009 and Elena Kagan in 2010.
Continue on the New York Times site