Abdoulaye Konaté, born in Diré, Mali in 1953, studied painting at the Institut National des Arts in Bamako and then the Institut Supérieur des Arts, Havana, Cuba, where he lived for seven years before returning to Mali.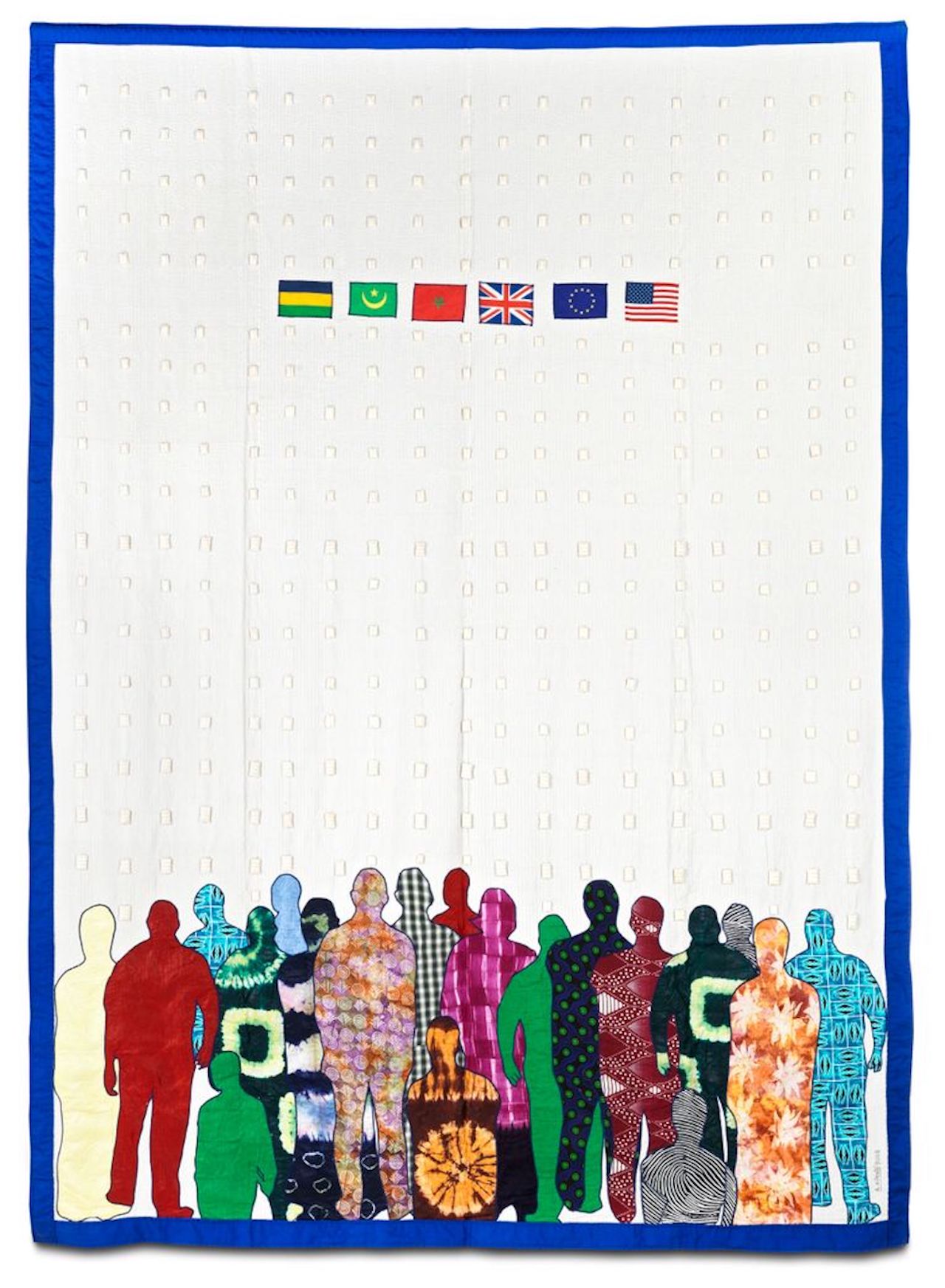 Abdoulaye Konaté is a Malian artist who combines hanging, assembly, dyeing and sculpture to achieve high recall and strong presence in space. With textiles, gris-gris, bullets, used clothing or sand, he comes in the theater and the world of contemporary art through the door or spiritual or political. He is reflecting a Malian, African and universal collective consciousness.
In his own word
"The visual difference for me is relatively low. Up to a certain level, the imagining of the figurative finds himself in abstraction. Just think of looking at a cloudy sky, in which inevitably also repeatedly shapes, silhouettes seem reminiscent of people. For me, reconstructed in any case even in the most abstract forms the idea of ​​something representational. The border is not as clean as one likes to believe."
"Textiles are in principle very strongly tied to the people, on whose body they act for him often as a house. And the meaning varies according to the ethnic groups, epochs, traditions. There are certain substances that are intended for the wedding, soirées or religious ceremonies. To that extent have textiles for human social and periodic content, sometimes there is also a mystic attribution. With us, the musicians and hunters carry certain substances, because they believe that some force inherent in these and they are protected."
Konaté's work has been exhibited in numerous international exhibitions. Major group shows include:
Group shows
2014
Destination…1:54: Contemporary African Art – Primo Marella Gallery Milan, Milan
The Divine Comedy. Heaven, Purgatory and Hell Revisited by Contemporary African Artists -Museum für Moderne Kunst (MMK), Frankfurt/Main2013
Decorum – Musée d´Art Moderne de la Ville de Paris – MAM/ARC, Paris
Hollandaise – Raw Material Company, Dakar
2012
Hollandaise – Stedelijk Museum Bureau Amsterdam – SMBA, Amsterdam
Moving Into Space: Football and Art in West Africa – National Football Museum, Manchester
We Face Forward: Art from West Africa Today – Manchester Art Gallery, Manchester
2010
Africa, Assume Art Position! – Primo Marella Gallery Milan, Milan
Textiles – Fondation Jean Paul Blachere, Apt
Dak'Art 2010 – Dak'Art 1990 > 2010 : rétrospective et perspectives – Dak'Art Biennale de l'art africain contemporain, Dakar
2009
10. Bienal de La Habana – La Bienal de La Habana, Havana
2008
INPUT – Colecção Sindika Dokolo – Museu Nacional de História Natural, Luanda
Travesía – Centro Atlántico de Arte Moderno (CAAM), Las Palmas de Gran Canaria
7th Gwangju Biennale – Gwangju Biennale, Gwangju
Angaza Afrika – African Art Now – October Gallery, London
Artes Mundi 3 – National Museum Cardiff, Cardiff, Wales
2007
Brocken Memory – Ghana National Art Museum, Accra
Contct Zone – Musée National du Mali, Bamako
Africa Remix – Contemporary art of a continent – Johannesburg Art Gallery (JAG), Johannesburg
Documenta 12 – Documenta, Kassel
2006
Trienal de Luanda 2007 – Trienal de Luanda, Luanda
2° Bienal Internacional de Arte Contemporáneo de Sevilla – BIACS – Fundación Bienal Internacional de Arte Contemporáneo de Sevilla, Sevilla
Africa Remix – Moderna Museet, Stockholm
SD Observatorio – IVAM – Institut Valencià d'Art Modern, Valencia
Africa Remix – Contemporary Art of a Continent – Mori Art Museum, Tokyo
7ème Biennale de l´Art Africain contemporain – Dak'Art Biennale de l'art africain contemporain, Dakar
2005
African Remix – l'art contemporain d'un continent – Centre Pompidou – Musée National d´Art Moderne, Paris
Africa Remix – Contemporary Art of a Continent – Hayward Gallery, London
2004
Afrika Remix – Zeitgenössische Kunst eines Kontinents – Museum Kunstpalast, Dusseldorf
1998
24° Bienal de São Paulo – Bienal de Sao Paulo, São Paulo
1997
Die Anderen Modernen : Zeitgenössische Kunst aus Afrika, Asien und Lateinamerika – Haus der Kulturen der Welt, Berlin
In 2008 Konaté was nominated for the Artes Mundi prize. His exhibition included pieces such as Les Marcheurs and Tafo ou la force du verbe. Konaté worked as a graphic designer at the Musee National in Bamako. In 1998, he was appointed to be the Director of the Palais de la Culture. He now works as the principal of the Conservatoire des Arts et Métiers Multimédia Balla Fasseké Kouyaté in Bamako, Mali.