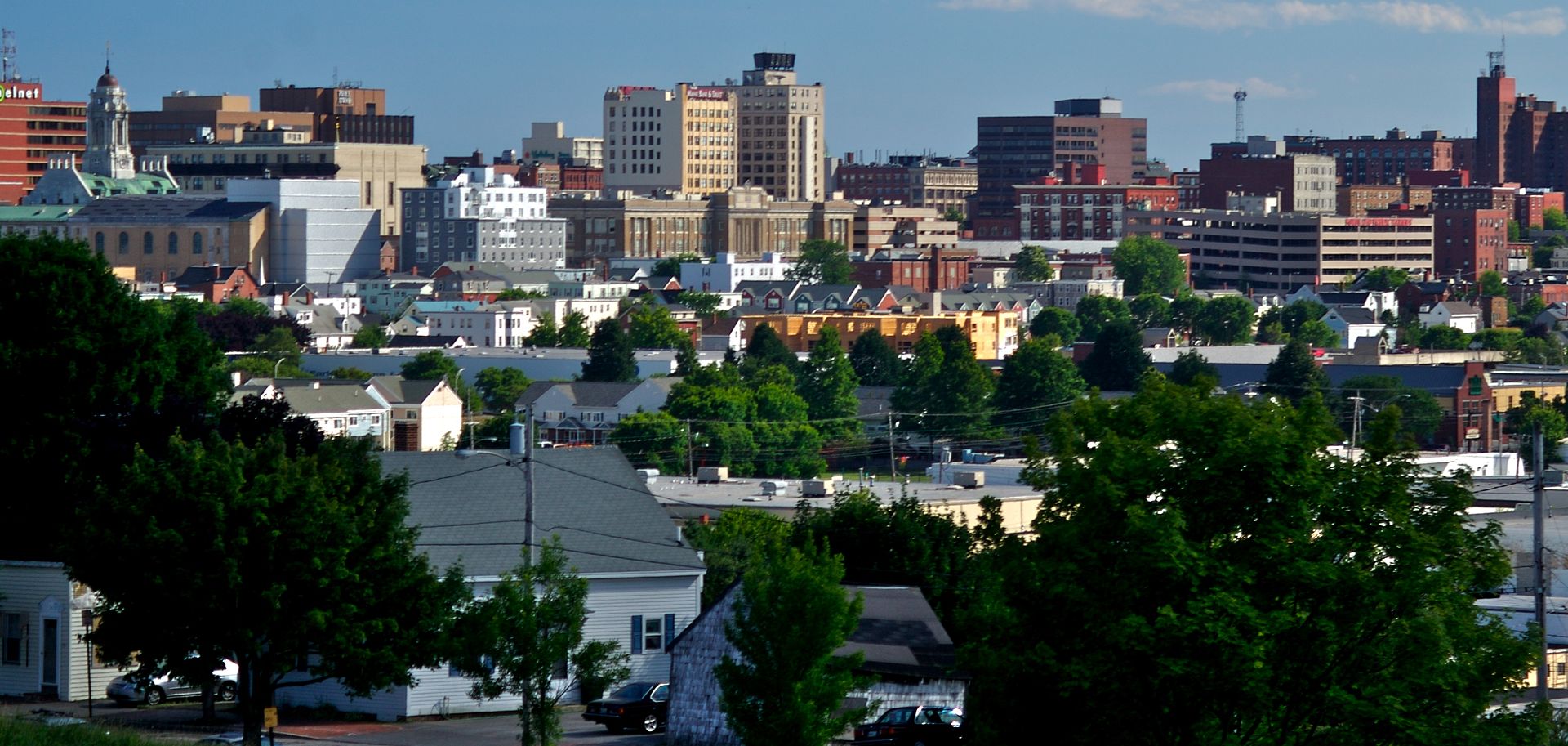 Updated with the latest information as of today, December 30, 2020
Portland is located on a peninsula in Casco Bay on the Southern Maine coast approximately 100 miles (161 km) north of Boston, Massachusetts. Portland is a small seaside city with a population of 65,000 and a high concentration of shops, restaurants, museums, galleries, tours and many things to see and do. Lately, Portland is earning a reputation as one of America's coolest on-the-rise small cities having survived sackings, shelling's, and fires to become New England's largest seaport and Maine's economic and cultural capital. The Old Port district and its working waterfront are the city's historic heart. The Congress Street Arts District is home to top art museum and an array of galleries, performance venues, and dining choices. Adding to Portland's appeal are its exciting culinary and craft-beer scenes, splendid Victorian buildings, abundant trails and parkland, and, it's just a short ferry ride away from the scenic islands of Casco Bay.
Staying Safe
There is no better time to visit the Greater Portland area than during this time of social distancing….outdoor summer fun. Governor Mills issued an Executive Order mandating requirements on travelers arriving in Maine to protect public health and safety. Beginning July 1, Maine is strongly urging visitors to "Know Before You Go," meaning visitors should get tested and receive their test results in their home state before traveling to Maine, which will allow you to take appropriate action depending on the result. In order to keep everyone safe – several areas within the state offers visitors and residents "symptom checking stations" to ensure that everyone traveling about the state remain healthy. Please check what events and festivals are canceled, what retail businesses provide curbside pick-up or online ordering options, what restaurants offer take-out, delivery and curbside options, and what to do for social distancing activities with family and friends as you visit Portland.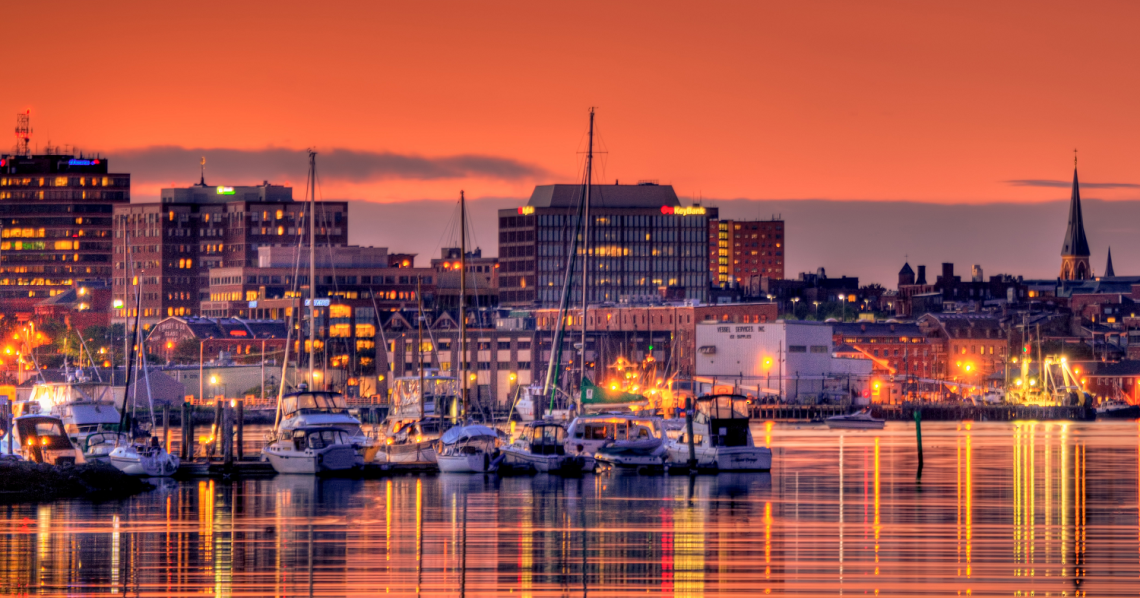 Restaurants offering low capacity dinning, take-out, delivery or curbside options
Portland offers a sophisticated restaurant scene, with chefs focused on locally-sourced food. The city offers white tablecloth restaurants serving tasting menus to cheap eats selling burritos. The abundance of lobster, haddock, clams, scallops and other seafood allows restaurants to sell these usually expensive items at reasonable prices. Portland Maine is a culturally diverse city offering Vietnamese, Thai, Polish, African, Middle Eastern, Greek, Japanese and Indian restaurants. Most of these places are inexpensive and delicious. Being home to many eco-conscious people, Portland offers a number of dining options for vegetarians and vegans. Portland also has the second highest restaurant per capita in the country, second to Seattle.
---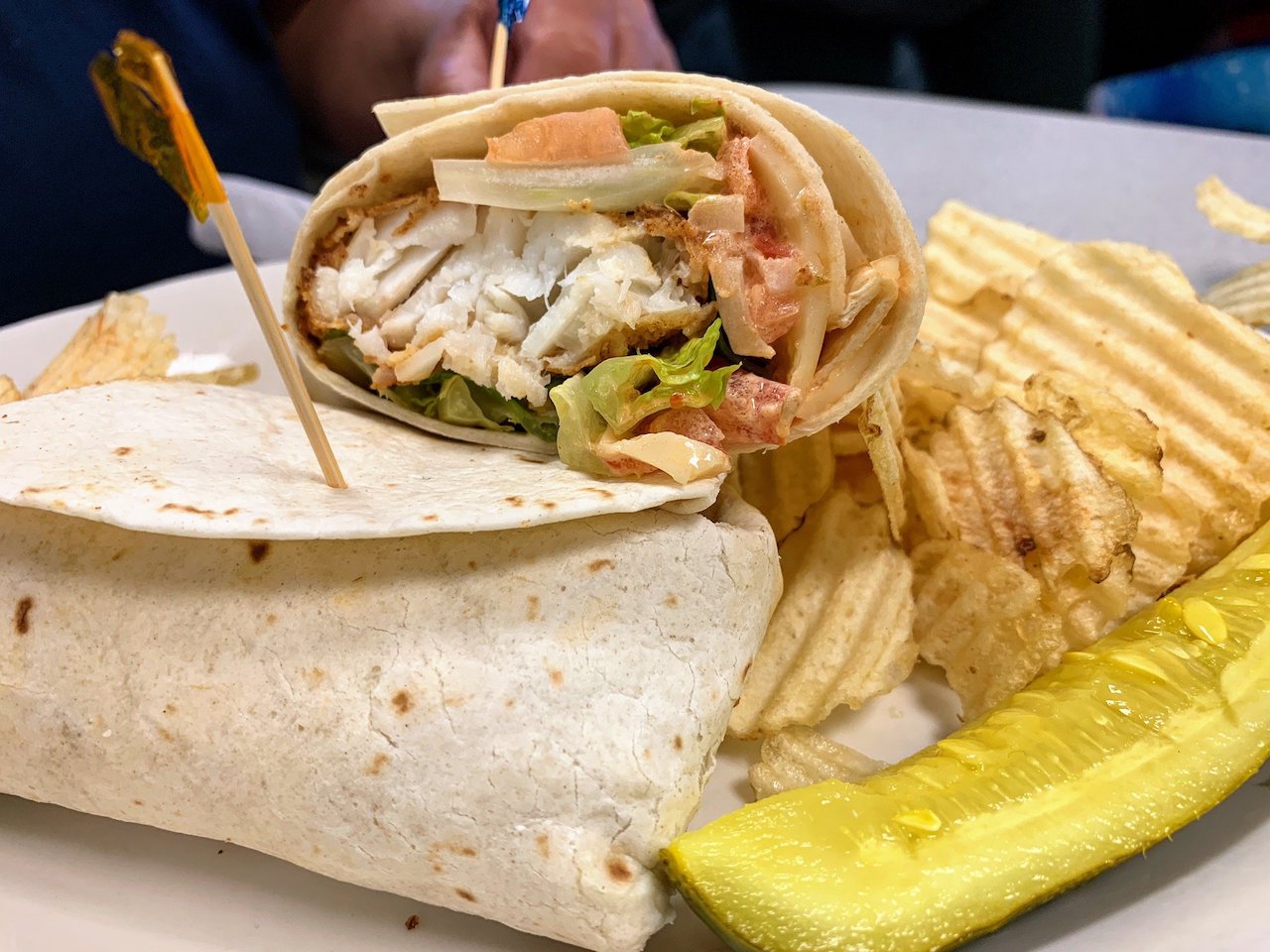 Becky's Diner, 390 Commercial St, a fixture of the working waterfront. Becky's is a well loved greasy spoon that starts serving breakfast a 4AM. Fisherman and other waterfront workers start their early days here. On the weekends you can also find many people ending their nights with pancakes and famous homefries. Bumper stickers can be seen all over town reading, "

Becky's Diner — Nothing Finah

".
Order Online Here:
---
Flatbread Co., 72 Commercial St, +1 207 772-8777. Right on the water with one of the best views of Portland Harbor and Casco Bay in town, a fun and funky staff that toss your pie in a wood-fired clay oven. Flatbread is a great place to go for a fun night out in the old port and also family friendly. It offers organic food and many vegetarian and vegan offerings.

Flatbread Company builds custom, wood-fired ovens at each location, forging community ties (Image by Cyle & Liz Davenport)

The history of Flatbread goes back at least 5000 years when men and women first began "baking" in enclosed earthen mounds. The simple leap from an open fire to a more controlled heating process expanded the culinary possibilities for all mankind. We rolled into the picture in 1998, going back, in order to move forward. Since then, the Flatbread Company has been introducing people to the magic of earth and fire, and how that combination can produce incredible tasting pizza. Beginning in Amesbury, Massachusetts in the summer of 1998, our mission of providing both guests and team members a place to "renew their spirit", has never wavered. The story of Flatbread is a story of the people that work here and the guests that support it.
Order Online Here:
Order Pickup
Order Delivery
Grubhub
Doordash
---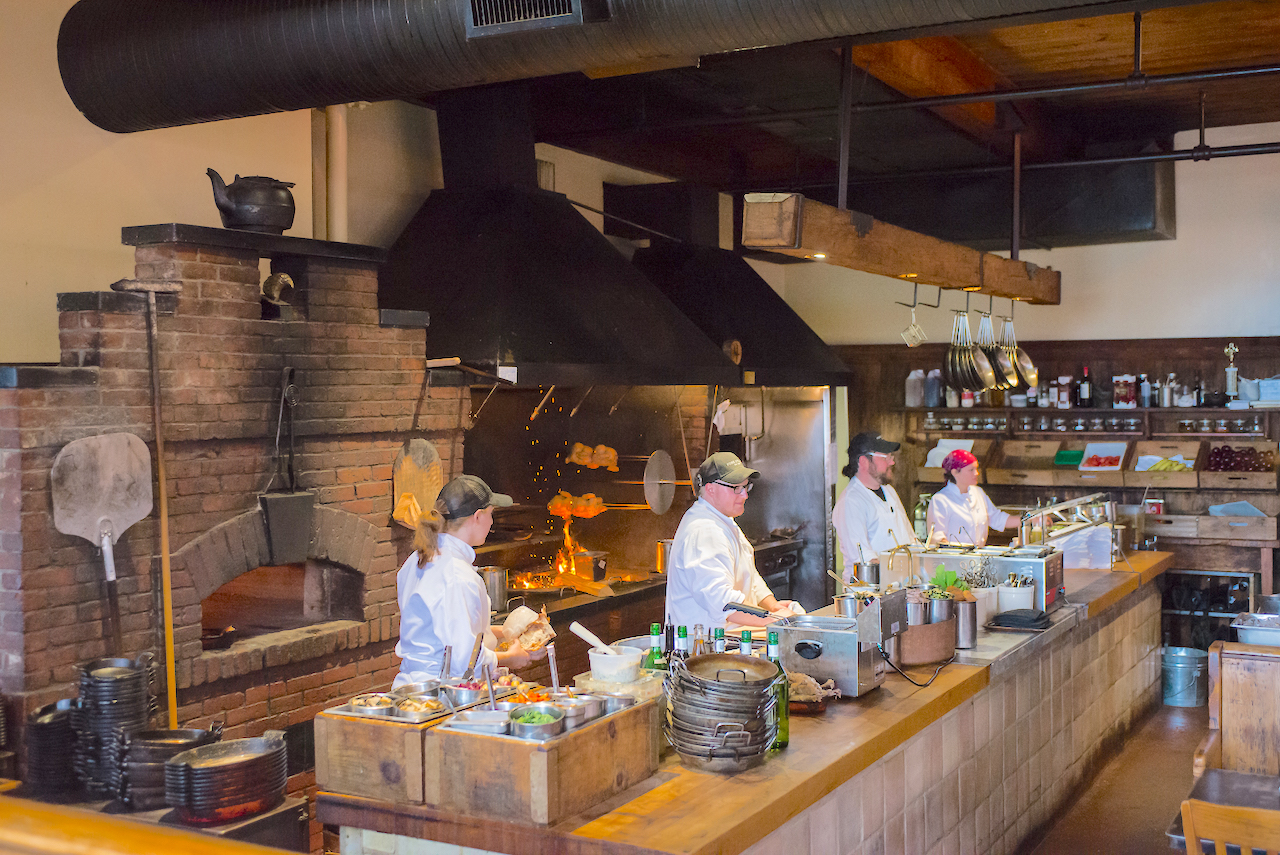 Fore Street Restaurant, 288 Fore St, +1 207 775-2717. This place is reserved weeks and sometimes months in advance. But, you can get in just about any night if you arrive at opening around 5PM and get on the list for their open seating.
Fore Street Restaurant Website
Order Online Here:
Order Pickup
Order Delivery
Grubhub
Doordash
Ribollita, 41 Middle St, +1 207 774-2972, Excellent Italian food. Fresh pasta, creative specials and the best mussels in Portland. Ribollita Website
Sebago Brewing Company, 164 Middle St, +1 207 775-2337. This brew pub offers 7 unique brews on tap and a wide variety of entrees. There is an upstairs for a more social dining atmosphere and a downstairs for a quieter environment. Sebago Brewing Company Website
Susan's Fish and Chips, 1135 Forest Ave, +1 207 878-3240. Known for its large portions, freshness, and those reasonable prices. Susan's Fish and Chips Website
Gilbert's Chowder House, 92 Commercial St, +1 207 871-5636. Old Port District. Taste great New England Clam Chowder here. Gilbert's Chowder House Website
Fuji, 29 Exchange St, +1 207 773-2900. Offering a sushi bar, and Hibachi tables, the Japanese cuisine here is delicious. Fuji Website
The Front Room Restaurant & Bar, 73 Congress St, +1 207 773-3366. A neighborhood restaurant with an excellent reputation and excellent food for a good price. The kitchen is in plain view from the seating area. The Front Room Restaurant & Bar Website
Benkay, 2 India St, +1 207 773-5555. Classic sushi bar on the Waterfront. Benkay Website
Local 188, 685 Congress St. Bohemian elegance with locally produced food and a great wine list. Local 188 Website
Oh-No Cafe, 87 Brackett St. Specializing in boutique breakfast sandwiches. Oh-No Cafe Website

Korea House

(

formerly Happy Teriyaki

),

630 Congress St

, ☎

+1 207 771-2000

.

M-Th 11AM-2:30PM, 5PM-9PM, F Sa 11AM-2:30PM, 5PM-10PM, Closed Su

.

Authentic Korean cuisine.

$10-15

. Korea House Website

Wild Burrito

,

574 Congress St

, ☎

+1 207 761-1600‎

.

Excellent food at very reasonable prices.

Wild Burrito Website

J's Oyster

,

5 Portland Pier

, ☎

+1 207 772-4828‎

.

Excellent selection of seafood. Favorite stop for food connoisseurs all over the United States for years. J's Oyster Website

Mister Bagel

,

601 Forest Ave.

, ☎

207-775-0718, 

Mister Bagel is a local hot spot for warm and delicious bagels. They are also a full-service deli – serving signature breakfast and lunch items for the locals and tourist alike. Mister Bagel Website

Old Port Sea Grill and Raw bar

,

93 Commercial St

, ☎

+1 207 879-6100

.

Fresh seafood, simply prepared and one of the largest raw oyster selections in the area. Old Port Sea Grill and Raw bar Website

Cook's Lobster House

,

68 Garrison Cove Road

, ☎

207-833-2818.

 

11:30-9:00

.

$8.00-$30.00

. Cook's Lobster House Website

Marcy's Diner

,

47 Oak Street

(

at corner of Free Street

), ☎

207-774-9713

.

6 am – 2 pm

. Marcy's Diner is open five days a week: Thursday to Monday, 6.00am to 2.00pm.

Cash only. Marcy's Diner Website

King of the Roll

,

675 Congress St

(

at corner of State St

), ☎

207-828-8880

. A family run restaurant with excellent food, 

inexpensive sushi and more. King of the Roll Website

The Green Elephant

,

608 Congress Street

, ☎

+1 207 347-3111. 

Asian dishes with vegetarian, vegan, and gluten-free options for those with special diets or sensitive stomachs. Excellent cuisine, quite busy at dinner. 

$5-15

. The Green Elephant Website