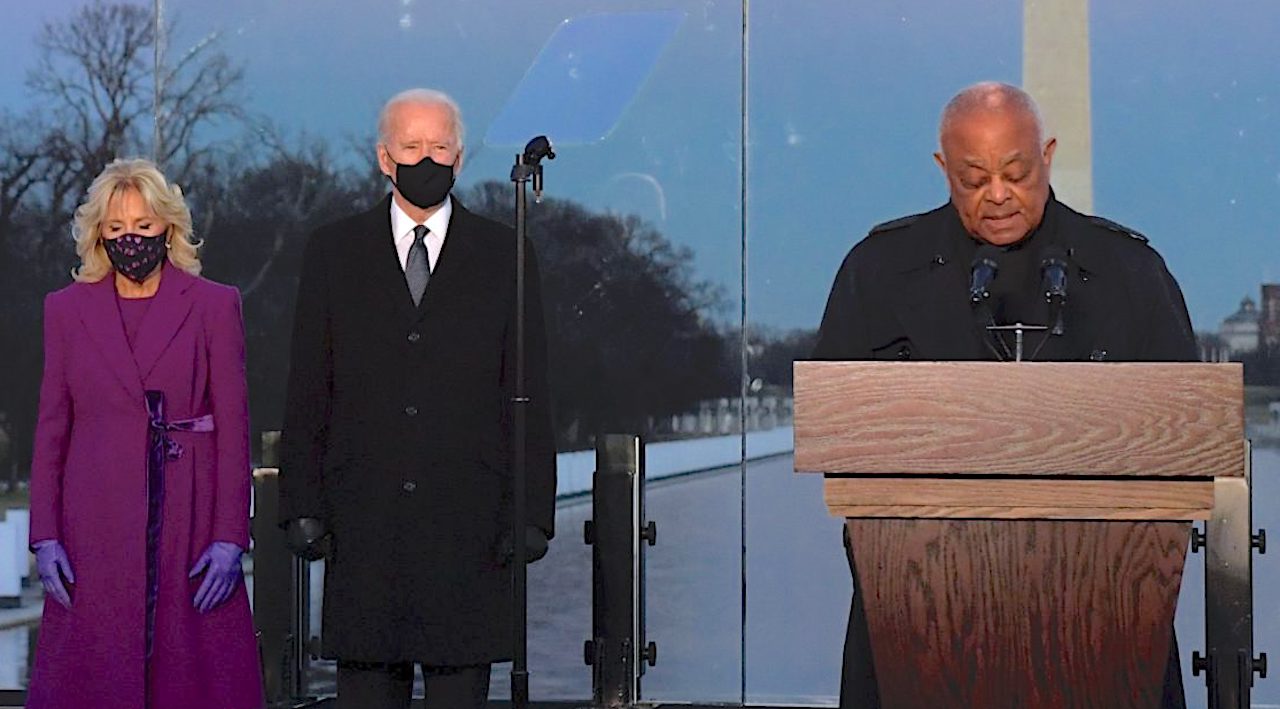 The Catholic Church in America has been thrust into a new and unprecedented crisis: namely the election of Joseph Biden to the presidency. If not dealt with properly, Biden's presidency will cause serious damage to the very truth of what it means to be Catholic. Of course, I am referring to the fact that while Biden professes the Catholic faith, he fully supports legalized abortion, same-sex "marriage" and transgenderism, and vowed that he will do all he can to advance these causes during his administration. Nonetheless, Biden's practice of Catholicism will be on display for the whole world to observe—as he attends Mass and receives Holy Communion.
The impact of a pro-abortion Catholic president was not lost on Washington Postreligion reporter Michelle Boorstein, when in her December 9 article she opined that "Biden is poised to make his mark on American Catholicism." Boorstein quotes Jayd Henricks, who, having once headed up the bishops' office of government relations, proclaimed almost as a warning that if the bishops do not address Biden's opposition to the God-given right to life (among other issues), "President Biden can redefine the perception of what it is to be a Catholic in good standing." In other words, Biden will essentially be in charge of what it means to be a practicing Catholic—rendering the authority of the bishops impotent and irrelevant. However, the USCCB has already created a working committee, headed by Archbishop Allen Vigneron of Detroit, whose task is to determine how the Church will deal with the "difficult and complex situation"the Biden administration will present.
Biden can attempt to defend his brand of Catholicism by wrapping himself in the cloak of the Pope Francis pontificate. And at least some Catholics—groups like Catholics for Biden, for example—have attempted to drape that cloak upon him. Biden can exploit Francis's emphasis on mercy, compassion and forgiveness over adherence to doctrine, characterized as rigid and pharisaical. He can exploit a more inclusive Church that makes room for those who, for whatever reason, cannot accept or live up to the demands of the Gospel.
Biden, however, cannot really hide behind Francis. The pope has been consistently outspoken regarding the evil of abortion as part of a "throwaway culture." For instance, in his 2014 address to the Italian Movement for Life, Francis stated: "Human life is sacred and inviolable. Every civil right is based on the recognition of the first, fundamental right, the right to life, which is not subject to any condition, of a qualitative, economic and certainly not of an ideological nature." As recently as January 2020, Francis expressed agreement with the U.S. bishops "identifying the protection of the unborn as a preeminent priority." The bishops' working committee can thus easily demonstrate that Biden's advocacy and facilitation of abortion is hardly consistent with the vision of Pope Francis.
However, on November 24, 2020, just one week after the working committee was formed, Cardinal Wilton Gregory of Washington D.C. declared that he would not refuse Holy Communion to Biden. His pastoral approach, of course, signaled that Biden is a good Catholic and, as a kind of preemption, made it more difficult for the working committee to come to a different conclusion. Gregory justified Biden's continued access to the reception of the Eucharist by characterizing the then–president-elect's support for abortion as merely a disagreement that comes with "being a family, a family of faith." He stated: "The difficulty is too many people want to throw out of the family of faith people with whom they have disagreements." By characterizing Biden's support for legal abortion as mere "disagreement," the Cardinal completely trivialized the gravity of the injustice inflicted upon the unborn. Injustice against this victim class was reduced to a mere issue, an idea, a philosophical concept, a subject over which there can be a difference of opinion. But abortion is not any of these things. Abortion is not an abstraction. Abortion is 62 million dead people! The conflict here is not just about what Biden believes, which is bad enough. It's about what Biden does—his moral actions that directly cause grave evil.
Gregory noted that, while vice president for eight years, Biden attended Mass and received Communion, and Gregory was not going to "veer from that." Here, however, is exactly the center of the problem. The Church is burdened with a legacy she herself created. Since the time of Roe v. Wade, pro-abortion Catholic politicians, with minor exceptions, have remained undisciplined by bishops. Thus, with complete impunity they file into the Communion line and receive the Body of Christ. Indeed, the die was cast the day Roe v. Wade was handed down and Catholic Supreme Court Justice William Brennan, who sided with the majority, received no ecclesial discipline. Not only did Brennan vote for Roe, he was the chief architect of that ruling which opened the floodgates of death. When he died in 1997, he was buried as a Catholic in good standing from St. Matthew's Cathedral.
What's expected of Catholics in public office was first clearly laid out in the 1974 Vatican Declaration on Procured Abortion, Article 22:
It must in any case be clearly understood that whatever may be laid down by civil law in this matter, man can never obey a law which is in itself immoral, and such is the case of a law which would admit in principle the liceity of abortion. Nor can he take part in a propaganda campaign in favor of such a law, or vote for it. Moreover, he may not collaborate in its application.
Canon 915 of the Catholic Code of Canon Law is quite clear that those "obstinately persevering in manifest grave sin are not to be admitted to Holy Communion."
In an ecclesial sanctioning of Biden, the bishops face several obstacles. It will appear that Biden is being singled out. This problem can be overcome by a public statement that all Catholic politicians who facilitate abortion are not to present themselves for Communion. But as the Catholic pro-abortion, pro–same-sex "marriage" President of the United States, Biden presents the Church with a unique case. Upon taking national office and indeed entering the international stage, Biden is now the most visible example of Catholicism practiced by a politician. Thus, the negative consequences will affect the entire Church, not merely his local bishop.
Another huge obstacle is the extreme criticism and misunderstanding that will be heaped upon the bishops should they act. Biden will be presented by the organs of the secular world as the victim of a narrow, medievally-minded Church, wielding its antiquated weapon of excommunication. What can be done to mitigate such an attack? Not much, except that the bishops must explain the need for such discipline with precise and clear catechesis.
---
The three points below may provide for some clear articulation:
In receiving Communion, Biden provides a bad example to others. His reception of the Eucharist misleads others to conclude that facilitation of the deaths of the unborn is compatible with the practice of the Catholic faith, thus causing scandal to believers and to those outside the Church as well. His participation in a form of genocide teaches others that the weak and vulnerable are expendable members of society.
Biden's soul is at stake. When he receives the Eucharist while in support of laws that slaughter the unborn, he speaks a spiritual lie. By doing so he manifests a lack of personal moral integrity for which he is responsible. Saint John teaches: "The person who claims to be in the light, hating his brother all the while, is in darkness even now" (1 John 2:9). Abortion is a form of hatred toward one's fellow man.
To receive the Body and Blood of Christ while desecrating the sacred humanity of the unborn constitutes a sacrilege. It contradicts what it means to be united to Christ in the Eucharist. Support for abortion wounds Christ in His brothers and sisters, as Jesus teaches: "Whatsoever you do to the least of my brethren, you do to me" (Matthew 25:40). One cannot desecrate the bodies of the unborn and receive the Body of Christ. The incongruity is staggering.
Biden's election has brought the Church in America to a special moment—and it is a moment that the leaders of the Church must not avoid confronting. If we are to hope that the truth will ever be spoken—that those who facilitate the killing of the innocent and receive the Eucharist sin against the Body and Blood of Christ—then only two things are necessary. First, the bishops must have the conviction that something needs to be done. And second, they must have the fortitude to do it. Biden's presidency will deeply burden the efforts of the pro-life movement. The future promises to be dark, but this darkness will be quite bleak if Biden is permitted to define the New Catholicism. If there ever was a need for the prophetic voice of the Church, it is now.