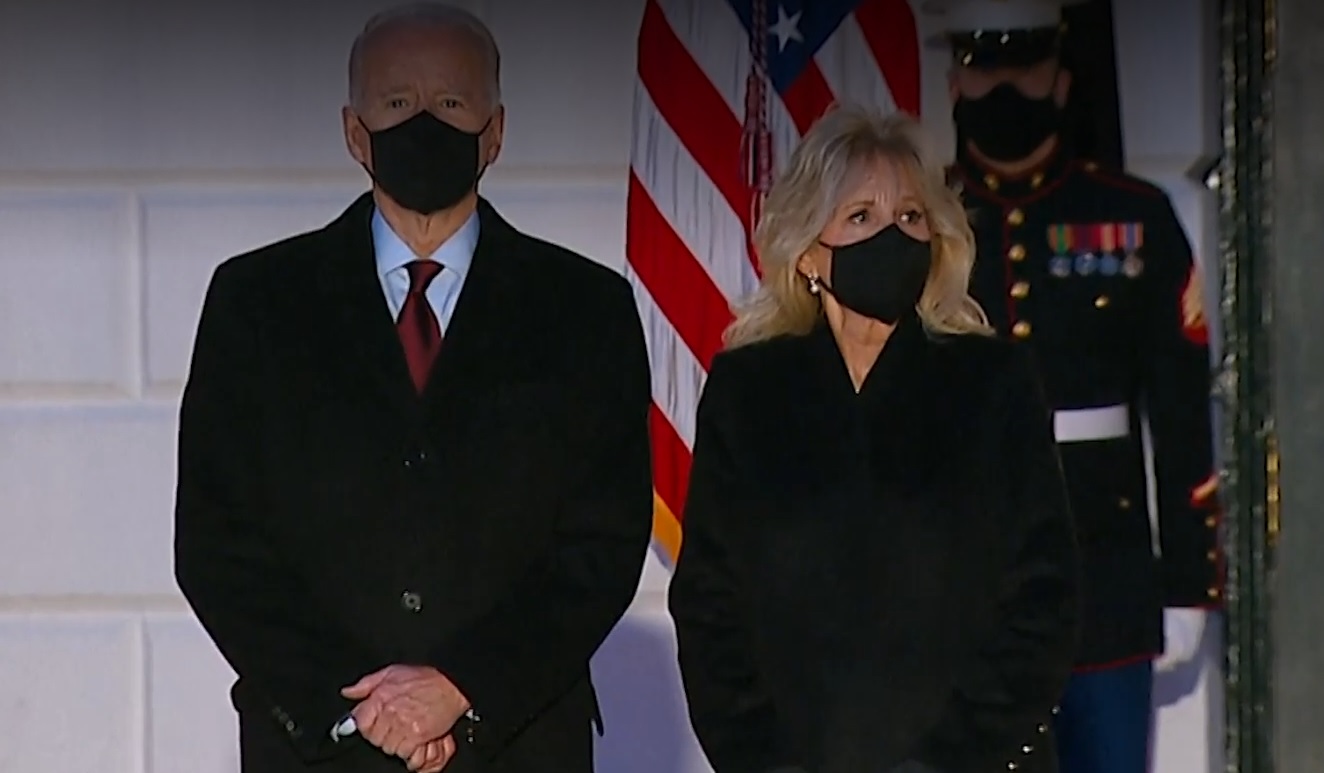 U.S. hits a tragic milestone
More than 500,000 people in the U.S. have now died from COVID-19. President Biden honored the victims in a memorial outside the White House: "The people we lost were extraordinary. They spanned generations."
"We often hear people described as ordinary Americans. There's no such thing, there's nothing ordinary about them," Mr. Biden said during a speech at the White House. "People we lost were extraordinary. They spanned generations, born in America, emigrated to America. Just like that, so many of them took their final breath alone in America."
"As a nation, we can't accept such a cruel fate," he said.
The president's somber speech came after the number of U.S. deaths surpassed a half-million, with more than 1,200 fatalities reported on Sunday, according to data compiled by Johns Hopkins University. Nearly a year ago, the World Health Organization declared the coronavirus outbreak a pandemic. THE WALL STREET JOURNAL
Supreme Court won't stop grand jury from getting Trump's tax returns
The Supreme Court rejected Donald Trump's final bid to shield his tax returns, clearing the way for New York prosecutors to access eight years of his financial records as part of a criminal investigation.
The ruling doesn't mean the returns will become public any time soon, and they might never be publicly released. Under New York state law, materials turned over to a grand jury must be kept secret. But Manhattan District Attorney Cyrus Vance can now require Trump's accountants to turn over the records that Trump has steadfastly refused to surrender to prosecutors or Congress.
"The Supreme Court never should have let this 'fishing expedition' happen, but they did," the statement said. "This is something which has never happened to a President before, it is all Democrat-inspired in a totally Democrat location, New York City and State, completely controlled and dominated by a heavily reported enemy of mine, Governor Andrew Cuomo." NBC NEWS
Merrick Garland's confirmation hearing
Merrick Garland, Biden's nominee for attorney general, pledged at his confirmation hearing to make prosecuting the Capitol insurrection his first priority.
Merrick Garland faced the Senate Judiciary Committee for his confirmation hearing as President Joe Biden's attorney general nominee and underwent a few tense moments of questioning.
Here are the top takeaways from Monday's hearing:
'I am not the president's lawyer'
Garland asserted that he would rebuff any attempt by the White House to politicize the Justice Department, declaring: "I am not the president's lawyer; I am the United States' lawyer."
"My job is protect the Department of Justice," Garland said.
Sen. Ted Cruz, R-Texas, was highlighting the Fast and Furious scandal under President Barack Obama's Attorney General Eric Holder and the relationship between an attorney general and a president, had asked Garland whether he would be Biden's "wingman," which Garland denounced. USA TODAY
Palo Alto Networks Probes New Equity Structure For Cloud, AI Unit
Palo Alto Networks is exploring different equity structures for its cloud and AI security business that could potentially allow different investors to bankroll the high-growth practice.
The Santa Clara, Calif.-based platform security vendor said its board of directors has approved creating a vehicle for its employees to invest in equity around the company's cloud and AI business, more tightly aligning the interest of employees and shareholders, said CEO Nikesh Arora. The cloud and AI business includes the company's Prisma Cloud, Cortex security operations, and incident response services. CRN