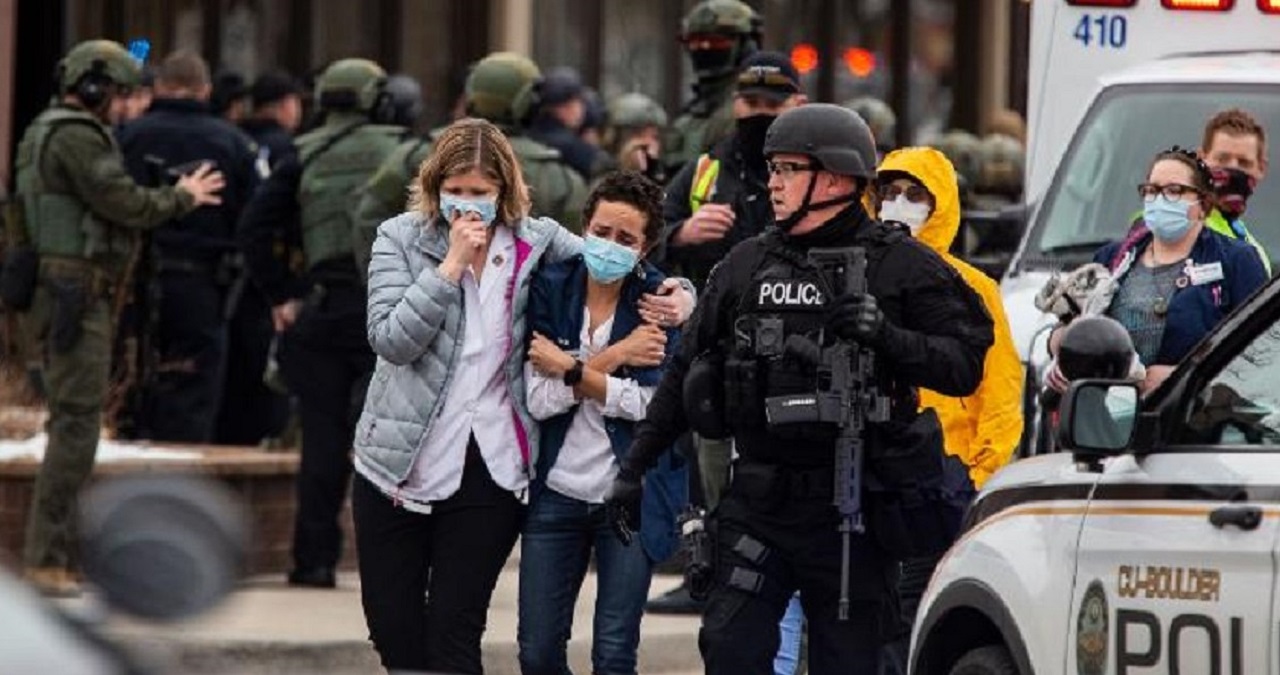 Doxa Christian Magazine News Summary for Tuesday, March 23, 2021. Updated: 11:29AM
CNN: The latest on the shooting in a Colorado supermarket Ten people were killed in a mass shooting at a grocery store in Boulder, Colorado. Ahmad Al Aliwi Alissa, the 21-year-old suspect in Monday's massacre at the King Soopers supermarket in the Colorado city of Boulder, faces 10 counts of murder in the first degree, Boulder Police Chief Maris Herold said Tuesday. The 10 people who died ranged in age from 20 to 65. They were, according to Boulder police: Denny Strong, 20; Neven Stanisic, 23; Rikki Olds, 25; Tralona Bartkowiak, 49; Suzanne Fountain, 59; Teri Leiker, 51; Boulder police Officer Eric Talley, 51; Kevin Mahoney, 61; Lynn Murray, 62; Jody Waters, 65. The suspect is a resident of Arvada, Colorado, and has "lived most of his life in the United States," Boulder County District Attorney Michael Dougherty said. He was shot during an exchange of gunfire at the supermarket Monday, suffering "a through-and-through" wound to his leg, and was taken into custody at 3:28 p.m. Monday, Herold said.
The Wall Street Journal: AstraZeneca's latest COVID-vaccine trial data may have relied on out-of-date information, U.S. health officials said. U.S. officials said they were told AstraZeneca PLC may have released outdated information about trial results for its Covid-19 vaccine—a surprise disclosure that immediately cast doubt on the company's assertion a day before that results showed the shot to be highly effective. The early-morning statement from the National Institute of Allergy and Infectious Diseases came a day after AstraZeneca released interim data from large-scale U.S. trials that it said found its Covid-19 vaccine to be 79% effective in preventing symptomatic disease.
The Wall Street Journal: Pfizer Goes It Alone To Expand Vaccine Business Beyond Covid-19 Pandemic Pfizer will develop new shots using the technology, called mRNA, to target other viruses and pathogens beyond the coronavirus, Chief Executive Albert Bourla said in an interview. He said the company's scientists and engineers gained a decade's worth of experience in the past year working on the Covid-19 vaccine with Germany's BioNTech SE, BNTX -0.55% and is ready to pursue mRNA on its own. "There is a technology that has proven dramatic impact and dramatic potential," Mr. Bourla said. "We are the best positioned company right now to take it to the next step because of our size and our expertise."
Politico: U.S., allies announce sanctions on China over Uyghur 'genocide' The United States and its allies in Canada, Britain and the European Union on Monday announced sanctions on several Chinese officials alleged to have links to what U.S. officials say is a genocidal campaign against Uyghur Muslims. The international, coordinated sanctions, first reported by POLITICO, drew condemnation and some immediate retaliatory sanctions from Beijing. The moves offered a glimpse into the growing divide between China and the United States and its trans-Atlantic allies, which, like Washington, are increasingly wary of China's global ambitions and internal repression.
Daily Political Press: Democrats Eye Medicare Negotiations To Lower Drug Prices Democrats, newly in control of Congress and the White House, are united behind an idea that Republican lawmakers and major drugmakers fiercely oppose: empowering the Department of Health and Human Services to negotiate the prices of brand-name drugs covered by Medicare. But they do not have enough votes without Republican support in the Senate for the legislation they hope will lower the price consumers pay for prescription drugs. That raises the possibility that Democrats will use a legislative tactic called reconciliation, as they did to pass President Joe Biden's covid relief package, or even eliminate the Senate filibuster to keep their promise to voters.
Chicago Sun-Times: Evanston passes first-in-nation reparations The Evanston City Council on Monday approved a first-in-the-nation reparations plan that's been put forth as a blueprint for other municipalities, including Chicago, to use in efforts to make amends for historical wrongs against Black residents. In an 8-1 vote, the council approved a plan to distribute $400,000 to Black residents with ties to the city's Black community between 1919 and 1969. Eligible applicants will also include residents who suffered from housing discrimination due to the city's policies after 1969.
KHN: Indiana School Goes Extra Mile To Help Vulnerable Kids Weather Pandemic After covid-19 forced Olivia Goulding's Indiana middle school to switch back to remote learning late last year, the math teacher lost contact with many of her students. So she and some colleagues came up with a plan: visiting them under the guise of dropping off Christmas gifts. One day in December, they set out with cards and candy canes and dropped by the homes of every eighth grader at Sarah Scott Middle School in Terre Haute, a city of more than 60,000 near the Illinois border where both Indiana State University and the federal death row are located. They saw firsthand how these kids, many living in poverty and dysfunctional families, were coping with the pandemic's disruptions to their academic and social routines.

NPR: Marty Walsh, Boston Mayor With Union Roots, Confirmed As Labor Secretary At Key Time Marty Walsh, the two-term mayor of Boston, was confirmed as the Labor secretary by the Senate in a 68-29 vote on Monday, becoming the first union leader to run the department in over four decades. Walsh will become the head of the Labor Department at a critical time, as the pandemic has left millions unemployed and raised concerns about workplace safety. The former union leader will also serve in a Biden administration that has pledged to protect the power of unions and is looking to raise the federal minimum wage to $15 an hour. "Right now, this work is critical to the future of our economy, our communities, and our families," Walsh told senators at his confirmation hearing last month. "I believe we must act with urgency to meet this moment to strengthen and empower our workforce as we rebuild."