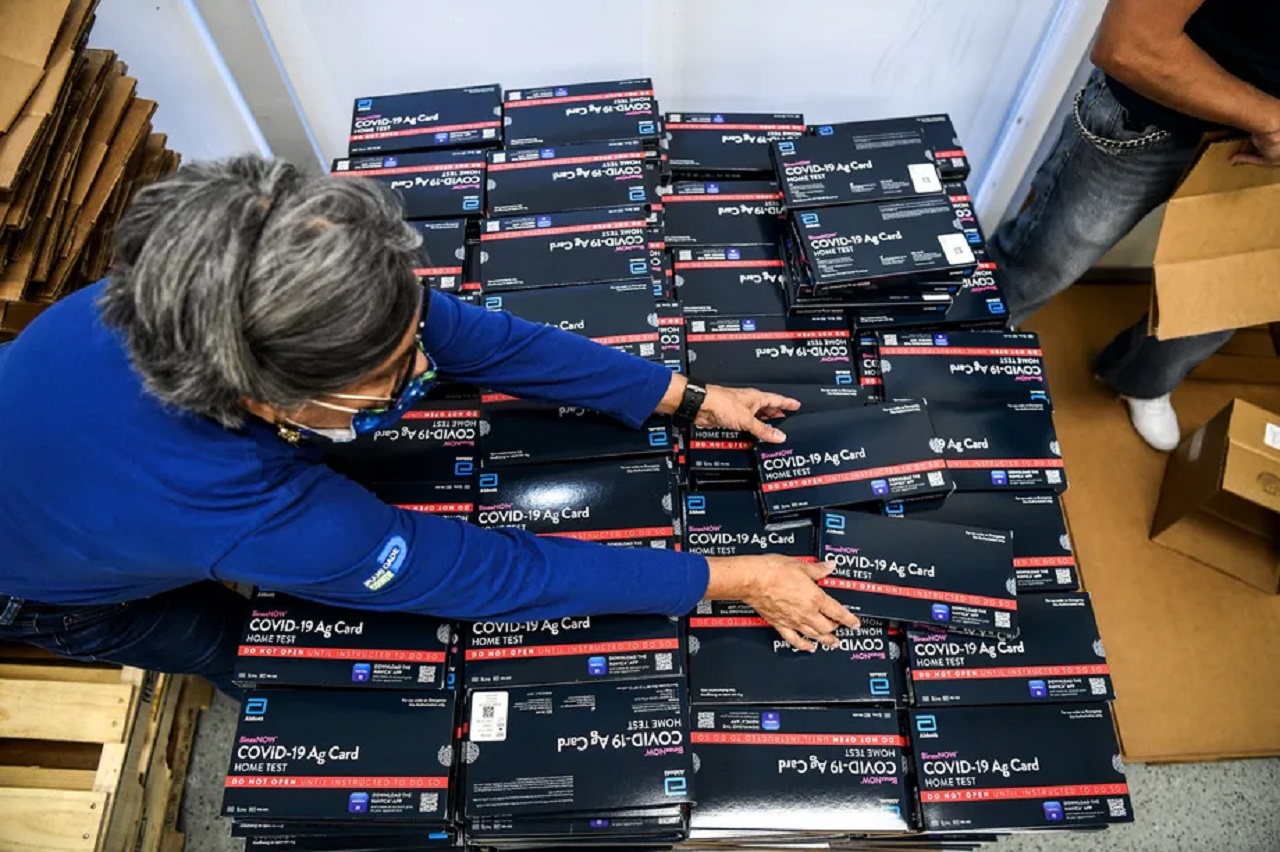 To help ensure Americans have tests on hand when they need them, the Biden Administration is purchasing one billion at-home, rapid COVID-19 tests for all Americans for free. The White House's long-awaited website for ordering free Covid-19 rapid tests is finally live. The new page, https://covidtests.gov, arrives amid a shortage of rapid tests at retail stores and a surge in Covid-19 cases due to the omicron variants. For those people without internet access, the Administration plan to launch a call line for them to place orders.
Get free at-⁠home COVID-⁠19 tests from https://www.covidtests.gov or go directly to the U.S. Postal Service (USPS) order form here:  https://special.usps.com/testkits.
Every home in the U.S. is eligible to order #44 free at-⁠home COVID-⁠19 tests. The tests are completely free. Orders will usually ship in 7-12 days. The Administration partner with the United States Postal Service to package and deliver tests to Americans that want them. All orders in the continental United States will be sent through First Class Package Service, with shipments to Alaska, Hawaii, and the U.S. Territories and APO/FPO/DPO addresses sent through Priority Mail.
In addition to this new program, there are many other options for Americans to get tested. There are now over 20,000 free testing sites across the nation, including four times as many pharmacies participating in the federal pharmacy free testing program as there were in January 2021, as well as federal surge free testing sites, with more free testing sites opening each week.
Order your tests now so you have them when you need them. Because tests are supposed to take between 7 to 12 days to ship, the government recommends that people order tests on their site now, rather than waiting until they have Covid-19 symptoms or are exposed to someone with Covid-19.
The two main types of COVID-19 tests are rapid antigen tests and polymerase chain reaction (PCR) tests. Antigen tests can be taken at home and return results in about 10 to 15 minutes. PCR tests are more accurate but require lab work and generally don't provide results for at least 12 hours or even up to 5 days. If you are traveling and require a closer to 100% accuracy, the PCR is your best choice.
After receiving a positive test result, you are required to isolate for at least five days, and longer if you're symptomatic, according to the Centers for Disease Control and Prevention. Though the risk of false positives from rapid tests is low, most medical experts and health officials still recommend confirming a positive at-home test with a subsequent PCR test.
As of Jan. 15, health insurance companies are required to reimburse Americans for eight at-home antigen tests per person a month, under a plan announced by President Biden. If an individual has been directed to undergo COVID-19 testing by their medical provider because of underlying health conditions or other factors, there is no limit on the number of tests covered.
For more information, please visit: Fact Sheet: The Biden Administration to Begin Distributing At-Home, Rapid COVID-⁠19 Tests to Americans for Free.