Pastors, leaders, and members pray and volunteer in the city's communities amid a surge of COVID-19.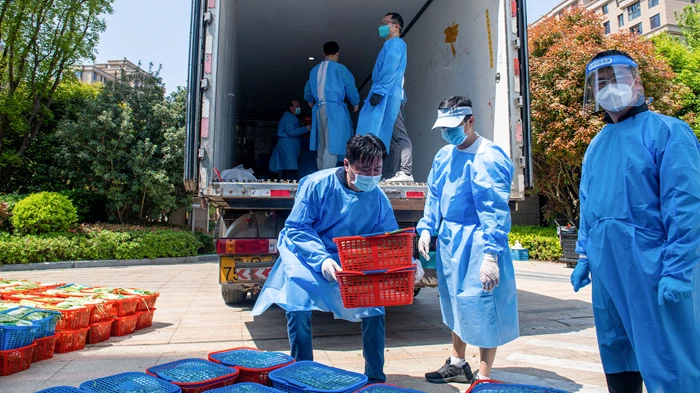 It had been a week since the beginning of the lockdown. The day after he joined the neighborhood volunteer team, pastor Xue of GB Church received a white one-piece protective suit, a pair of shoe covers, a pair of gloves, and a face mask. (Xue and others throughout this piece have been given pseudonyms for their own safety. So have the church names.)
After 8:30 p.m. that day, he was responsible for collecting the garbage placed in the doorways of 72 homes on the 16th to 27th floors of the building. It took him about an hour to move nearly 150 kilograms of trash. The following day, the 150 bottles of alcohol and thousands of masks he ordered through online group purchase rapidly met the demand, and the community volunteers quickly became acquainted with him.
When they saw him at a community meeting, the local aunties and uncles immediately switched from Shanghainese to Mandarin with a strong Shanghai accent in their chatting to ensure unhindered communication. Xue's newly added WeChat friends are all neighbors in the community. Neighbors are no longer an abstract concept or a group of people in the administrative or geographic sense, but people of all types, with their own temperaments.
In another area of the city, morning prayer meetings at the CL Church had seen a significant increase in attendance since the lockdown. While the city's early risers were busy ordering groceries on their mobile apps, more than 20 Christians and seekers began online worship.
"With 15 minutes of Bible sharing and 15 minutes of prayer every morning, we encourage people to pray first after they wake up and before they do anything else. As Martin Luther said, if you wait till you finish everything else and then pray, you are actually giving up on prayer," said pastor Han of CL Church.
Planted only a couple of years ago, this church had not anticipated the online ministry to last for two years. But now not only had the number of participants increased, but also many non-Christians had joined them. The seekers appreciated the sincerity of the church even more because they had heard Christians share honestly about their anxiety and insecurity during the lockdown.
Since March, the omicron variant has rapidly spread across Shanghai, a city of more than 25 million people. At first, city officials tried to contain the spread of the virus and reduce the disruption of normal life by sealing off individual buildings and residential areas. But by March 27, the government issued a notice to sequentially lock down Pudong (the half of the city east of the Pujiang River) and Puxi (the half west of the river) for at least four days. The earlier strategy of fine-tuned containment was abandoned. All public transportation and most businesses were shut down, and almost everyone was ordered to stay home and quarantine.
By April 7, the number of infections in Shanghai was in the tens of thousands per day, and for most neighborhoods, lifting quarantine was out of reach. But the consequences of the lockdown have been devastating. Hemodialysis patients have been unable to receive treatments. Families with new COVID-19 infections have had to follow a "no mix of positive and negative" quarantine policy that has separated children from their parents.
The shortage of medical supplies caused by the disorderly management of mobile cabin hospitals has caused widespread anxiety in Shanghai, a city that prides itself on order and stability. Everyone knows the city is sick, but there seems to be no cure. Everyone wants to be helped by people they know, but some give up on life in solitude. One non-Christian who found a church pastor in the midst of the lockdown said, "There is no solution for everyone anyway, but I know the church would pray for me, pray with me, and stay with me."
What can Christ's church do amid such turbulence and facing so many needs? Pastors and church leaders emphasize the importance of prayer, devotions, spiritual growth, and actions of charity.