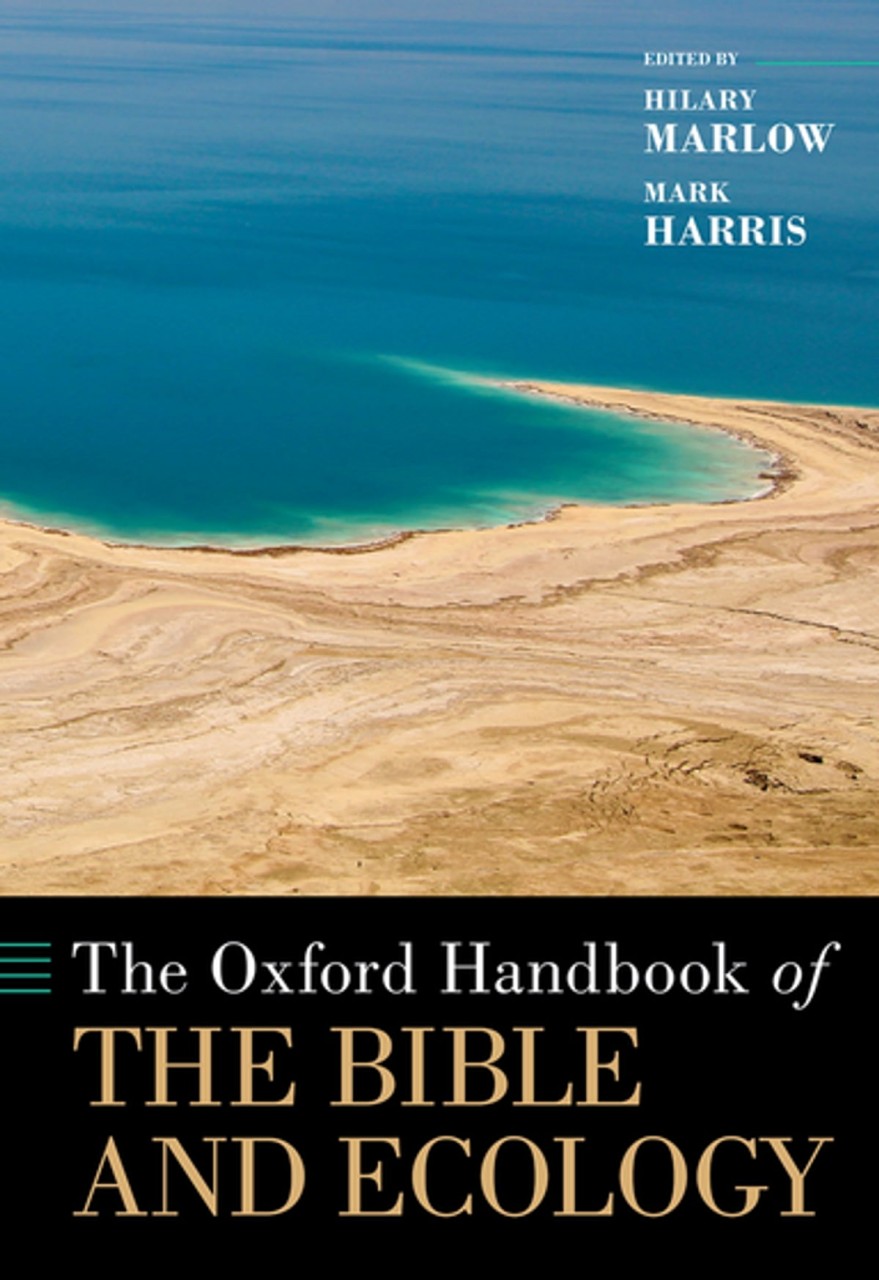 Book Details
Author: ‎ Hilary Marlow & Mark Harris
Publisher: ‎ Oxford University Press (April 22, 2022)
Language: ‎ English
Hardcover: ‎ 496 pages
ISBN-10: ‎ 0190606738
ISBN-13: ‎ 978-0190606732
Item Weight: ‎ 2.05 pounds
Dimensions: ‎ 9.4 x 1.7 x 6.8 inches
Overview
A wide-ranging treatment of the Bible and ecology
Presents 30 essays by established and emerging scholars
Includes authors from a range of backgrounds, including those active in environment protection and advocacy
Table of Contents
Copyright Page
Acknowledgments
Contributors
Abbreviations
Section 1: Issues and Methods
Introduction, Hilary Marlow and Mark Harris
1. The Historical Roots of the Ecological Crisis, Jeremy H. Kidwell
2. Ecological Hermeneutics. Origins, Approaches, and Prospects, David G. Horrell
3. Ecological Feminist Hermeneutics, Anne Elvey
4. Ecological Hermeneutics and Postcolonialism, Madipoane Masenya [Ngwan'a Mphahlele]
5. Literary Ecocriticism and the Bible, Timothy J. Burbery
Section 2: Specific Biblical Texts
6. Genesis, Ted Hiebert
7. Leviticus, Deborah Rooke
8. Deuteronomy, Raymond F. Person, Jr.
9. Reading From the Ground Up. Nature in the Book of Isaiah, Hilary Marlow
10. Re-viewing the Book of Jeremiah. An Ecological Perspective, Emily Colgan
11. God's Good Land. The Agrarian Perspective of the Book of the Twelve, Laurie J. Braaten
12. "Deep Calls to Deep". Ecology of Praise in the Psalms, William P. Brown
13. The Book of Job, Kathryn Schifferdecker
14. The Ecotheology of the Song of Songs, Ellen Bernstein
15. Synoptic Gospels, Mark Harris
16. John's Gospel, Susan Miller
17. Pauline Epistles. Paul's Vision of Cosmic Liberation and Renewal, V.S. Balabanski
18. Revelation, Micah D. Kiel
Section 3: Thematic Studies
19. Attitudes to Nature in the Hebrew Bible and the Ancient Near East, Ronald A. Simkins
20. The Image of God in Ecological Perspective, J. Richard Middleton
21. Ecology and Eschatology in the Second Temple Period, Christopher Rowland
22. Stewardship. A Biblical Concept?, Mark Daniel Liederbach
23. The Sea and Ecology, Rebecca S. Watson
24. City as Sustainable Environment, Mary E. Mills
Section 4: Contemporary Issues and Perspectives
25. The Bible and Ecotheology. A Jewish Perspective, Julia Watts Belser
26. The Bible and Wildlife Conservation, Dave Bookless
27. The Bible and Environmental Ethics, Celia Deane-Drummond
28. The Bible and Animal Theology, David L. Clough
29. Creation Care and the Bible. An Evangelical Perspective, Daniel L. Brunner and A.J. Swoboda
30. Climate Scepticism, Politics and the Bible, Benjamin S. Lowe, Rachel L. Lamb, and Noah J. Toly
Description
Environmental issues are an ever-increasing focus of public discourse and have proved concerning to religious groups as well as society more widely. Among biblical scholars, criticism of the Judeo-Christian tradition for its part in the worsening crisis has led to a small but growing field of study on ecology and the Bible. This volume in the Oxford Handbook series makes a significant contribution to this burgeoning interest in ecological hermeneutics, incorporating the best of international scholarship on ecology and the Bible. The Handbook comprises 30 individual essays on a wide range of relevant topics by established and emerging scholars. Arranged in four sections, the volume begins with a historical overview before tackling some key methodological issues. The second, substantial, section comprises thirteen essays offering detailed exegesis from an ecological perspective of selected biblical books. This is followed by a section exploring broader thematic topics such as the Imago Dei and stewardship. Finally, the volume concludes with a number of essays on contemporary perspectives and applications, including political and ethical considerations.
The editors Hilary Marlow and Mark Harris have drawn on their experience in Hebrew Bible and New Testament respectively to bring together a diverse and engaging collection of essays on a subject of immense relevance. Its accessible style, comprehensive scope, and range of material means that the volume is a valuable resource, not only to students and scholars of the Bible but also to religious leaders and practitioners.
About the Author
Hilary Marlow is Vice-Mistress, Graduate Tutor and Director of Studies at Girton College and an Affiliated Lecturer in the Faculty of Divinity, University of Cambridge, where she teaches Hebrew Bible and Biblical Hebrew. She is the author of Biblical Prophets and Contemporary Environmental Ethics (OUP, 2009) and numerous articles. Her research focuses on the intersection between the Hebrew Bible and contemporary environmental issues, including eco-critical and new materialist readings.
Mark Harris is Professor of Natural Science and Theology at the University of Edinburgh. As a physicist working in a theological environment, he is interested in the complex ways that science and religion relate to each other. His research interests include the relationship between the physical sciences (especially physics) and theology and the impact of science on modern views of the Bible, especially in thinking on miracles and divine action.