ECWA USA Consultation via Zoom
Zoom link will be sent upon request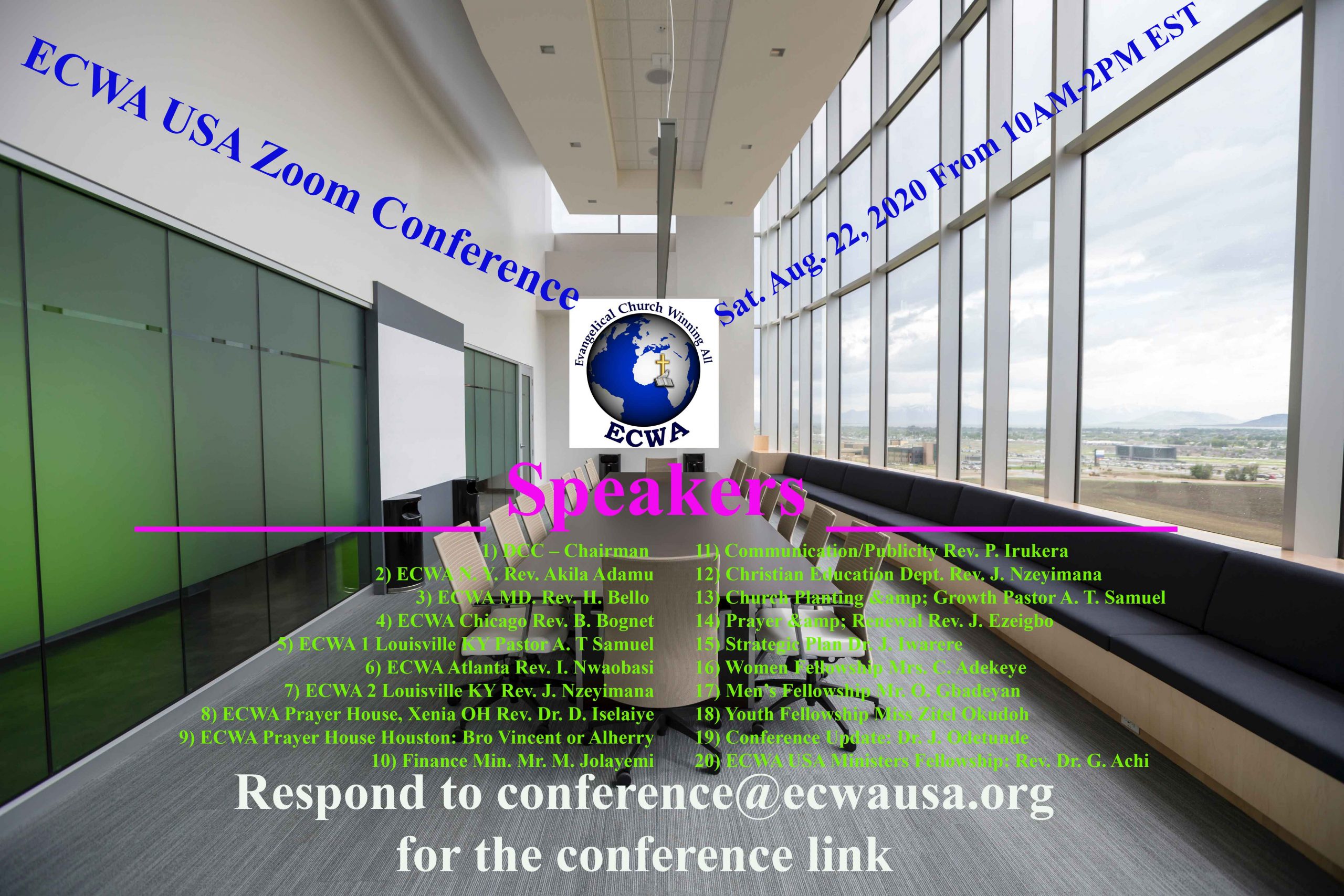 On behalf of ECWA USA DCC I am personally excited to invite you to a Zoom conference in lieu of our 2020 National conference. We trust that our good Lord has been keeping you safe in these trying times with Covid-19 and the racial tensions we have been dealing with. The Lord our God is still on the throne and we do not need to fear.
Every ECWA member is invited to participate in this conference and we will appreciate it if you take a minute to let us know that you are planning to participate and we will send you the zoom link. Please forward this mail to other ECWA members you know in the US and Canada.
Following is the conference program. Please respond now or not later than Sunday Aug. 16. The direct email for response is conference@ecwausa.org.
Agenda (Tentative)
10:00 – 10:30am (30 Min) Session 1. Anthem, Prayer, ECWA President
10:30 – 11:35am (65 Min) Session 2. Updates from DC EXCO and Ministries
11:35 – 11:45am (10 Min) Break
11:45 – 12:45pm (60 Min) Session 3. Breakout Groups
12:45 – 1:00pm (15 Min) Break
1:00 – 1:30pm (30 Min) Session 4. Reports from Breakout Groups
1:30 – 2:00pm (30 Min) Session 5. Prayer
Attendies
Opened to all ECWA members (Youth/Young Adults and Adults) with a passion to see ECWA in the USA fulfill its God-given mandate. Required: All pastors, Elders, and ministry leaders.
Updates
Brief updates (3 minutes each) will be given by the Ministries/Leaders indicated. Please write out your report and trim it until you can present it in 3 minutes or less.
1) DCC – Chairman
2) ECWA N. Y. Rev. Akila Adamu
3) ECWA MD. Rev. H. Bello 4) ECWA Chicago Rev. B. Bognet
5) ECWA 1 Louisville KY Pastor A. T Samuel
6) ECWA Atlanta Rev. I. Nwaobasi
7) ECWA 2 Louisville KY Rev. J. Nzeyimana
8) ECWA Prayer House, Xenia OH Rev. Dr. D. Iselaiye
9) ECWA Prayer House Houston: Bro Vincent or Alherry
10) Finance Min. Mr. M. Jolayemi
11) Communication/Publicity Rev. P. Irukera
12) Christian Education Dept. Rev. J. Nzeyimana
13) Church Planting & Growth Pastor A. T. Samuel
14) Prayer & Renewal Rev. J. Ezeigbo
15) Strategic Plan Dr. J. Iwarere
16) Women Fellowship Mrs. C. Adekeye
17) Men's Fellowship Mr. O. Gbadeyan
18) Youth Fellowship Miss Zitel Okudoh
19) Conference Update: Dr. J. Odetunde
20) ECWA USA Ministers Fellowship: Rev. Dr. G. Achi
For the Breakout Groups
We will have breakout groups with a leader to guide the discussions and a secretary to write down the resolutions

Our focus will be on the vision and mission of ECWA USA stated below.

Goal: Collective insight/wisdom as led by the Holy spirit to give us a clear path to follow.
Vision: ECWA USA exists to: GLORIFY GOD
Mission: Evangelize and Disciple Believers
What do you consider to be the greatest strength ECWA USA has to fulfill our mission? How can we leverage that practically?

What is the greatest Weakness ECWA USA is confronted with in fulfilling our mission? How can we overcome this weakness?
Reports from Breakout groups
Secretaries of the breakout groups will give a summary of their findings to the whole house.
Looking forward to connecting with you and the ECWA family.