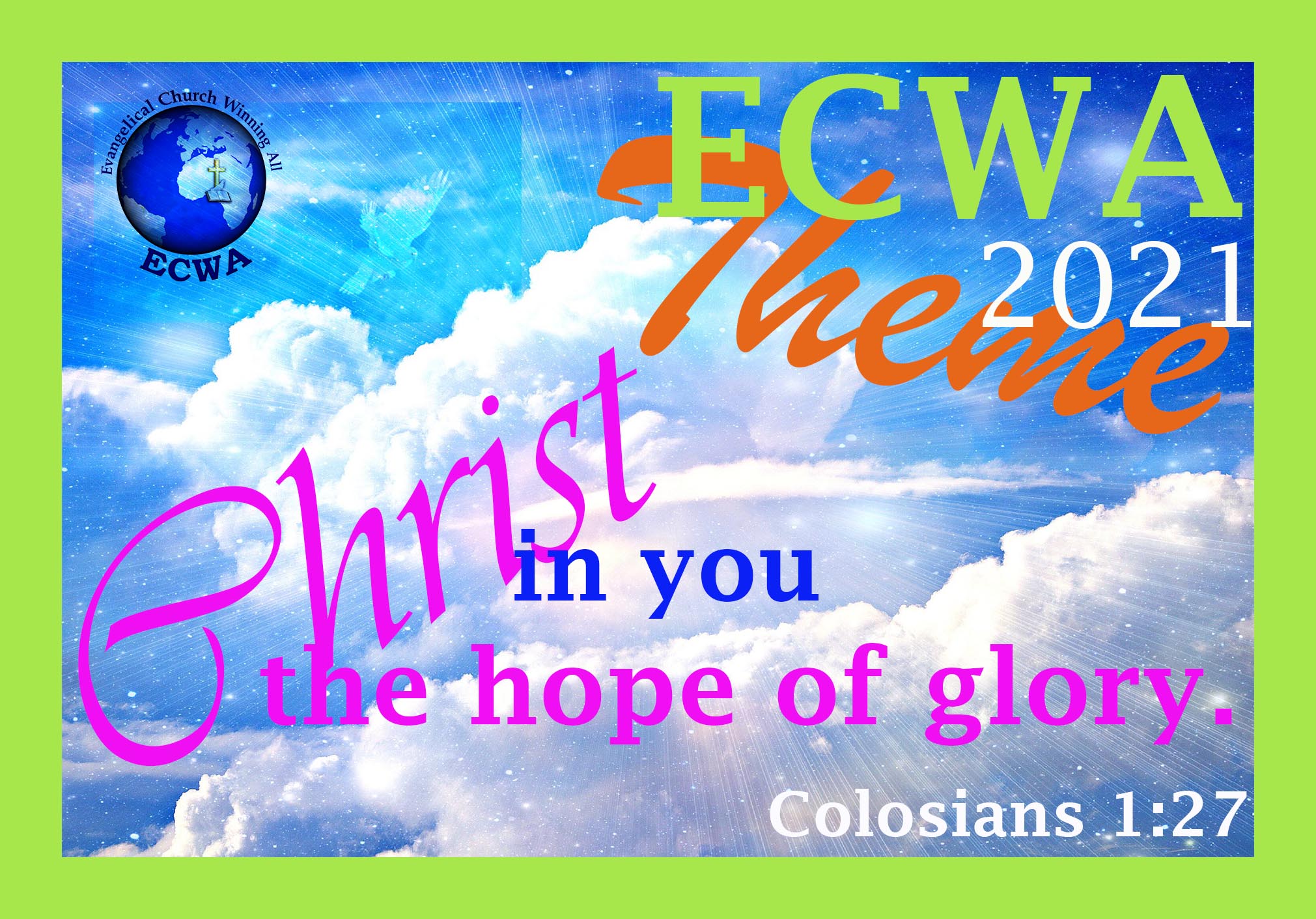 The essence of an Annual Theme or a Watchword is to focus on a goal or an objective . Even short term projects or operations have often been given themes. Themes have sometimes been formulated as a slogan. Not necessarily intending to draw minds back to a sad history. However, during the period of civil war in Nigeria, the name of one of the heads of state was turned into an acronym: Go On With One Nigeria (GOWON) to boost the morale of the war. Those that were alive then recognized this war propaganda. I learnt this as part of my officer's training at the School of Infantry.
Every year ECWA chooses a passage of the Scripture as an annual theme. Some denominations choose a Scripture passage as a life theme. This pastoral letter would not discuss whether or not there are merits or demerits in an annual or permanent theme. The purpose of this letter like a similar one last year is to raise awareness of the theme and to help us to understand the passage in a concrete and practical way. These annual themes are not chosen randomly or by lottery. They have always been prayerfully and thoughtfully selected by the ECWA Executives based on what the Lord GOD is saying to them. This is why every ECWA theme should be taken seriously.
This year's theme, "Christ in you, the hope of glory" is taken from Col.1:27. Exegetical study suggests that v.27 is the summary of the discussion that Paul began in v.24. In this sub-section, Paul was introducing his ministry to the Colossian believers whom he had not met. He was acquainting them with his labors and sufferings in his ministry to the Gentiles. He explained that the ministry entrusted to him which he calls in v.25 stewardship ( oikonomia Greek) is a mystery, which was previously unknown in v.26. The mystery that he was referring to is the Gospel. As we all know, a mystery is something that was formerly hidden, but has now been revealed. Such is the Gospel to which Paul was called, as an ambassador to declare to the Gentiles.
The mystery of the Gospel is that from eternity past, God's plan of salvation included both the Jews and Gentiles. (Gen.12;3; Rom.15:8-12; Eph.3:1-10). God intended to create a new humanity that will unite all peoples, races, and tribes ethnicities and cultures into one body. This new humanity which John Stott calls God's new society in his excellent work by the same title is the Church. God's intention is that through the death and resurrection of Christ, He would reconcile Himself not only to humanity, but also humanity to themselves. "For He Himself is our peace, who has made both one, and has broken down the middle wall of division between us. Having abolished in His flesh the enmity , that is the law and commandments contained in the ordinances, so as to create in Himself one new man from the two, thus making peace. And that He might reconcile them both to God in one body by the cross, by it having put to death the enmity." Eph.2:14-16. Thus the Church that God had in mind would comprise both Jews and Gentiles, Greeks and Barbarians, Slaves and the Free. Paul further describes this "God's new society" in Gal.3:26-29: "For you are all sons of God by faith in Christ Jesus. For as many of you as have been baptized into Christ have put on Christ. There is neither male nor female; for you are all one in Christ Jesus. And if you are Christ's , then you are Abraham's seed and heirs according to the promise."
The Gospel is such a glorious mystery that exceeded the knowledge of the Old Testament prophets who prophesied about it and also the knowledge of the angels.1 Pet.1:10-12. What a blessed privilege that this mystery is not only revealed to us, but that through it we are saved 1 Cor.15:1-4. And a greater privilege still is that like Paul, we have been commissioned as ambassadors to declare it. 2 Cor.5:18-20. Salvation brings incredible joy and blessings this side of eternity. This salvation which Paul calls "Christ in you" brings "the hope of glory". In context, this seems to be the theme of what he was explaining to the Colossians (and us) today.
The Bible promises that because all believers are heirs of God and joint heirs with Christ, they will share also in His suffering and glorification "And if children, then heirs, heirs of God and joint heirs with Christ, if indeed we suffer with Him, that we may also be glorified with Him." Rom.8:17. No amount of joy, bliss or suffering that we experience in this world is comparable to the surpassing glory on the other side of eternity. "For I consider that the sufferings of this present time are not worthy to be compared with the glory which shall be revealed in us." Rom.8:18.
This incomparable glory is called by Paul, the hope of glory in Col.1:27. This glory is a certainty assured of all believers. Believers are described as "those who are the called according to His purpose" in Rom.8:28 which is intrinsically connected to vs.29-30. "Those who are the called are the same ones that "He foreknew". "Those He foreknew" are the same ones that "He also predestined" "whom He predestined", He also called "whom He called", These He also justified; And whom He justified, He also glorified" This inseparable link known in classical theology as the "Golden Chain" or " "Order Of salvation" (Ordo Salutis, Latin) makes it obvious that all believers which are included in v.28 will attain glorification which is the ultimate salvation and sanctification. The Golden Chain is an unbreakable deed signed, sealed and secured in heaven. The Golden Chain makes it clear that God's plan for salvation began in eternity past and reaches into eternity future.
Because the Golden chain is secured in heaven, the hope of glory is guaranteed. Note that "hope" in the New Testament is not "wishful thinking" or perchance expectation as contemporarily used. Hope in the New Testament means strong assurance. "The hope of glory" includes the glory which all believers will share when we behold Christ in His majestic "glory". Beloved, now we are the children of God; and it has not been revealed what we shall be, but we know that when He is revealed, we shall be like Him, for we shall see Him as He is. 1 Jn.3:2. Paul alluded to this glory in Rom.5:2, "Through whom also we have access by faith into this grace in which we stand, and rejoice in hope of the glory of God."
Paul also speaks of the display of God's glorious grace towards believers in Eph.1:6; 2:7. But the greatest display is the exhibition of God's riches in the saints. This will be the "Mother of all exhibitions". This display of God's riches is mentioned in Eph.1:18, "The eyes of your understanding being enlightened ; that you may know what is the hope of His calling , what are the riches of the glory of His inheritance in the saints". ( Emphasis added ). Of this phrase, another translation shows, "How gloriously rich God's portion in His people is". The believers, those who have been redeemed by the precious blood of God's Son are the richest and the most treasured inheritance that God has. The entire created universe including the sun, the moon, the stars, the planets, the Milky Way and the yet undiscovered Galaxies with all their splendor, pale in comparison to the worth and value that God places on His saints. All the gold and silver mines and all the cattle upon a thousand hills are a mere pittance compared to the value God places in those that He redeemed by the blood of the Lamb.
That is indeed a "hope of glory" worth looking forward to. "Christ in you the hope of glory" is worth more than the entire created universe . This future glory is no doubt anticipated in the following statement to the Corinthian believers. "But as it is written : Eye has not seen , nor ear heard, Nor have entered into the heart of man The things which God has prepared for those who love Him." 1 Cor.2:9. This glory is further described as transformation of our present body of clay into a glorious body. For our citizenship is in heaven, from which we also eagerly wait for our Savior Lord Jesus Christ, who will transform our lowly body that it may be conformed to His glorious body, according to which He is able to subdue all things to Himself, Phil.3:20-21 Cf. Rom.8:23; 1 Cor.15:50-54;2 Cor.5:1-8.
Inasmuch as we anticipate this future glory, it may happen sooner than we think… This glorious future will be inaugurated at the appearance of our Savior Jesus Christ: At the rapture. "Behold, I tell you a mystery; We shall not all sleep, but we shall all be changed, in a moment, in the twinkling of an eye, at the last trumpet, for the trumpet will sound, and the dead will be raised incorruptible, and we shall all be changed." 1 Cor.15:51-52. This imminent transformation was no doubt in Paul's mind when he wrote from prison in Rome. "When Christ who is our life appears, then you will also appear with Him in glory. Col.3:4.
The lyrics penned by Charles H. Gabriel certainly resonate with ECWA 2021 Theme, Christ in you, the hope of Glory. Col.1:27
O That Will Be Glory
Representative Text
1 When all my labors and trials are o'er,
And I am safe on that beautiful shore,
Just to be near the dear Lord I adore
Will through the ages be glory for me.
Chorus:
O that will be glory for me,
(O that will be glory for me,)
Glory for me, (Glory for me,)
glory for me! (glory for me!)
When by His grace I shall look on His face.
That will be glory, be glory for me!
2 When, by the gift of His infinite grace
I am accorded in heaven a place,
Just to be there and to look on His face
Will through the ages be glory for me. [Chorus]
3 Friends will be there I have loved long ago;
Joy like a river around me will flow;
Yet just a smile from my Savior, I know,
Will through the ages be glory for me. [Chorus]
Source: Baptist Hymnal 2008 #608
Hopefully, this letter and the hymn would us focus and keep anticipating the blessed assurance, "CHRIST IN YOU THE HOPE OF GLORY" COL. 1:27.