| | |
| --- | --- |
| Author / Artist | Vishal Mangalwadi |
| Book Format | Paperback / softback |
| Publisher | Thomas Nelson (October 2012) |
| Weight | 386g |
| Number of Pages | 464 |
| Thickness | 33 mm |
| Height | 229 mm |
| Width | 152 mm |
| ISBN | 9781595555458 |
| ISBN-10 | 1595555455 |
| Product Code | 4057849 |
Discover how the Bible became the West's source of human rights, justice, heroism, optimism, compassion, capitalism, family and morality.
In the 1960s many from the West went to the East in search of spiritual wisdom. The Book That Made Your World reverses the journey. Vishal Mangalwadi, an Indian philosopher, takes readers on a historical journey through the last millennium, exploring why and how the Bible reformed Europe and made the West a uniquely thinking civilisation: technical and tolerant, scientific and free, just and prosperous.
Readers will learn:
Why an American president puts his hand on the Bible to take the oath of a secular office
What forced British monarchs from Henry VIII to James I to submit to the Bible's authority
Why Bible translators Wycliffe, Luther and Tyndale became history's greatest revolutionaries
How the Bible globalized western education
Whether you're an avid student of the Bible or a skeptic of its relevance, The Book That Made Your World will transform your perception of its influence on virtually every facet of Western civilization.
Indian philosopher Vishal Mangalwadi reveals the personal motivation that fueled his own study of the Bible and systematically illustrates how its precepts became the framework for societal structure throughout the last millennium.  From politics and science, to academia and technology, the Bible's sacred copy became the key that unlocked the Western mind.
Through Mangalwadi's wide-ranging and fascinating investigation, you'll discover:
What triggered the West's passion for scientific, medical, and technological advancement
How the biblical notion of human dignity informs the West's social structure and how it intersects with other worldviews
How the Bible created a fertile ground for women to find social and economic empowerment
How the Bible has uniquely equipped the West to cultivate compassion, human rights, prosperity, and strong families
The role of the Bible in the transformation of education
How the modern literary notion of a hero has been shaped by the Bible's archetypal protagonist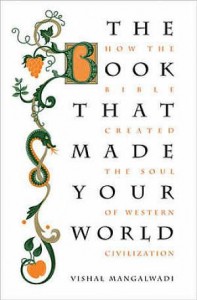 Journey with Mangalwadi as he examines the origins of a civilization's greatness and the misguided beliefs that threaten to unravel its progress.  Learn how the Bible transformed the social, political, and religious institutions that have sustained Western culture for the past millennium, and discover how secular corruption endangers the stability and longevity of Western civilization.
Endorsements:
"This is an extremely significant piece of work with huge global implications. Vishal brings a timely message." (Ravi Zacharias, author, Walking from East to West and Beyond Opinion)
"In polite society, the mere mention of the Bible often introduces a certain measure of anxiety. A serious discussion on the Bible can bring outright contempt. Therefore, it is most refreshing to encounter this engaging and informed assessment of the Bible's profound impact on the modern world. Where Bloom laments the closing of the American mind, Mangalwadi brings a refreshing optimism." (Stanley Mattson, founder and president, C. S. Lewis Foundation)
"Vishal Mangalwadi recounts history in very broad strokes, always using his cross-cultural perspectives for highlighting the many benefits of biblical principles in shaping civilization." (George Marsden, professor, University of Notre Dame; author, Fundamentalism and American Culture)