Prayer: In SIM Ministry

Sung Lee prayed, "Lord, what do you want us to do? You took our first daughter. Now our second daughter says she does not have strength to go on. Do you want us to leave the mission field and go help her? Even if we go to her, how can we fix her problem?" Night after night his agonising prayers were offered on the mountain. "Please heal her, Lord. Please have mercy on us, Lord! Take my life in place of hers. … Lord, we cannot handle another tragedy!"
In November 2008 Sung and Jae Ok's college daughter sent them a message: "I cannot study. I have no motivation to do anything." They knew then that her depression was getting worse. And the alarm they felt was heightened by the fact that they had already lost one daughter through a car accident. They didn't want further grief, but they didn't know how to help. "There was absolutely nothing that we could do to heal her," says Jae Ok. "But growing up in Korea, we knew of prayer mountains."
So every night Sung climbed the mountain adjacent to the Rhizha Centre. In the pitch dark, he prayed for his daughter. Jae Ok remained at home with their teenage son, where she too was praying.
Two weeks later there was a riot in Jos. "Praying for our daughter seemed a small issue compared to the weight of what was happening in our city," says Jae Ok. "People were killed. Homes were burnt. Peace was gone. So we expanded our prayers for our daughter to include prayers for Jos."
Establishing prayer mountains
Tensions escalated over the next five years, and the city became a "no-go" area. The Lees were unable to run their usual monthly training sessions for missionaries. But then God led them to a wider scope of ministries. One of these was developing a prayer mountain ministry, where people could come and cry out to the Lord.
After many unsuccessful attempts to buy a piece of mountain to develop as a prayer site, God miraculously helped the Lees obtain the mountain on which so many prayers had been offered for their daughter. They built a prayer house there, and people started coming to pray. "Then God gave us the second mountain, and we built another prayer house," Jae Ok explains. "Now we have three prayer houses. We created a long prayer path across the mountain range so that people can pray as they walk, or sit or whatever they choose to do."
The Lees started praying to purchase the land for the Rhizha Centre, which is located in a valley. To their left was a large community where one family regularly ran a very noisy commercial grinding machine, which was disturbing their training sessions. So one day they prayed, "Lord, give us all the land we see from this spot." Since then they have been able to buy all of that land and more! "Now no matter how much the city grows, we have secured a serene environment for our centre," says Jae Ok.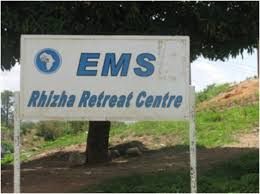 Rhizha looks like a large park, with its pine, eucalyptus, bamboo and teak groves. There are many flower gardens, known as healing gardens. It is a beautiful place for churches and Christian groups to come for retreats. Recently it has been host to trauma healing workshops and prayer meetings, as well as retreats for couples, Sunday school teachers, and others.
Each month the Lees invite 15 Evangelical Missionary Society (EMS) couples to come for a week. Together they go through the entire Bible, doing the "Master Plan of God" course. During the training, Sung stresses the importance of prayer, and asks each participant to make a prayer pledge. Many promise to pray between 30 minutes to two hours each day.
"The Prayer and Retreat Centre has blessed EMS missionaries and staff in so many ways," says Rev. Stephen Panya Baba, former EMS Director and now EMS Cross Borders (foreign missions) Director. A branch of the Evangelical Church Winning All (ECWA), EMS uses the Rhizha Centre for prayer and fasting, as well as for strategising and planning the way forward. "The centre offers our missionaries an opportunity to take a break from the often highly demanding field mission work, to come and rest while being ministered to through spiritually refreshing teachings," says Rev. Stephen.
"He is a listening God"
How did God answer the prayers for the Lees'  daughter, who was instrumental in their decision to develop the prayer mountains? Well, she has learned to pray. She phones Jae Ok, saying, "Mom, do you want to pray together over Skype?" The daughter who used to say "God does not listen to my prayers; I cannot feel Him" now says that she wants God to be her utmost desire.
"Over the past 12 years at Rhizha, God has taught us to pray," says Jae Ok "He taught us to wait on Him, and He taught us to cling to his promises. Challenge after challenge, we have learned that He is a listening God."
"The Retreat Centre challenges those of us in EMS, and others, to pray more than ever before, says Rev. Stephen. "It is our hope that Rhizha, in addition to meeting the spiritual needs of EMS, will continue to serve as a hub for galvanising a greater and sustained prayer movement in Jos, which will impact the entire nation and beyond, in Jesus' name."