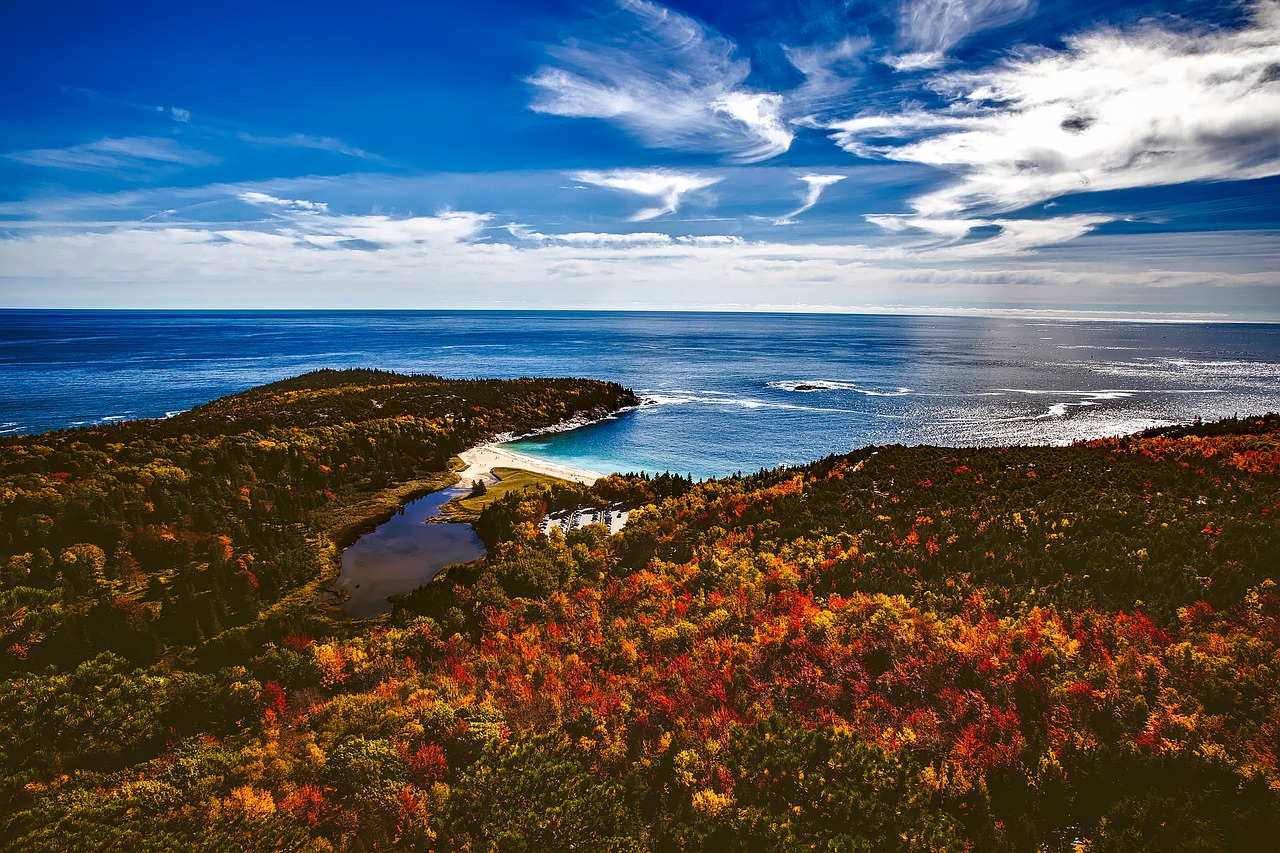 Mount Desert Island in Hancock County, Maine, is the largest island off the coast of Maine with an area of 108 square miles (280 km2). There is absolutely no place to be in the Fall than in Maine's state parks, mountains, farms and coastal wonders which provide wonderful settings to take in the fall. September through October is the best time to visit Maine with it's beautiful fall foliage, low crowds coveting popular Acadia National Park trails, as well streets of downtown Bar Harbor and the great seafood safari.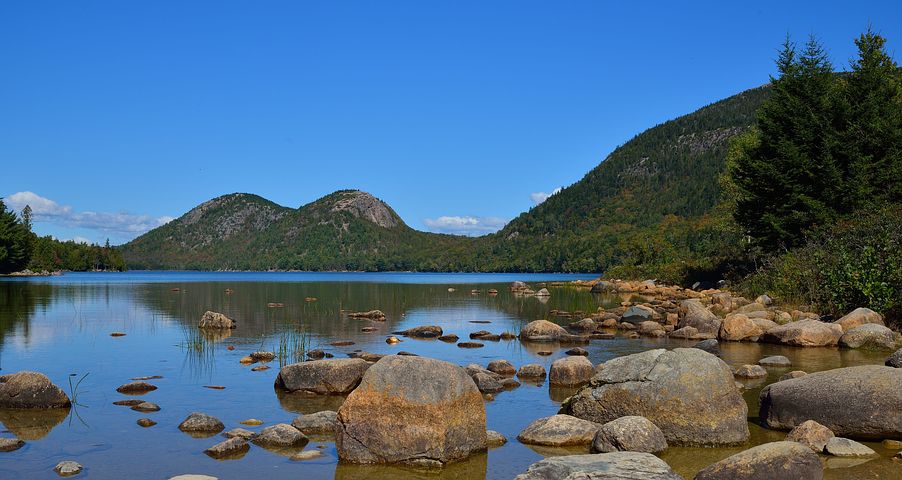 Coastal Scenic Beauty
While you're in Downeast Acadia, don't forget to check out the dramatic rocky coastline and the sparkling inland lakes. Downeast Acadia is the only region with five scenic byways, exemplifying the plethora of scenic, cultural, and recreational opportunities of the area. Here are the scenic byways, vibrant history and culture of the Downeast communities to check out while you're in the area.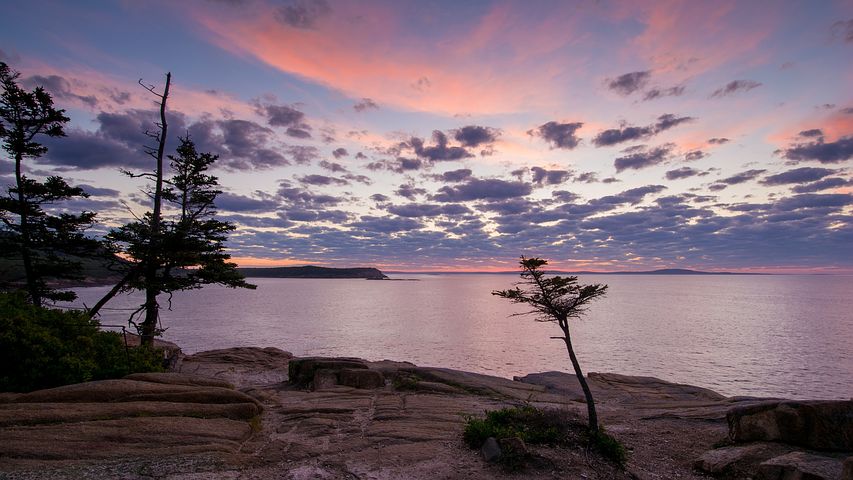 Beautiful State Parks
Mount Desert Island (MDI) is the largest island off the coast of Maine and the second largest (behind Long Island, New York) on the eastern seaboard of the United States.
Hike the Acadia Trails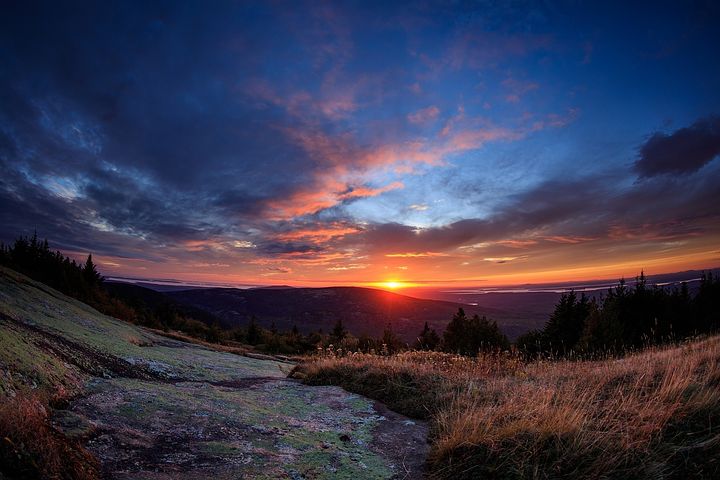 Acadia National Park has over 120 miles of trails for family strolls along the rocky coastlines to strenuous and exposed scrambles to the tops of the majestic granite peaks. Hiking the Acadia's trails is a magical experience as they were designed to wander around so you can enjoy the most scenic splendor of the area. There are so many interconnecting trails and carriage roads that close down in the spring and summer seasons due to nesting and fledgling peregrine falcons which are open in the fall. You will be able to see peregrine falcons soar overhead during the annual HawkWatch program as the Precipice Trail and Jordan and the Valley Cove cliffs open back up to hikers.
Festivals in the Area
Bar Harbor Fine Arts Festival, 9/6–8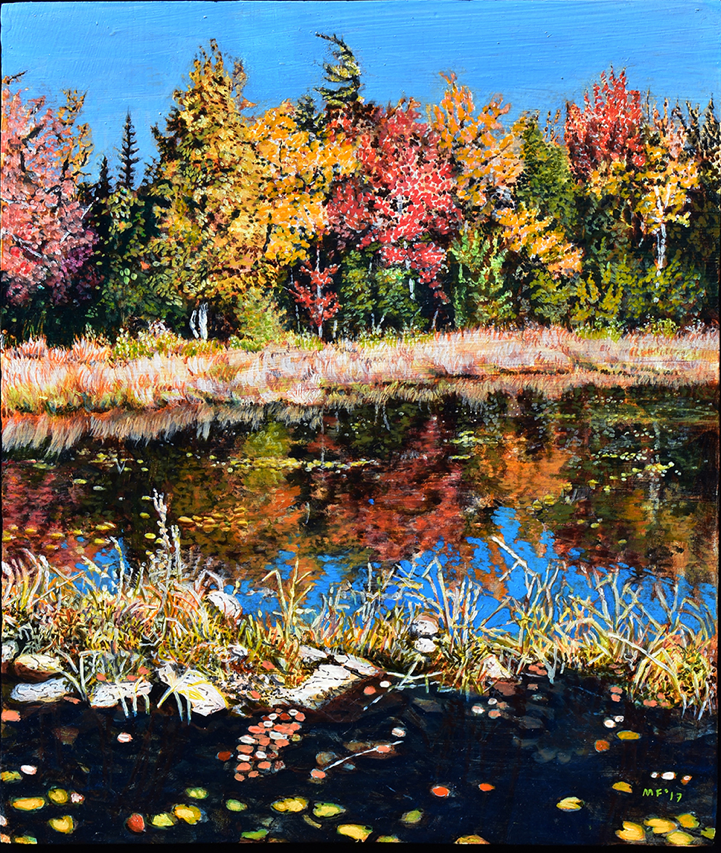 Hosted by local artist Marc Fink, this annual fine arts show features quality artists and crafters from all over the United States and other countries. Artists are juried to ensure both consistent quality as well as a balanced show in terms of different media. This is the "flagship" show and has established a reputation with both artists and patrons as one of the top shows in northern New-England. This is still a busy time of the year on the island and cruise ship port calls increase compared to busy summer months. "Relaxed" customers feel free to take their time to shop now that the kids are back in school. Show hours are Friday noon to 8 pm, Saturday 9 am to 8 pm and Sunday 10 am to 5 pm.
Acadia Night Sky Festival, 9/25–29

It is estimated that 99 percent of residents of the United States and Europe live under light polluted skies and nearly 80 percent of the world's population experiences skyglow at night.
Turning 10 this year, this unique nighttime event features a slew of stargazing outings, lectures, workshops, and a "star party" held on the summit of Cadillac Mountain. The Acadia Night Sky Festival originated as an outcome of the enthusiasm of the local community and government over the adoption of a local ordinance. In 2007, the Bar Harbor Conservation Commission (BHCC), held their biennial Conservation Summit; it was here that the need to preserve the night skies over Mount Desert Island and its surrounding communities as the darkest skies on the Eastern seaboard, was first brought to light. As a result, the BHCC proceeded to develop over the course of the following two years a local ordinance that required 'night sky friendly' outdoor lighting on all new construction in the town of Bar Harbor, in an effort to prevent any further light pollution to our local skies.
Acadia's Oktoberfest, 10/11–20
With over 80 breweries in the state of Maine alone, this weeklong festival of Maine brews is a must for any beer lover. New this year, listen to the golden, smoky, dark, sublime, gentle and smooth music of the Pitch Black Ribbons; two bothers, Clint and Cod. The week kicks off with a full Oktoberfest-style party at Smuggler's Den campground, just a 20-minute drive from Bar Harbor, followed by tours, tastings, lectures, concerts, and demonstrations at locations all over the island.
Places to Eat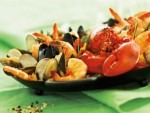 There are several local dining places on Mount Desert Island especially in downtown Bar Harbor with amazing food, stunning views and wonderful service. Many of these restaurants are also within bus route and easy to get to in downtown Bar Harbor and across Mount Desert Island. Don't forget to check out the best lobster restaurants that are right on the water front in downtown Mount Desert Island.
2 Cats – Offers breakfast and lunch on their patio or in their cozy dining room. Two Cats has a deliciously different menu filled with gourmet vegetarian options and beefy choices to satisfy all types of diets.
207.288.2808
Jordan's Restaurant – A town institution, this restaurant is located on Cottage Street and is open for breakfast and lunch.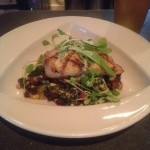 207.288.3586
Cafe This Way – Creative regional cuisine, Cafe This Way is open for breakfast and dinner and features unique dishes like the Howdy Doody Omelet or the Cashew Crusted Chicken.
207.288.4483
Side Street Cafe – With a delicious menu that includes lobster mac & cheese and Maine crabmeat cakes, Side Street Cafe is part cozy restaurant, part bumping bar, part year-round local hang-out and part tourist haven – located in the heart of Bar Harbor.
207.801.2591
Jeannie's Great Maine Breakfast Restaurant – Jeannie's offers a delicious menu including culinary delights like the The Great Maine Breakfast, Apple Spice Pancakes and Island Tofu Scramble.
207.288.4166
Geddy's Pub – Overlooking Agamont Park and the town pier in Bar Harbor, this pub offers family eating, "wood-fired" pizza, and a large selection of tasty burgers and alcoholic beverages. Geddy's is open for lunch and dinner.
207.288.5077
Stewman's Lobster Pound – For an authentic DownEast lobster bake, Stewman's serves ocean-side meals of lobsters, steamers, mussels and corn on the cob.
207.288.9723
Atlantic Brewing Company – For a unique experience, visit the Atlantic Brewing Company for a tour of the microbrewery, sample some of their locally brewed ales and top off your visit with a meal of pulled pork, ribs and chicken with baked beans and cole slaw on the side at their on-site restaurant, Mainely Meat BBQ.
207.288.2337
Epi's Pizza – Open daily, Epi's is a great place for subs, soups, pizzas and calzones. Eat in or take out. For a casual atmosphere and affordable prices, Epi's is a great choice. 207.801.2516
Rosalie's Pizza – Exceptional Neapolitan pizza, a variety of fresh salads and hearty Italian dinners like Eggplant Parmigiana. Rosalie's Pizza is open at 4pm everyday and offers 2 air-conditioned rooms in their relaxed, family-friendly restaurant. Eat in or take out.
207.288.5666
Reel Pizza – Combining good pizza with good entertainment, Reel Pizza offers a unique dining experience. Watch a movie with your family while enjoying delicious pizza.
207.288.3828
Mache Bistro – Mache is a small, casual neighborhood bistro that serves rustic, fresh foods. Dishes change nightly, with the menu being updated at times only moments before the doors open. Reservations are suggested, as they only have 10 tables.
207.288.0447
Fish House Grill – With indoor and outdoor waterfront dining, the Fish House Grill serves up fresh catch daily as well as steak, chicken and pasta with early bird specials until 6pm every day.
207.288.3070
Havana – With Modern elegance, Havana is American fine-dining with a whole lot of Latin flair. Combining a great wine list, creative dishes and knowledgeable wait staff, Havana serves dinner seven days a week from 5-10.
207.288.CUBA (2822)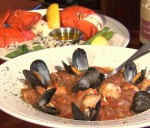 Galyn's Restaurant – A relaxed dinner at Gayln's features fresh fish and native seafood, hand-cut steaks, prime rib and more. Reasonably priced salads, sandwiches, soups, and seafood for lunch, plus a special Galley Lounge menu for light dining make Galyn's a great choice for lunch or dinner.
207.288.9706