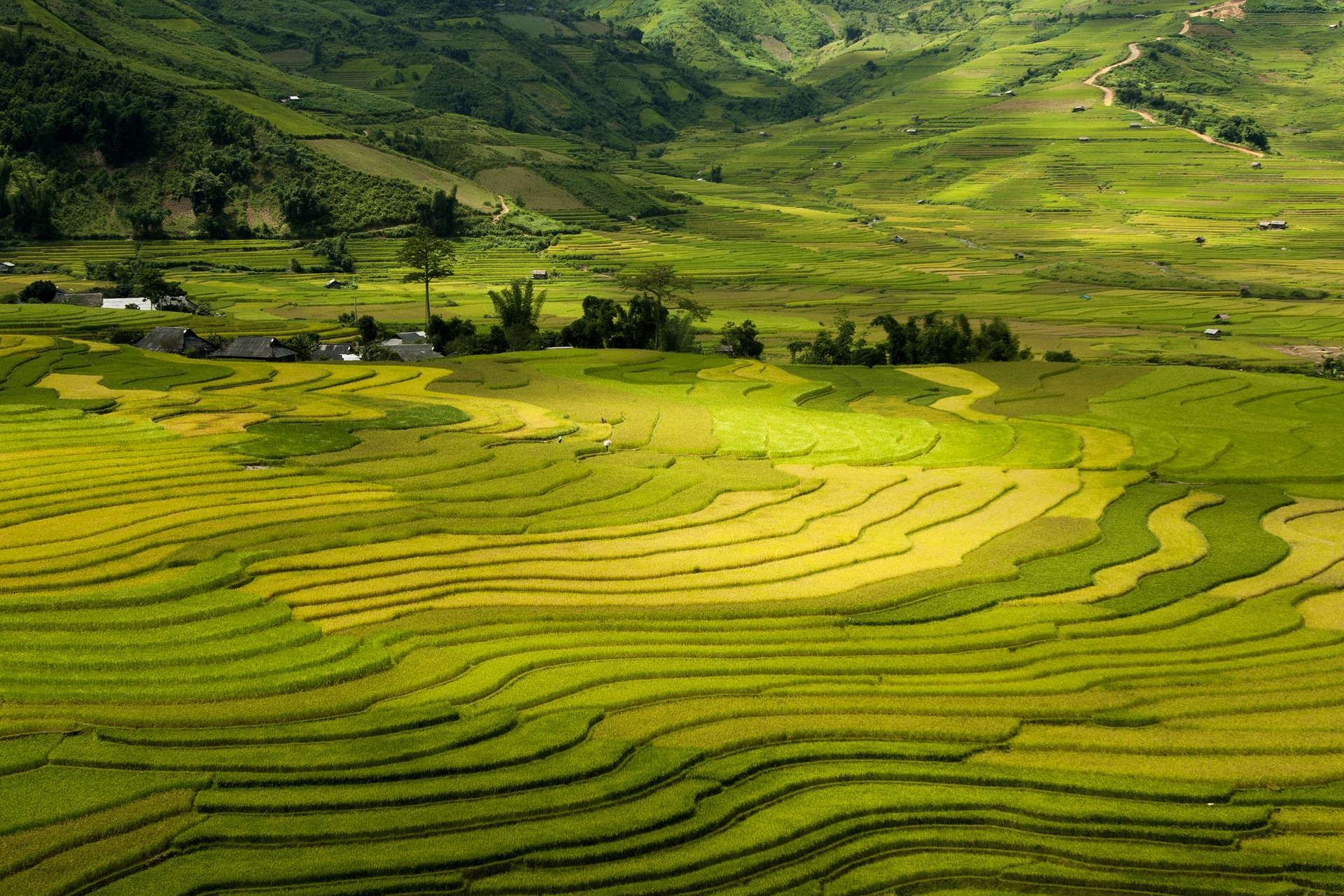 Laos, officially called the Lao People's Democratic Republic, is located at the heart of the Indochinese peninsula and bordered by Myanmar (Burma) and China to the northwest, Vietnam to the east, Cambodia to the southeast, and Thailand to the west and southwest. The English word Laos was coined by the French, who united the three Lao kingdoms in French Indochina in 1893 and named the country as the plural of the dominant and most common ethnic group, which are the Lao people. Vientiane, the capital, is the site of the That Luang monument, where a reliquary reportedly houses the Buddha's breastbone, plus the Patuxai war memorial and Talat Sao (Morning Market), a complex jammed with food, clothes and craft stalls. Laos is the only landlocked country in Southeast Asia with thick forested landscape consisting mostly of rugged mountains, the highest of which is Phou Bia at 2,818 metres (9,245 ft), with some plains and plateaus. Theravada Buddhism which is the dominant influence in Lao culture is reflected throughout the country in art, literature, performing arts and culture in general.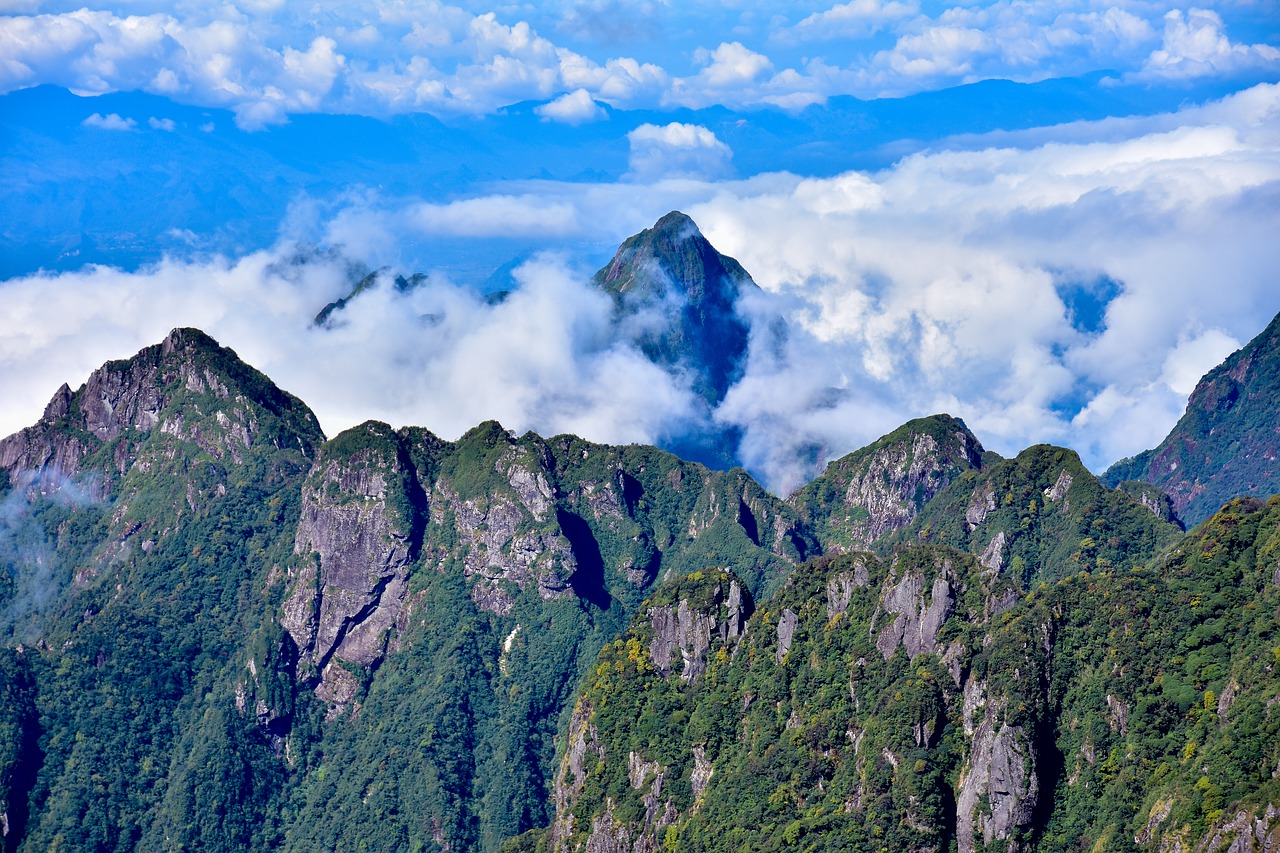 Culture
Despite its small population of 6.9 million in 2017, Laos has 49 ethnic groups, or tribes, from which Lao, Khmou and Hmong constitute approximately three-quarters of the population. The ethnic groups are divided into four linguistic branches: Lao-Tai languages represented by 8 tribes, Mon-Khmer languages with 32 tribes, Hmong-Mien languages with 2 tribes and Sino-Tibetan languages represented by 7 tribes.
Laos is officially Buddhist, and the national symbol, the gilded stupa of Pha That Luang, has replaced the hammer and sickle even on the state seal. Still, there is a good deal of animism mixed in, particularly in the baci (also baasi) ceremony conducted to bind the 32 guardian spirits to the participant's body before a long journey, after serious illness, the birth of a baby or other significant events.

Laos is a Southeast Asian country traversed by the Mekong River and known for mountainous terrain, French colonial architecture, hill tribe settlements and Buddhist monasteries. Vientiane, the capital, is the site of the That Luang monument, where a reliquary reportedly houses the Buddha's breastbone, plus the Patuxai war memorial and Talat Sao (Morning Market), a complex jammed with food, clothes and craft stalls.
Chronology of Events
4th Millennium BC
Development of agriculturist society.
1500BC
A complex society in which trading was prevalent, bronze being the major items traded widely.
700BC
Iron tools appear and the contact with Chinese and Indian civilizations started.
8th–10th Centuries
Tai-speaking tribes migrated southwestward to the modern territories of Laos and Thailand from Guangxi.
14th Century
Lan Xang (Million Elephants) was discovered by the Lao prince, Fa Ngum who took over Vientiane with 10,000 Khmer troops.
1520
Photisarath came to the throne and moved the capital from Luang Prabang to Vientiane to avoid a Burmese invasion.
1637
Laos's golden age under Souligna Vongsa with expansion of Lan Xang. When he died without an heir, the kingdom split into three principalities.
1763 to 1769
Burmese armies overran northern Laos and annexed Luang Phrabang, while Champasak eventually came under Siamese suzerainty.
1826 to 1828
Chao Anouvong led a failed rebellion against Siamese and Vientiane was ransacked.
1876
Siamese military campaign in Laos in 1876 was "transformed into slave-hunting raids on a large scale" as described by a British observer.
19th Century
France rescued King Oun Kham and added Luang Phrabang, Kingdom of Champasak, and the territory of Vientiane to the Protectorate of French Indochina.
1940
Vietnamese were encouraged to migrate to Laos and Laos produced tin, rubber, and coffee but only accounting for about one percent of French Indochina's exports.
1945
Two battalions of Japanese troops occupied the city of Lao but later surrendered.
1950
The French were forced to give Laos semi-autonomy as an "associated state" within the French Union.
1953
France remained in de facto control until October 22 when Laos gained full independence as a constitutional monarchy.
1960
Rebellions in the Kingdom of Laos between the Royal Lao Army and the communist North Vietnam-backed, and Soviet Union-backed Pathet Lao guerillas.
1964 to 1973
The U.S. dropped two million tons of bombs on Laos, nearly equal to the 2.1 million tons of bombs the U.S. dropped on Europe and Asia during all of World War II, making Laos the most heavily bombed country in history relative to the size of its population.
1975
The Pathet Lao, along with the Vietnam People's Army, and backed by the Soviet Union, overthrew the royalist Lao government, forcing King Savang Vatthana to abdicate on December 2, 1975. After the fall of Saigon, closer ties to Vietnam and socialization were replaced with a gradual return to private enterprise, an easing of foreign investment laws.
1977
The close ties between Laos and Vietnam were formalized via a treaty.
1979
The conflict between Hmong rebels and the Vietnam People's Army of the Socialist Republic of Vietnam, as well as the Vietnamese-backed Pathet Lao continued in key areas of Laos.
1989
The United Nations High Commissioner for Refugees (UNHCR), with the support of the US government, instituted the Comprehensive Plan of Action, a program to stem the tide of Indochinese refugees from Laos, Vietnam, and Cambodia.
1993
The Laos government set aside 21 percent of the nation's land area for habitat conservation preservation.
1997
Admission into The Association of Southeast Asian Nations (ASEAN). ASEAN is a regional intergovernmental organization comprising ten countries in Southeast Asia, which promotes intergovernmental cooperation and facilitates economic, political, security, military, educational, and sociocultural integration among its members and other countries in Asia.
2009
Despite the fact that the Laos government is still officially communist, the Obama administration in the US declared Laos was no longer a Marxist–Leninist state and lifted bans on Laotian companies receiving financing from the US Export-Import Bank.
Getting There
Visa
A tourists visa issued by a Lao embassy or consulate is needed to enter the Lao People's Democratic Republic. The only country that can travel visa free in Laos are the Russians, Korean, Japanese, Swiss and ASEAN nationals including Indonesia, Malaysia, Singapore and Philippines. Visas can be obtained in advance from Lao embassies/consulates which can take anywhere between one to two months. The fee and processing times varies by nationality/embassy although you may be able to pay an extra small amount (around USD5) to receive the visa in as little as one hour in person. In Phnom Penh the travel agencies can arrange the visa the same day (but may charge as much as USD58) while getting it from the embassy takes a few days. Getting a visa from the embassy in Bangkok costs around 1,400 baht for most nationalities, plus 200 baht more for "same day" processing. It's cheaper and quicker to get one at the border. If you need more time in Laos, entry permit extensions (sometimes referred to as "visa extensions") are available from the Immigration Department in Vientiane, the Immigration Department in Luang Prabang, the Police Station in Pakse, and the Police Station opposite the Lao-Mongolian Hospital in Phonsavan.
By Air
The international airports at Vientiane and Luang Prabang are served by national carrier Lao Airlines and a few others, including AirAsia from Bangkok and Kuala Lumpur, Thai Airways, Bangkok Airways (Luang Prabang only) and Vietnam Airlines. Some seats on flights of Vietnam Airlines are reserved for Lao Airlines (code-sharing / better price). Pakse is the third international airport, with flights to/from Siem Reap (Vientiane – Pakse – Siem Reap by Lao Airlines) and from/to Ho Chi Minh City.
A cheaper option for getting to Vientiane is to fly to Udon Thani in Thailand with discount airlines Nok Air or Air Asia and connect to Nong Khai and the Friendship Bridge via shuttle service directly from the airport (40 minutes); from here Vientiane is just 17km away. There are regular buses between Vientiane and Udon Thani town taking around 2.5 hours. From Vientiane they cost 22,000 Kip (or 24,000 on "peak" days).
If you're coming from Chiang Mai, please note that there are no ATM or money changing facilities at the international departure terminal of the airport. If you're planning to get a visa on arrival in Laos, make sure you get enough US dollars "'in town'" before you leave for the airport. Thai baht are also accepted, but at very inflated rates.
By Train
The long-awaited first link across the Mekong from the Thai town of Nong Khai to Tha Naleng near Vientiane finally opened in 2009. There are two shuttle services per direction per day, with one timed to connect to the night trains to/from Bangkok. Visa on arrival is available when crossing the border by train. The train is not a very attractive option because the railway station is practically in the middle of nowhere.
China's railway line to Laos, a 414km (257 miles) link between the Yunnan's provincial capital of Kunming and the Laotian capital Vientiane, is almost half complete, putting it on schedule to begin service in December 2021, according to the chief of Lao Railways.
By Land
Most border crossings open for foreigners, with an indication where visas on arrival can be issued, are listed on the web site of the National Tourism Administration. This list is unfortunately incomplete.
By Motorbike from Vietnam
The border crossing on a Vietnamese motorbike at Tay Trang is very easy and straightforward. You arrive after going over some hills at the Vietnamese border where very friendly people handle your case easily and with no hassle. You fill out the form for "temporary export of a vehicle", show them the Vietnamese Registration Card for the bike (which is in the owners name, not yours usually) and pay USD10. Then you proceed to the police, show the papers to them and get the exit stamp.
By Boat
Boats along the Mekong and its tributaries are useful shortcuts for the horrible roads, although as the road network improves, river services are slowly drying up, and many of the remaining services only run in the wet season, when the Mekong floods and becomes more navigable. Huay Xai (on the border with Thailand) to Luang Prabang and travel south of Pakse are the main routes still in use.
There are so-called slow boats and speedboats – the latter being tiny lightweight craft equipped with powerful motors that literally skid across the water at high speeds.
Where to Visit
The official tourism slogan is "Simply Beautiful". The main attractions for tourists include:
Buddhist culture and colonial architecture in Luang Prabang
Gastronomy and ancient temples in the capital of Vientiane
Backpacking in Muang Ngoi Neua and Vang Vieng
Ancient and modern culture and history in the Plain of Jars region (main article: Phonsavan)
Laos Civil War history in Sam Neua
Trekking and visiting hill tribes in a number of areas including Phongsaly and Luang Namtha
Spotting tigers and other wildlife in Nam Et-Phou Louey

Nang Aen is a massive cave 15km east of Thakhek and 1km south off Route 12 along Cave Alley. The spectacular cave, 30 metres high in the central chamber, is named after the legendary orphan Nang Samounta. Guides will tell you the story of her tragic romance with former novice Xieng. You can travel by boat on the underground lake running through the huge cavern, and enjoy a drink, meal or picnic in the cave's tree shaded grounds.
The site has restaurants, food, drinks and souvenirs for sale, toilets and parking.

Caves and waterfalls near Thakhek
Relaxation, the Irrawaddy dolphin and Khone Phapheng Falls at Si Phan Don or, as they are known in English, the Four Thousand Islands
Vat Phou, an ancient Khmer temple complex
The Bolaven Plateau for waterfalls and coffee.
Cities to Visit
| | | |
| --- | --- | --- |
| Name | Province | Population |
| Vientiane | Vientiane | 196 731 |
| Pakxe | Champasak | 88 332 |
| Savannakhet | Savannakhet | 66 553 |
| Luang Prabang | Luang Prabang | 47 378 |
| Xam Neua | Houaphanh | 38 992 |
| Phonsavan | Xianghouang | 37 507 |
| Thakhek | Khammouane | 26 200 |
| Muang Xai | Oudomxay | 25 000 |
| Vang Vieng | Vientiane | 25 000 |
| Muang Pakxan | Bolikhamsai | 21 967 |
Festivals
Laos celebrates many annual festivals called "Boun" in the Lao Language which are particularly enjoyable and beautiful, signifying traditional aspects of Lao lifestyle. Most festivals are connected with religion and the yearly rice farming cycle. The timing of the festivals is calculated according to the Buddhist lunar calendar, thus changing every year. Please check the latest information before visiting these events.

Bun Pha Wet @ ROI-ET
Bun Pha Wet
Magha Puja
Chinese New Year
Boun Khoun Khao
Boun Pimai
Visakha Puja
Khao Phansaa
Haw Khao Padap Din
Awk Phansaa
Bun Nam
Lao National Day (2 December)
Lao cuisine
The most famous Lao dish is larb (Lao: ລາບ; sometimes also spelled laab or laap), a spicy mixture of marinated meat or fish that is sometimes raw (prepared like ceviche) with a variable combination of herbs, greens, and spices. Another Lao invention is a spicy green papaya salad dish known as tam mak hoong (Lao: ຕໍາໝາກຫຸ່ງ), more famously known to the West as som tam.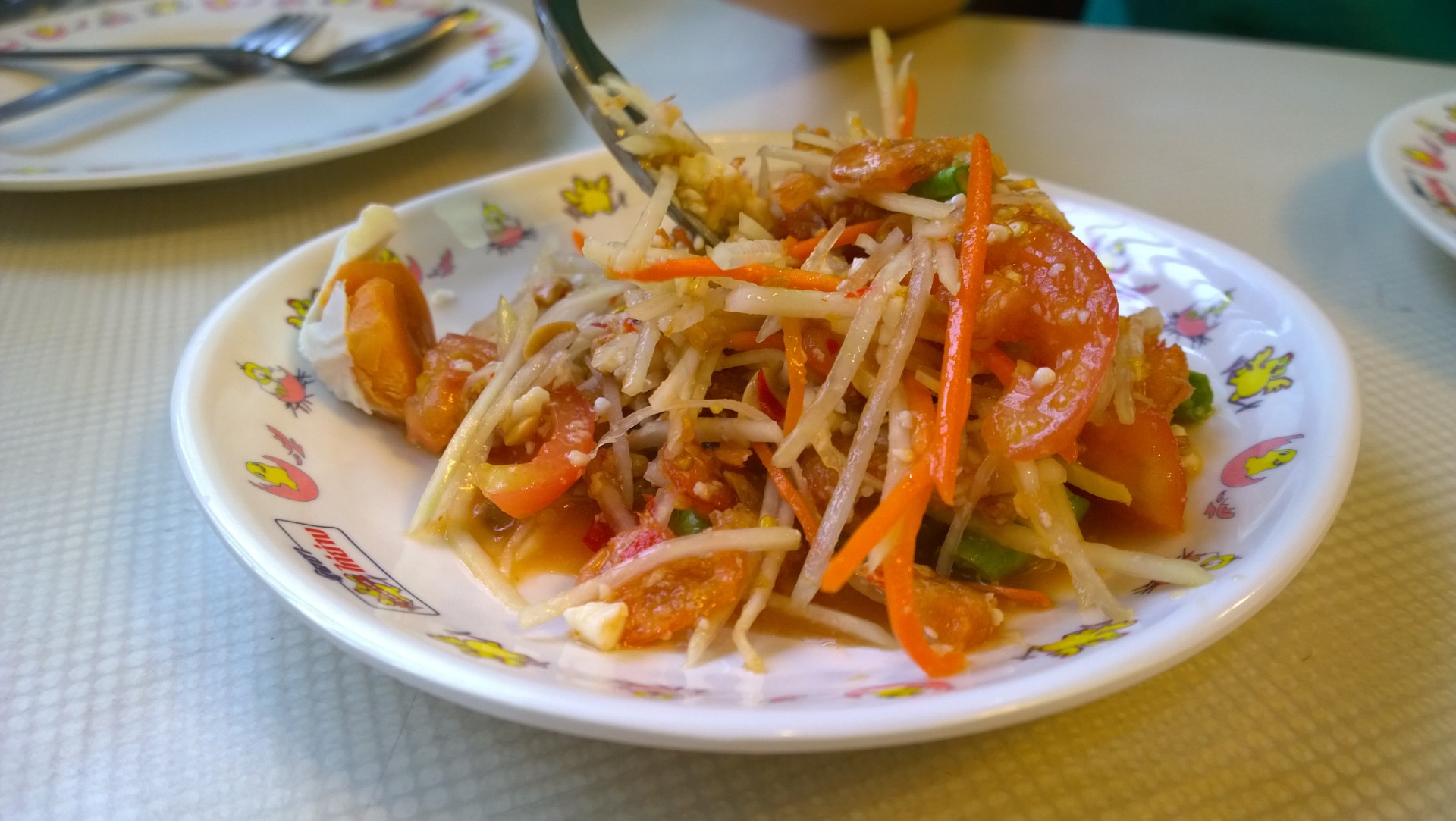 References
Laos (04/09). U.S. Department of State.
Xia, Hua (3 December 2015). "Feature: Laos celebrates National Day, commemorates 40th year of Republic's establishment". Xinhua.
"Laos – Climate". Countrystudies.us.
"Laos travel guides". Indochinatrek.com.
"Mekong Divides Different Worlds In 'Golden Triangle'". NPR.org.
"Nsc Lao Pdr". Nsc.gov.la.
Indra Overland et al. (2017) Impact of Climate Change on ASEAN International Affairs: Risk and Opportunity Multiplier, Norwegian Institute of International Affairs (NUPI) and Myanmar Institute of International and Strategic Studies (MISIS).
"East Asia/Southeast Asia :: Laos — The World Factbook – Central Intelligence Agency". www.cia.gov.
"Laos Securities Exchange to start trading". Ft.com.
Hamilton-Merritt, Jane (1993). Tragic Mountains, Indiana University Press, pp. xix–xxi ISBN 0253207568.
"Laos – Key Facts". World Travel & Tourism Council.
Pew Research Center's Global Religious Landscape 2010 – Religious Composition by Country
Kiernan, Ben; Owen, Taylor (26 April 2015). "Making More Enemies than We Kill? Calculating U.S. Bomb Tonnages Dropped on Laos and Cambodia, and Weighing Their Implications". The Asia-Pacific Journal.