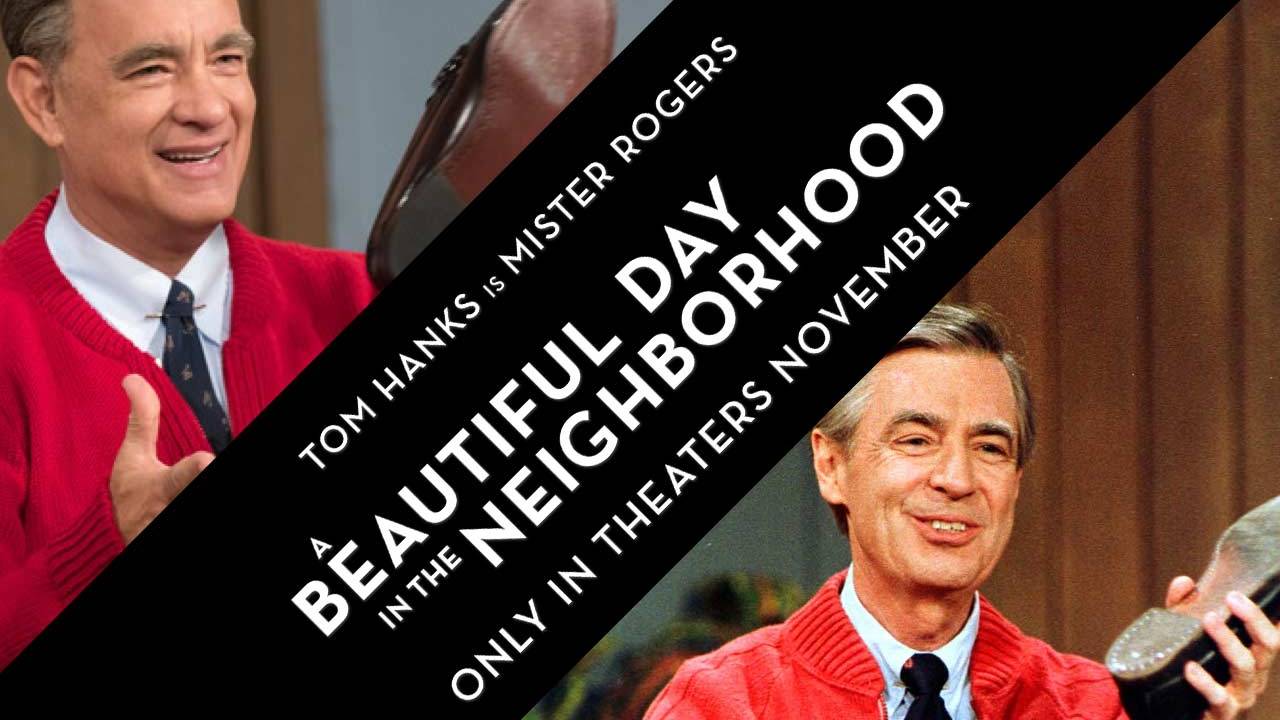 In Theaters: November 22
Director: Marielle Heller
Writers: Micah Fitzerman-Blue, Noah Harpster
Stars: Tom Hanks, Matthew Rhys, Chris Cooper
Based on the true story of a real-life friendship between Fred Rogers and journalist Tom Junod.
Just in time for the Holidays, Sony released the official trailer of film about the late Fred Rogers, "A Beautiful Day in the Neighborhood. In the first trailer, schoolchildren sing to Rogers on the subway and we see Tom Hanks dressed as the children's television host on the set of "Mister Rogers' Neighborhood."
"A Beautiful Day in the Neighborhood" begins with Tom Hanks effortlessly executing the opening routine of Fred Rogers' PBS program: He enters the room, walks down some stairs, opens a closet door, hangs up his jacket, pulls out his sweater, closes the door, puts on his sweater, zips up his sweater (with an audible zip!), sits in a chair, takes off a loafer, puts on a boat shoe, takes off a second loafer and puts on a second boat shoe — all while singing and smiling, of course.
Inspired by Tom Junod's 1998 Esquire profile of Rogers, "A Beautiful Day in the Neighborhood" features Matthew Rhys as a journalist assigned to write a profile of the children's entertainer, and questions his own cynicism when faced with a worldview of optimism and goodness.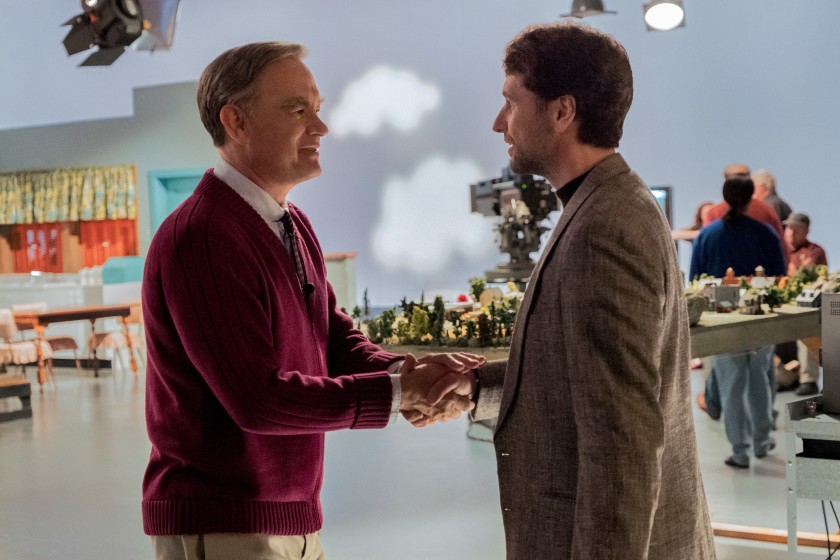 A Beautiful Day in the Neighborhood tells the story of a reporter whose life changes after he meets Rogers. Matthew Rhys plays Lloyd Vogel, a journalist for Esquire tasked with profiling the icon. The film is based on Rogers' real-life friendship with journalist Tom Junod, which began in 1998 when Junod wrote an article about the TV personality. The movie premieres on November 22.
Flashback on Fred Rogers Life
Fred Rogers was the creator of Mister Rogers' Neighborhood as well as the host of all 895 episodes, the composer of its more than 200 songs, and the puppeteer who imagined 14 characters into being. More importantly, he changed the face of children's television and transformed the way we think about the inner lives of young children.
Throughout his career, Fred Rogers was a champion of children in general and PBS in particular. In 1969, he famously testified before a Senate subcommittee that was considering cutting funding for public television. Senator John Pastore was in charge of the proceedings, and after two days of hearings, he remained distinctly unimpressed. Then Fred spoke.

Inside 'Mister Rogers' Neighborhood' in 1979 | Flashback Friday | TODAY Originals

Fred Rogers testimony, Senate Subcommittee on Communications, 1969
This is what I give. I give an expression of care every day to each child, to help him realize that he is unique… I feel that if we in public television can only make it clear that feelings are mentionable and manageable, we will have done a great service for mental health. Fred Rogers, Senate hearing on PBS funding
Early career – An Unlikely Star
While a college senior studying music composition at Rollins College, Fred arrived home to see this wonderful new technology in his family's living room. He instinctively understood the power of the new medium and especially how it could be used to serve children, rather than the slapstick and nonsense that was on the air. From that moment, he knew what he was called to do.

Building A House
In a clip from "The Children's Corner (1955) actress Josey Carey (with Fred Rogers as the puppet) play with the idea of describing and enacting the improbable–building a house during the span of a TV program.
Rather than pursue studies in theology as he had planned, he began a television career as an assistant and floor manager of the music programs for NBC in New York City. But he soon discovered commercial television was not for him.
In 1953, he moved back to the area where he grew up to help found WQED in Pittsburgh, the first community-supported educational television station in the country.
Fred didn't set out to be a star of a TV show. He was a private person, comfortable in the background as co-producer, puppeteer and organist on The Children's Corner, which aired on WQED from 1954-1962. While serving as both the program manager for the station as well as working on The Children's Corner, he returned to his interest in theology and attended Seminary during his lunch hours. He was ordained with a special charge to serve children and families through television.

Mister Rogers Robert F Kennedy Assassination Special
In 1963 he moved to Canada, and there at the CBC, he was given the courage to come from behind the set to talk directly with his young viewers as Mister Rogers.
He returned to Pittsburgh and launched the present-day version of Mister Rogers' Neighborhood in 1966. The program aired for the first time nationally in 1968.
With graduate studies in child development as well as his divinity degree, Fred was well-prepared to speak directly to his pre-school audience.
"I'll never forget the sense of wholeness I felt when I finally realized, after a lot of help from a lot of people, what, in fact, I really wasn't. I was not just a songwriter or a language buff or a student of human development or a telDoxa Christian Magazine, but someone who could use every talent that had ever been given to me in the service of children and their families."
Fred Rogers was married to his Rollins College sweetheart, Joanne Byrd Rogers, a concert pianist who shared his love of music. Their two sons, James and John, were occasional visitors to Mister Rogers' Neighborhood.

SUMMER DAYS ~ The Partridge Family (1971)
In 1971, Fred founded his own production company, Family Communications, to produce Mister Rogers' Neighborhood and related materials for children, families and professionals.
Life is for service
Fred Rogers committed his life to making television programs for the very young because he saw its potential as an instrument for good as a gift. He cared deeply about those on the other side of the screen – their needs, concerns, struggles and joys. He often said that he trusted that if he was giving his honest self, the viewer would hear it in a way that could be helpful. "The space between the television screen and whoever happens to be receiving it… I consider that holy ground."
Fred Rogers Last Commencement at Dartmouth College
In 2002 at Dartmouth College, Fred gave his last commencement speech. As he often did in those days, he offered those assembled an invisible gift of a minute of silence to think about those who had helped them become who they are.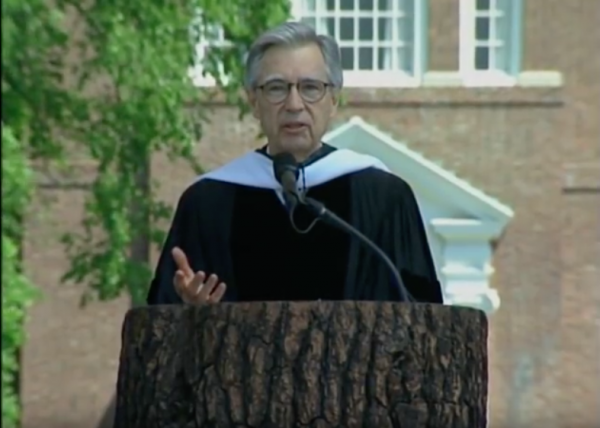 "Anyone who has ever been able to sustain good work has had at least one person – and often many – who have believed in him or her. We just don't get to be competent human beings without a lot of different investments from others… From the time you were very little, you've had people who have smiled you into smiling, people who have talked you into talking, sung you into singing, loved you into loving."
Fred Rogers died in 2003. He is survived by his wife of 50 years, two children, three grandchildren, and generations of viewers for whom he envisioned a better world.
I'd like to be remembered for being a compassionate human being who happened to be fortunate enough to be born at a time when there was a fabulous thing called television that could allow me to use all the talents that I had been given. Fred Rogers