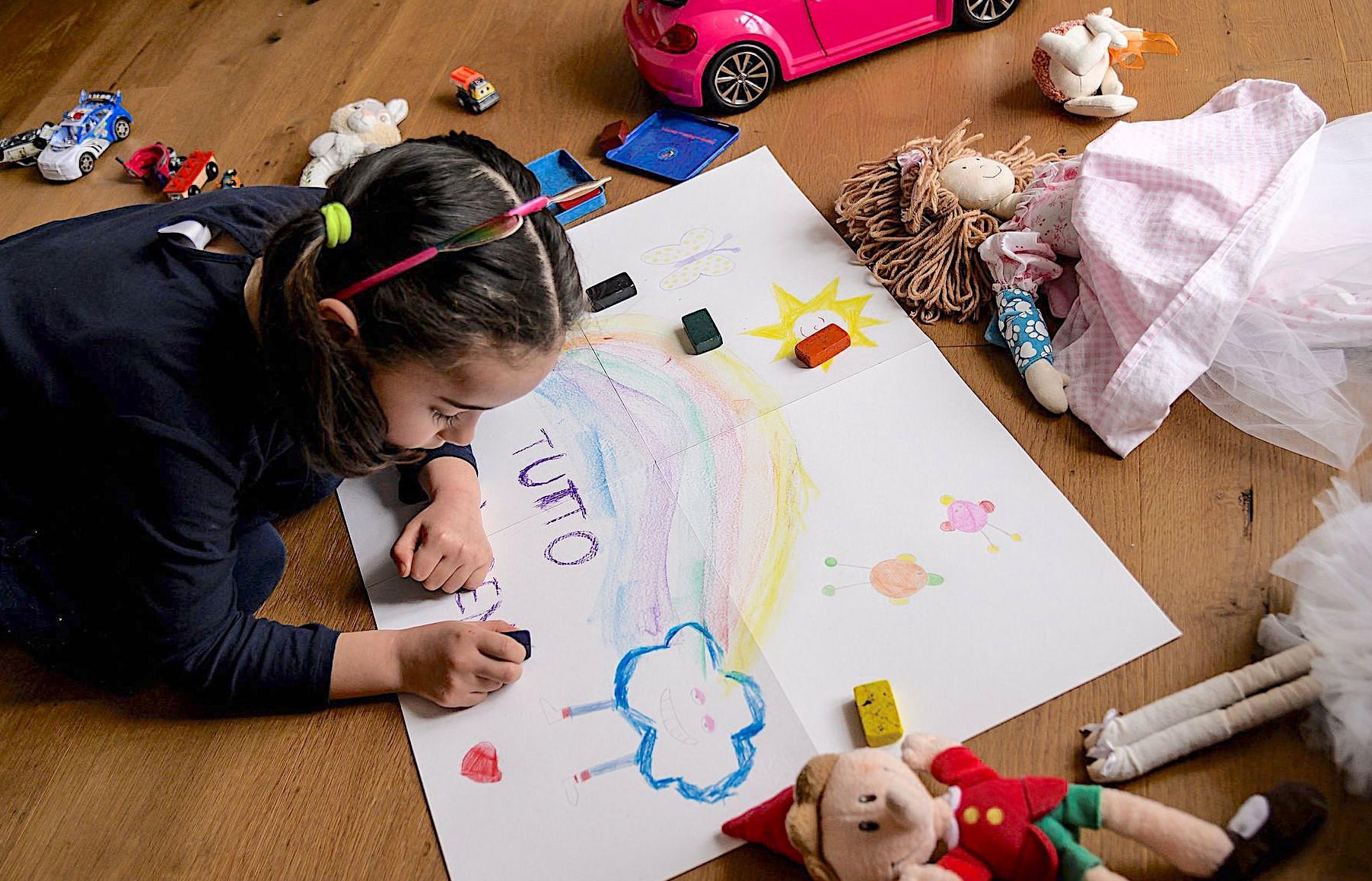 As the new coronavirus, COVID-19, spreads throughout the world, kids are home now for a while. It's your job as parents/guardians to keep your kids priorities and their daily activities as busy and fun as possible with or without their devices. During the weekday, it's best to stick with their school schedule that their teachers or instructors gave them. Several schools have cancelled classes and shifted their in-person instructional time online.
Many classroom teachers are also working day and night to understand the ins-and-outs of distance learning for the first time and looking for free online resources for their students. Primarily, looking for how to ensure their students are still receiving high-quality education at home and most importantly how to track their new way of learning that is now taking place online.
For those students that their teachers doesn't have enough time to plan a curriculum for them or setup online learning environment; it is your job as a parent to fill their time with educational activities that are both fun and challenging. The last you want to do is give them boring school work that doesn't have any application or relevance in their life. Don't forget to add storytelling to their schedule if you're the one planning it, drawing from your own life experiences.
Take advantage of being in the same house 24hours a day with your loved ones for at while. Arrange for each family member to take turn choosing an activity for the day. The activity can be anything but the use of devices if possible. Some recommended activities may include baking, drawing, painting, simple math, (for example family driving as it relates to time and distances travelled) or something as simple as a democratic election in your own house to decide who will do something.  Above all, at this difficult time as a parents, It is very important to say "yes" to your kids/teenagers whenever possible if they ask to spend the afternoon alone in their room. But do your best to get them up at their normal school wakeup time.
Learn Another Language
This is a great time to catch up on your kids foreign language learning skills with the Duolingo app. The free program offers instruction in a myriad of different languages—including Arabic, Welsh, and Spanish—in a colorful and easy-to-follow program that feels more like a game than a class.
Gardening
There is no better way to clear your head and get the kids out at the same time than to get into your fenced yard away from others to catch up on those long procrastinated garden work like transplanting or finally planting those onion, garlic, allium, daffodil, tulip, amaryllis, hyacinth, iris, scilla, or lily bulbs that you just buried in a spot last fall. It's also a good time to spread the truck load of garden-mix mulch that you have delivered before Christmas for spring gardening. Gardenmix being one of the best choice of mulch materials for vegetable gardens and raised flowerbeds since they retain the moisture needed by the vegetables and flower beds.
Pretending To Be On The Beach
Turn your fenced backyard into a perfect vacation spot. With sunning days ahead, it's time to bring out the beach chairs and let the kids play in their kiddy pool. You can turn this difficult time for everyone into a family fun time by checking out the photos of your vacation from previous years and teaching the kids how to cook.
America's Test Kitchen Kids has made their entire site completely free for everyone. Kids will love the colorful site and its plentiful selection of recipes, projects, and cooking lessons.
Cook-up fun at America's Test Kitchen Kids
Forget About Your Routine on Weekends
If you haven't done this before, have each person in your family fix breakfast, lunch or dinner. This will be especially fun for young kids. Go through the colorful recipes with them and in selecting one. Teach them how to make simple egg dishes for dinner without any recipes. Forget about dieting for a day and fix dessert for lunch. Wear pajamas all day in the house. Pitch a tent and camp out in the living room or in the backyard weather permitting. Stay up late until the kids are tired and sleepy. Do your best as a parents to keep everything fun and dynamic for your kids since you know what, they're kids. They will get off their devices if you are creative enough to provide fun and entertaining activities.
Empower Your Kids
Treat your kids as equal. Make them feel important. For this to happen, each family member can take turn choosing any indoor activity for the day. Give your kids a day of no family activities where you plan absolutely nothing and see where the day takes each of you. Everyone needs alone time. They can sleep all day if they want but most importantly let them know this is a creative time when they think of ideas to present to the family group on possible things to do the following day.
Self-Guided Museums Virtual Tours
Venture to several museums online to learn discover history and works of art from the Impressionist, Post-Impressionist, Modern and Contemporary eras. For example, The Smithsonian, National Museum of Natural History virtual tours allow visitors to take self-guided, room-by-room tours of select exhibits and areas within the museum from their desktop or mobile device. Visitors can also access select collections and research areas at their satellite support and research stations as well as past exhibits no longer on display.
The Smithsonian Virtual Tour Tips:
To navigate between adjoining rooms in the tours, click on the

blue arrow links

on the floor or use the navigation map in the upper right of the presentation screen.
Look for the camera icon which gives you a close-up view of a particular object or exhibit panel.
Try zooming in as some of the images are stitched together from individual pictures in order to create very high resolution giga-pixel images.
Here are other virtual museums tours that you can check out in the comfort of your home.
British Museum, London
This iconic museum located in the heart of London allows virtual visitors to tour the Great Court and discover the ancient Rosetta Stone and Egyptian mummies. You can also find hundreds of artifacts on the museum's virtual tour.
Guggenheim Museum, New York
Google's Street View feature lets visitors tour the Guggenheim's famous spiral staircase without ever leaving home. From there, you can discover incredible works of art from the Impressionist, Post-Impressionist, Modern and Contemporary eras.
National Gallery of Art, Washington, D.C.
This famous American art museum features two online exhibits through Google. The first is an exhibit of American fashion from 1740 to 1895, including many renderings of clothes from the colonial and Revolutionary eras. The second is a collection of works from Dutch Baroque painter Johannes Vermeer.
Musée d'Orsay, Paris
You can virtually walk through this popular gallery that houses dozens of famous works from French artists who worked and lived between 1848 and 1914. Get a peek at artworks from Monet, Cézanne, and Gauguin, among others.
National Museum of Modern and Contemporary Art, Seoul
One of Korea's popular museums can be accessed from anywhere around the world. Google's virtual tour takes you through six floors of Contemporary art from Korea and all over the globe.
Pergamon Museum, Berlin
As one of Germany's largest museums, Pergamon has a lot to offer – even if you can't physically be there. This historical museum is home to plenty of ancient artifacts including the Ishtar Gate of Babylon and, of course, the Pergamon Altar. The Pergamon Altar is a monumental construction built during the reign of king Eumenes II in the first half of the 2nd century BC on one of the terraces of the acropolis of the ancient Greek city of Pergamon in Asia Minor.
Rijksmuseum, Amsterdam
Explore the masterworks from the Dutch Golden Age, including works from Vermeer and Rembrandt. Google offers a Street View tour of this iconic museum, so you can feel as if you're actually wandering its halls.
Van Gogh Museum, Amsterdam
Anyone who is a fan of this tragic, ingenious painter can see his works up close (or, almost up close) by virtually visiting this museum – the largest collection of artworks by Vincent van Gogh, including over 200 paintings, 500 drawings, and over 750 personal letters.
The J. Paul Getty Museum, Los Angeles
European artworks from as far back as the 8th Century can be found in this California art museum. Take a Street View tour to discover a huge collection of paintings, drawings, sculptures, manuscripts, and photographs.
Uffizi Gallery, Florence
This less well-known gallery houses the art collection of one of Florence, Italy's most famous families, the de'Medicis. The building was designed by Giorgio Vasari in 1560 specifically for Cosimo I de'Medici, but anyone can wander its halls from anywhere in the world.
MASP, São Paulo
The Museu de Arte de São Paulo is a non-profit and Brazil's first modern museum. Artworks placed on clear perspex frames make it seem like the artwork is hovering in midair. Take a virtual tour to experience the wondrous display for yourself.
National Museum of Anthropology, Mexico City
Built in 1964, this museum is dedicated to the archaeology and history of Mexico's pre-Hispanic heritage. There are 23 exhibit rooms filled with ancient artifacts, including some from the Mayan civilization.
Pretend to Book a Mini-Vacation
A week surfing in Australia can be done cheaply in the comfort of your own home. Pull the cars out of the garage to make more room as required. Clean each room and turn them into an avoidable evening on the town and an overnight stay at a hotel/B&B. Request an early check-in to your hotel and a late checkout so you can lounge with a book or a good movie.
Visit a Faraway Place in the Comfort of Your Home
Pick a country, for example Fiji and spend the day learning about it. Fiji has topped lists of the world's happiest places, and with palm-lined beaches, fabulous coral reefs and piercingly blue lagoons. Fiji fulfils anyone's dream of a South Seas paradise. Dress in traditional clothing, cook the traditional food of the country you're studying and play a game native to that culture. This idea requires a bit of ingenuity on your part and will force you to be creative with what you have in the house since you may not be able to go out to purchase needed supplies.
Learn More about Other Online Activities
Check your local newspaper, university and museum websites for online events. Remember your only limits are your creativity!
Family-friendly playlists and DJ classes
Hesta Prynn is releasing family-friendly playlists every few days on Spotify. Easy listening while you prepare lunch or dinner. Prynn is also giving virtual DJ lessons via her Instagram stories.
Get Hesta Prynn's newest playlist on Spotify
200 Free Kids Educational Resources: Video Lessons, Apps, Books, Websites & More
Here you can find free educational resources for K-12 students (kindergarten through high school students) and their parents and teachers.
Storytime
If you're Jewish—or just curious about Judaism—PJ Library hosts a daily Jewish-themed story time every morning at 10 am EST. Kids can watch videos of authors reading their books, and learn about important concepts like mitzvahs (good deeds). The PJ Library Facebook page also offers loads of activity suggestions for projects to do with kids.
All-around learning
Scholastic's new Learn at Home website offers free daily courses for kids. Each daily lesson includes age-appropriate writing, reading, and enrichment activities, and they're even offering virtual field trips. My son enjoyed this week's focus on spiders, and even I learned some new facts about arachnids from the short educational video.