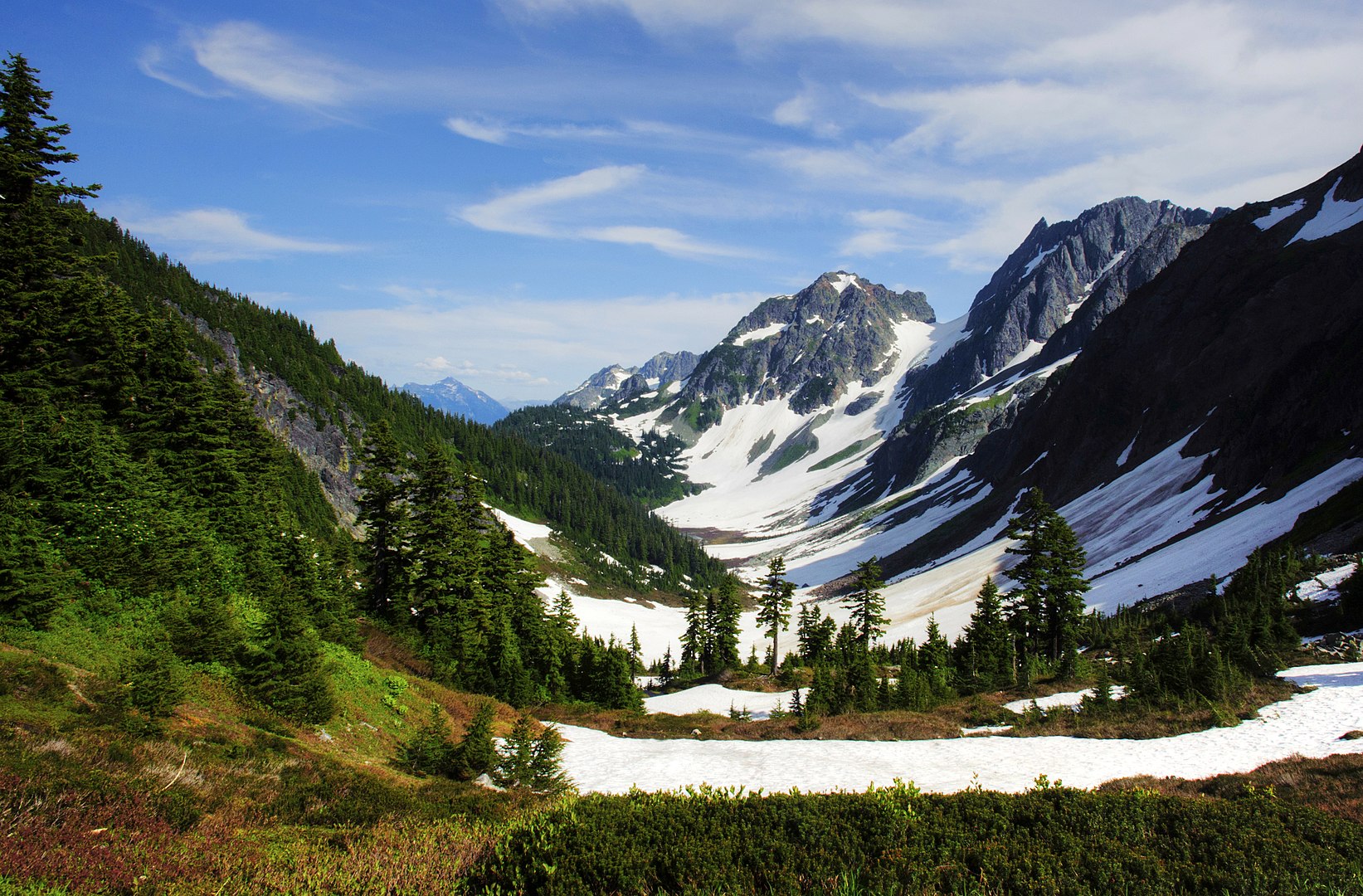 North Cascades National Park, Ross Lake National Recreation Area, and Lake Chelan National Recreation Area remain closed since April 3, 2020 to all park visitors in response to Coronavirus pandemic and guidance from the Washington State Health Department. State Route 20-North Cascades Highway, which runs through the park, remain open to just west of the town of Newhalem. The closure point on the east side remain at milepost 177 (Early Winters Campground). All owners/operators of facilities where primary access is gained through the National Park Service (NPS) lands are only permitted access through closed areas as necessary to maintain and/or occupy their facilities.
The North Cascades National Park covers an area of over 500,000 acres and ranges between 1,000 to over 10,000 vertical feet. Much of the park is designated as "wilderness," and there are few areas with public and privately developed facilities. North Cascades is near Bellingham and Seattle, making it an easy escape for these urban dwelers. The park in itself is divided into two non-contiguous sections to the north and south of the North Cascades Highway, State Route 20.
Climate & Landscape
The park ranges from lowland valleys to rugged alpine peaks. There are two large lakes within the complex, Lake Chelan and Ross Lake. The climate is typical of the Northwest. It is easy to stereotype the weather there as heavy, rainy winters and clear, mild summers. As with any outdoor recreation area, however, it is important to remember that inclement weather can occur at any time of the year. It's is not unheard of to have snowstorms in July at higher elevations! I know because I experienced it in late July last year in Alpine Village, Colorado.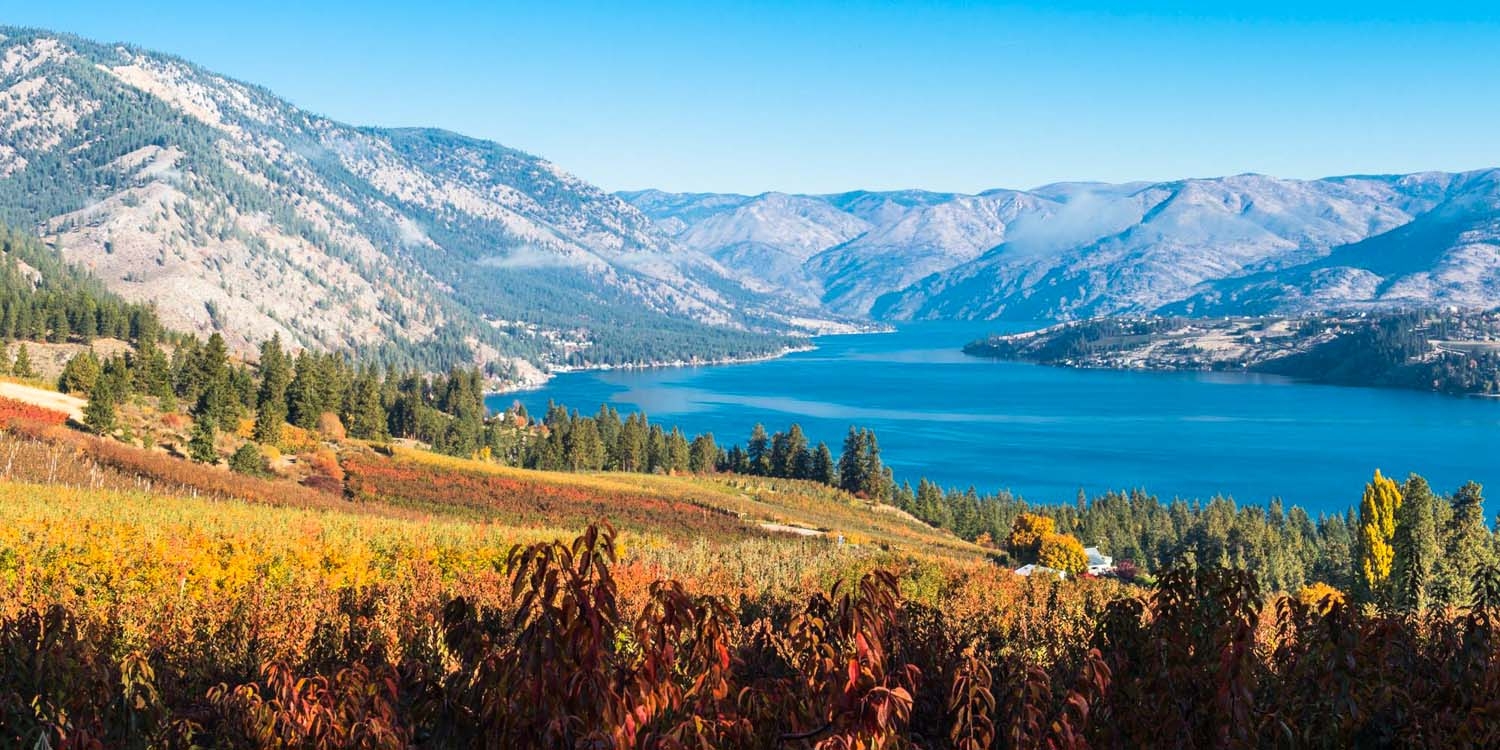 Lake Chelan is 50.5 mile long, glacier fed and perhaps the most popular freshwater lake in Washington. The city of Chelan sits at the lakes southern end and boasts a fine position looking north up the lake.  Summer's seemingly endless sunny weather and clean blue water have made Chelan and nearby Manson a very popular vacation destination. Boats of all shapes and sizes tour the lake, waterskiing and wakeboarding being prime attractions. Drive through the hills surrounding Lake Chelan and Manson and you will see one thing: grapes.The valley is one of the fastest growing wine regions in the county, with several vineyards producing award winning wines.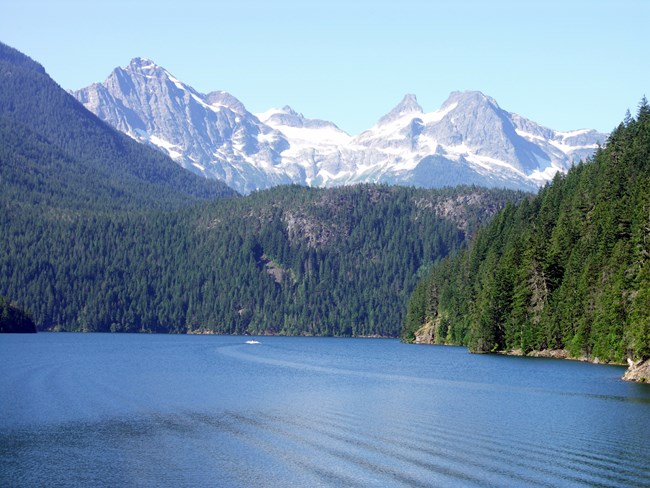 Ross Lake can be accessed via a gravel road from Hope, British Columbia on the north. Two graded-cement boat ramps at Hozomeen are normally usable from mid-June through September. There is no direct road access from the south, but canoes, kayaks and other portable craft can be launched on Diablo Lake at Colonial Creek Campground and boated five miles to the end of Diablo Lake. Boats and gear must be portaged around Ross Dam over a mile long gravel road with switchbacks (520 foot gain/120 foot loss). Ross Lake Resort also provides portage service for portable boats, rents out small power boats, canoes, and kayaks, and provides water taxi service on the lake.
Perhaps the most astonishing climatological occurrence in the park is that it is home to the world record snowfall. In 1999, Mt. Baker received 1,140 inches of snow. That's over 90 feet! Also Keep in mind that as soon as one crosses the Cascade crest, the climate becomes that of the eastern Washington high desert. You really have to be here after the COVID-19 pandemic to enjoy this beautiful nature lover's paradise.
Flora and fauna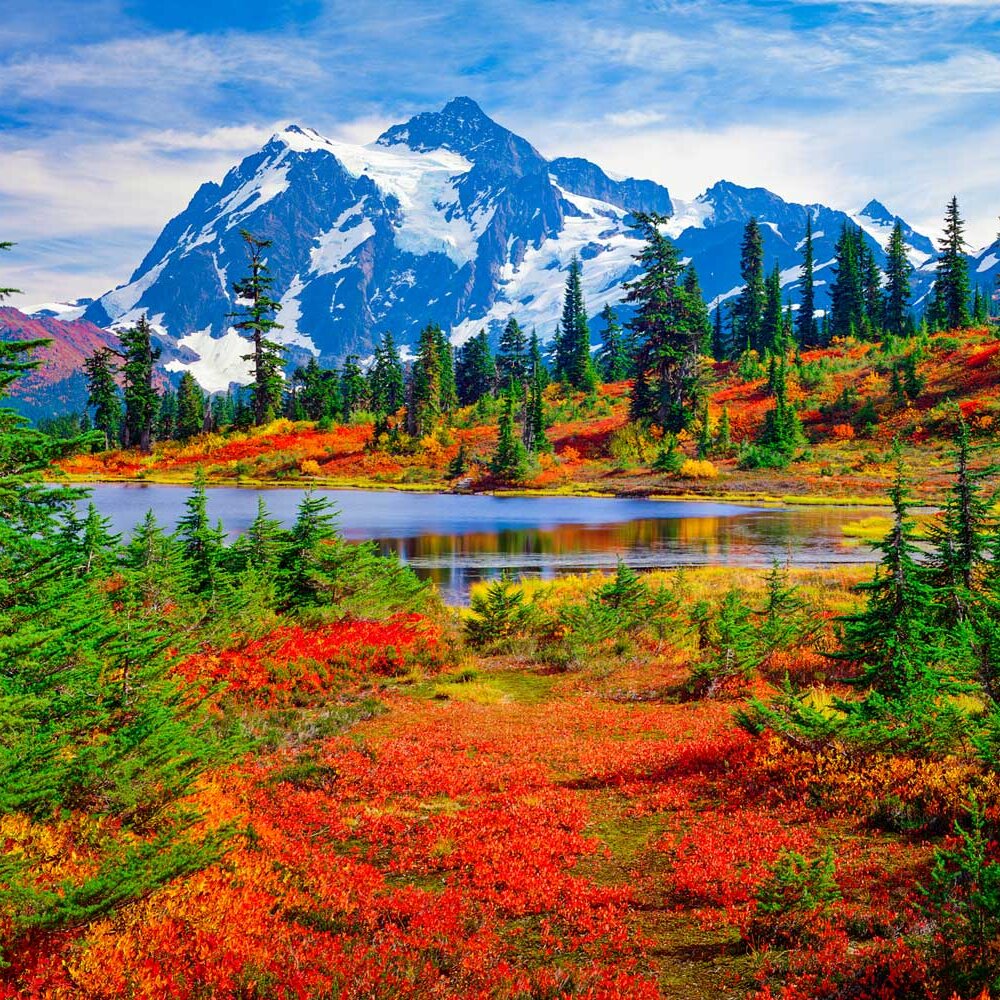 The park is home to a wide variety of species, most notably the Grizzly, the Gray Wolf, and the Canada Lynx. The extreme variation in elevation produce an incredible range of plant life as well, with the short flowering season of the alpine meadows being particularly spectacular.
How Do You Get There?
Most people arrive at the park on State Route 20, though this is closed during most of the winter. One can also enter the park on the Mt. Baker highway. Keep in mind that these roads will lead you to trails, but not to a park 'entrance' as one might expect at Mount Rainier National Park.
One can also take a plane or a ferry across Lake Chelan for a more adventurous route. These options will allow you to visit areas of the park that are not accessible by car.
Getting Around the Park
Most locomotion through the park is human powered, whether it be hiking, skiing, kayaking, or climbing. The wilderness designation of most of the park means that vehicle access is extremely limited.
In Lake Chelan
Lake Chelan Boat Company operates Lady of the Lake passenger ferry service from Chelan to frequent four stops along the entirety of the 60-mile-long lake. Destinations include: Lake Chelan Boat Launch, Fields Point Landing, Lucerne (Holden Village) and Stehekin. The company provides basic, year-round passenger transportation where residents have limited transportation alternatives. They serve approximately 55,000 passengers annually on Lake Chelan.
What About Fees & Permits?
There are no fees to enter the North Cascades National Park. Spending the night in the back country does require a free permit obtained by registering at a ranger station. Campgrounds have variable fees, often dependent on the time of year and demand, that is, popularity of the campground.
I'm Here, What Now?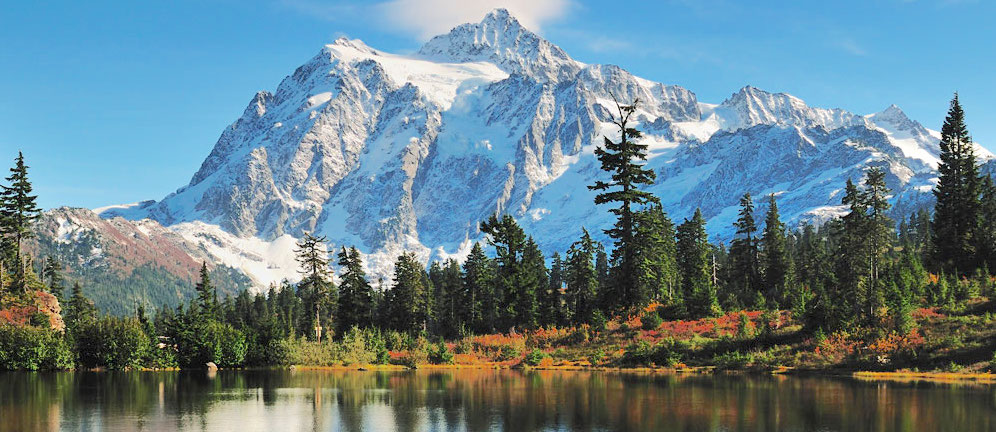 The North Cascades National Park is a nature lover's paradise. One can see jagged peaks, alpine meadows, rain forest, and desert. Mount Baker, one of the Cascade volcanoes, is easy to access and also provides views of Mt. Shuksan (above), arguably the most photographed mountain in the United States.
For the outdoor enthusiast, the park offers a nearly endless variety of activities. Mount Baker provides a world famous resort for the skiers and snowboarders. Canoeing and kayaking can be done on lake Ross and lake Chelan. Trails abound for countless miles, through valleys and over passes.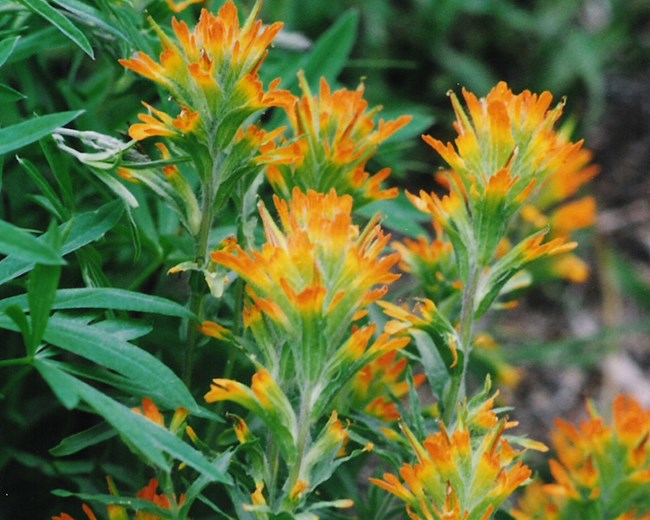 The North Cascades are particularly noted for offering some of the most rugged alpine climbing in the lower 48 states. Many world class climbers have cut their teeth there and continue to climb in the area between trips. Challenges await all skill levels, from the well-prepared novice to the seasoned veteran.
The park offers many activities, most of which can be considered dangerous in some way. Always carry maps since your cell phone will be useless most of the time there, extra food and clothing, a compass, water, and other emergency gear. Do not engage in any activities you are not thoroughly trained and prepared for as any sort of rescue is improbable since there are no cell service in most areas. Even the most benign hike can be deadly under extreme circumstances; so be careful and be prepared!
Camping & Lodging
You don't just drive to a National Park and expect to find a campground for the night. If you do that, you will be pleasantly surprised and will end up going to a hotel. The majority of car campgrounds are on a reservation system through recreation.gov. The remainder of the campgrounds are first-come, first-served. Campground reservations are accepted during the specified season dates on the recreation.gov website. Campgrounds may be open before or after the reservation season on a first-come, first-served basis. There is no way to know the up-to-date availability of sites. First-come, first-served sites are highly sought after and fill quickly.
Staying in the park means sleeping in a campground or in your camper/mobile home. There are a number of campgrounds throughout the park, administered by the National Park Service. Most offer potable water, dump stations, and firewood. For those who enjoy their amenities, however, there are more posh accommodations in the countless towns surrounding the park. One can find anything from hotel rooms to chateaus with hot tubs.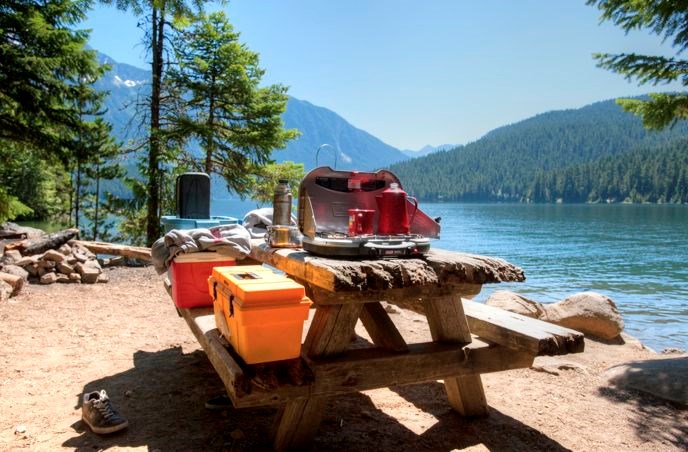 Most of the park is classified as back country since there are relatively few facilities outside of the campground, baring a few composting toilets in more popular areas.
Resources
North Cascades National Park has beautiful mountains, glaciers, emerald green lakes but why is the official visitor count one of the lowest of the National Parks? (Journey To All National Parks)