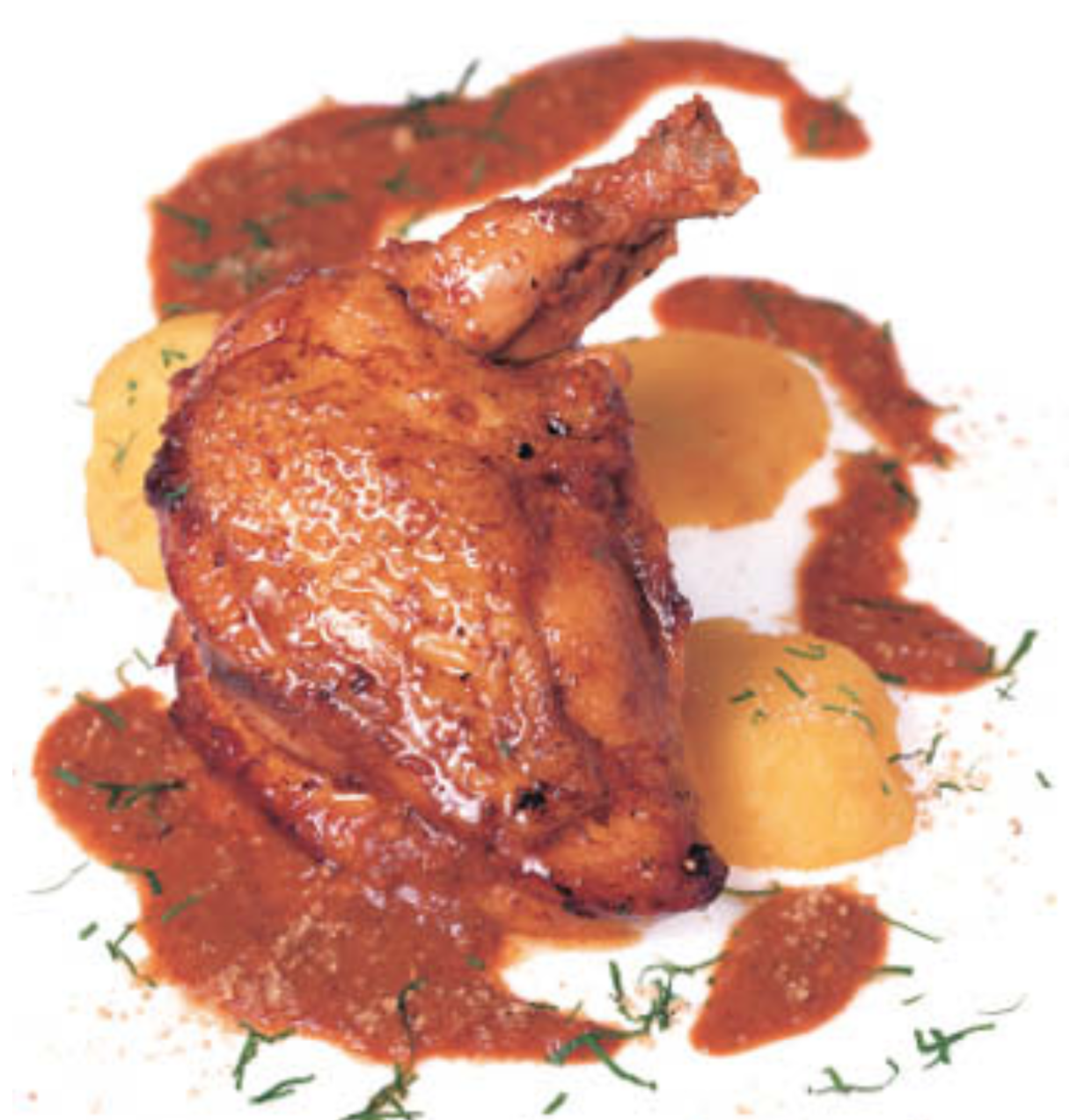 This is Rosita Yimura's variation on this typical Andean dish. She substitutes chicken for the trational cuy (guinea pig) served with this spicy peanut sauce.
Ingredients (Servings: 6)
•  1 chicken, cut into pieces
•  1 red onion, chopped
•  1¼ tbsp crushed garlic
•  4 tbsp ají panca paste (substitute ancho paste)
•  1 cup vinegar
•  5 oz (150 g) peanuts, roasted and ground
•  3 cups water or chicken stock
•  2 tbsp vegetable oil
•  Salt, pepper and cumin
For serving
•  6 yellow potatoes, boiled and cut into slices
•  6 cups of Arroz a la peruana, without corn kernels
Preparation
Place the chicken pieces in a dish and season with salt, 1 tbsp of the crushed garlic, 2 tbsp of the ají panca paste, pepper and cumin. Pour the vinegar over the chicken pieces and leave to marinate for 30 minutes.
In a large skillet heat the oil and sauté the onion over medium heat until translucent. Add the remaining ¼ tbsp of garlic and sauté for a further 2 to 3 minutes until the ingredients are just turning golden. Then add the rest of the ají panca paste and cook for another 2 to 3 minutes.
Add the water or chicken stock, 1 tbsp of the chicken marinade and salt, pepper and cumin to taste. Bring the sauce back to the boil, reduce the heat and simmer gently.
Meanwhile make sure the chicken pieces are well drained. Lightly coat them with flour and deep-fry them in plenty of hot oil. Drain on paper towels.
Add the ground peanuts and the deep-fried chicken pieces to the sauce and mix thoroughly. Warm through for a few minutes.
Serve immediately over slices of cooked yellow potatoes. Accompany with white rice and asparagus.
Excerpt From: Tony Custer. "The Art of Peruvian Cuisine Vol. 1: by Tony Custer." Apple Books.